In the Spotlight

|

August 17, 2015 12:31 EDT
Andy Mineo 'Uncomfortable' Album Listening Party Becomes Nerf Gun War Zone in the Wu Tang Clan's Hometown [RECAP]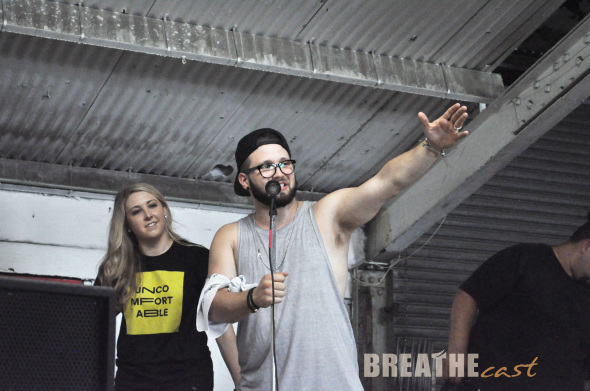 Staten Island, New York is a very important and sometimes overlooked place in hip-hop. The fifth and often forgotten borough is the birth place of legendary rap group Wu Tang Clan, who burst on the scene in the early 90s with gritty dark beats from the streets and contained nine incredibly talented gentlemen of a certain intellect that were born to weave lyrics to rhythms like a seamstress with yarn.
(Read BC's Uncomfortable album review here.)
This past Saturday (August 15), the Washington Heights born emcee and Reach Records sensation, Andy Mineo, visited the hallowed grounds of the Stapleton area of Shaolin to surprise unsuspecting fans with a truly memorable experience at 5050 Skatepark.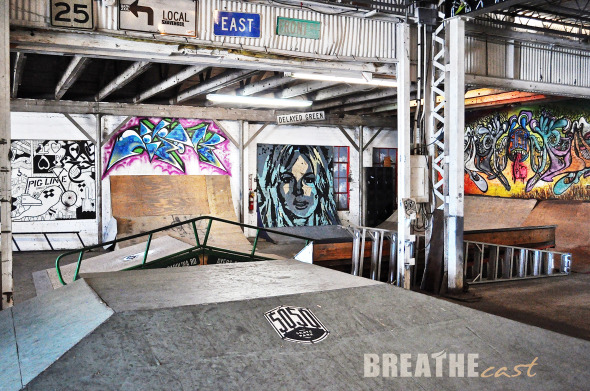 At roughly 12:45 p.m. a flurry of Mineo's team and street team volunteers donning the black and yellow "Uncomfortable" album t-shirts were eating pizza, shooting hoops, and idly chatting as the day's festivities were already planned.
A handful of skateboarders who came in from as far as North Carolina were working on their moves for a demonstration later on in the day, and even Mineo was practicing his licks on the flat surfaces of the half-pipes. Later Andy would say he generally coasts but "no tricks" before admitting he's the "best" skater on Reach Records.
Throughout the next hour or so, special guests of Mineo began showing up to the skatepark and chatting with him. These appeared to be mostly close friends and associates.
Around 2 p.m., a party bus containing approximately 25 fans unloaded a group of excited people that came over from Brooklyn's Barclays Center. The fans were taking part in what they thought was a listening party for Uncomfortable that contained a few activities in between.
At this time Mineo disappeared from site as four skateboarders pulled out some of their best tricks to entertain the crowd. One of the skaters jokingly said, "If we fall, please laugh at us" then added, "watch out for flying skateboards." A note to take away from this; if a loose skateboard comes rolling toward an ankle and makes contact, it's called a shark bite.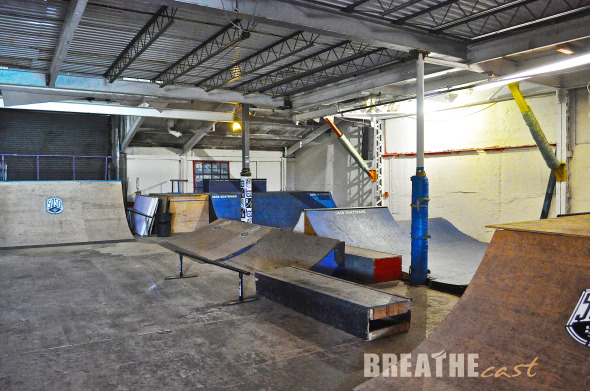 Prior to the event, fans had to sign a waiver, and as they were being ushered outside of the skatepark, they were now being handed protective goggles. Bemused and grinning faces glanced back and forth wondering what they were about to encounter, but it was obvious not a clue was to be had.
From the moment the gates closed to keep the fans out, the crew sprung to work with Andy leading the charge. Colossal blow up images of Mineo's album cover were turned into big pillowy hunks of airy obstacles. The team set up Uncomfortable pile-ons and set a black flag in one corner, and a white one in the other. A table stacked with orange locked and loaded Nerf guns was set up and it became evident what was happening, a battle.
Mineo once again hid, and the fans were brought back in even more confused than ever. One of the staff uncovered the table and everyone was led single file to collect their weapon of choice.
As the rules for battle were explained, a very quiet and sneaky Andy climbed out of a hole behind the fans and climbed on top of a half pipe, "NERF WAR!" he screamed while jumping down and blasting some people with foam bullets.
Surprisingly nimble and full on Red Bull energetic, the rapper rolled past the people and sprinted toward the opposite corner of the room barricading himself behind an inflatable column of his face. From there, chaos ensued as a flurry of bullets zipped back and forth between once friendly faces now turned playfully hostile.
With the initial shock wearing off, attention was drawn to the makeshift stage and Mineo and his crew divided the room into two teams, black and white, and gave each person a corresponding bandana. This is where the two flags on opposite sides of the room now come into play for a game of Nerf capture the flag. The artist was on the white team, and he pulled his group together to strategize.
However, the strategy failed as Mineo was a loser for game one and was eliminated early on. The room, now full of sweat and light panting, gathered around the stage once again to hear from their favorite rapper and the man they were not expecting but hoping to see. He graciously thanked them all for participating in the event, and even gave away three "dope" skateboards that were specifically made for the Uncomfortable album. The first two went toward fans that won the rap lyrics challenge on the bus, and other to the person who captured the flag.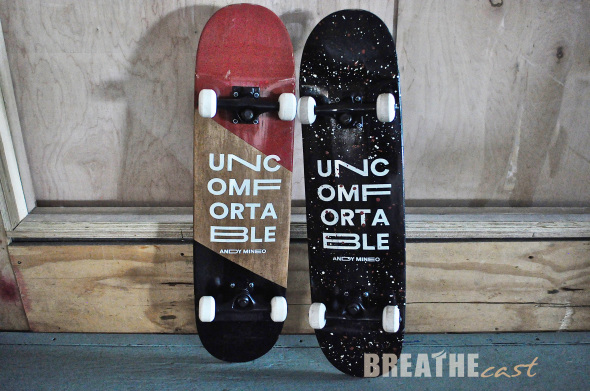 Mineo, being the consummate competitor he is, was not satisfied with playing with one game and losing, so he fired everyone up for round two. After five minutes and a session that saw Andy earn his "street cred" and take more bullets than 50 Cent "My boy 50 would be proud" he later said - it was now time to hear some of the album.
But first, the business of the ammo littered battlefield needed some attending to, so everyone chipped in and helped clean up. Mineo stopped every few minutes to kindly engage fans, answer questions, take pictures, and sign autographs. Rappers may not always get the best "rap" for being humble, but Andy seemed genuine and appreciative of the people who helped take him to where he is, the fans.
The gates opened back up, and the sunlight came piercing through as the crowd loaded back up on the bus to head to Brooklyn. Andy came aboard and showcased some of the album's highlights and made a few comments about the production and themes of some of the tracks. However, he mostly stood quiet and let the fans soak in the new music.
Then off the bus Mineo went, and the fans were sent back to the Barclays Center bumping the entirety of the Uncomfortable album all along the way.
The crew began to break down the obstacle course, retrieve Nerf bullets, and cleanup as Andy made the rounds with some of the volunteers.
There was no discomfort in his demeanor at all throughout the day as smiles and laughs were exchanged in what would truly go down as an unforgettable experience for the fans. One of Mineo's team members said, "Who else is doing something like this?" and the answer is a confident "no one," and that is what should make other artists who perhaps don't engage their fans in such a personal way - Uncomfortable.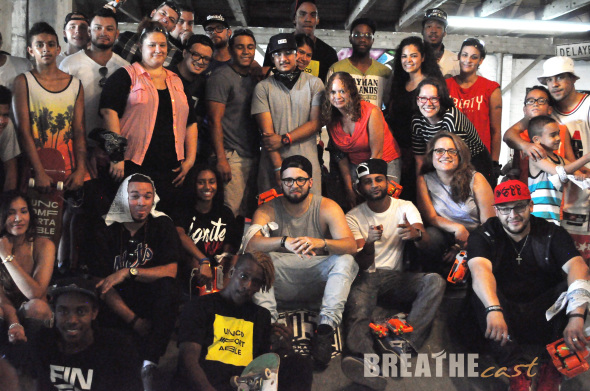 Pick up Andy Mineo's followup to Never Land, Uncomfortable, on September 18, and stay tuned for more pictures, videos, and an interview with the Reach Records emcee from this event.