TV

|

November 10, 2014 12:03 EST
'Do You Believe?' Trailer Released by Pure Flix; Sean Astin, Mira Sorvino & More Star in 'God's Not Dead' Followup [EXCLUSIVE TRAILER]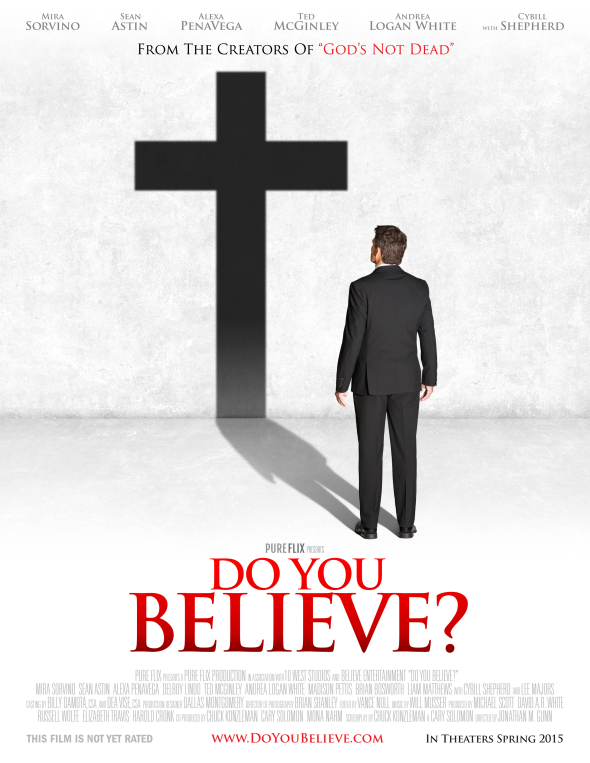 Pure Flix's "God's Not Dead" followup movie, "Do You Believe?" will be released soon, and BREATHEcast has the exclusive new trailer for the film to let movie goers know what to expect.
"We have anticipated releasing the trailer  for Do You Believe? to audiences as so many have been looking forward to this project as the follow up release to God's Not Dead," said actor, producer and founding partner of Pure Flix David A.R. White. "It is our hope that the film's compassionate and convicting message, will create the same passion and conviction that God's Not Dead did for audiences."
Watch the trailer below:
"Do You Believe?" tells the story of diverse lives that intersect on the streets of Chicago - rich lives, poor lives, and desperate lives. A dozen different souls""all moving in different directions, all longing for something more. As their lives unexpectedly intersect, they each discover the power in the Cross of Christ "¦ even if they don't believe in it.
When a local pastor (McGinley) is shaken to the core by the visible faith of an old street-corner preacher (Lindo), he is reminded that authentic belief always requires action. His response ignites a faith-fueled journey that powerfully impacts everyone and touches their lives in ways that only God could orchestrate. More than a movie, it is the question we all must answer (confront) in our lives: DO YOU BELIEVE?
The drama features an ensemble cast of Oscar® recipient Mira Sorvino, Golden Globe® award winning actress Cybill Shepherd, SAG Award® winning Sean Astin, Lee Majors, Alexa PenaVega, Ted McGinley, Andrea Logan White, Brian Bosworth and Delroy Lindo. It is written by Chuck Konzelman and Cary Solomon, the same writing team as God's Not Dead, and is directed by Jonathan M. Gunn.
Producers Michael Scott, David A. R. White, Russell Wolfe and Elizabeth Travis anticipate a national theatrical release in Spring 2015. Do You Believe? was filmed mostly on location in the Manistee and Muskegon areas of Michigan.
Accompanying the feature film will be the soundtrack of the same name that features the hit single, "We Believe", by the award winning contemporary Christian group, The Newsboys.