Families

|

October 15, 2015 02:30 EDT
'Woodlawn' Star Caleb Castille Talks Power of Sports, Danger of Racism, & the True Remedy to End Racial Tension [INTERVIEW]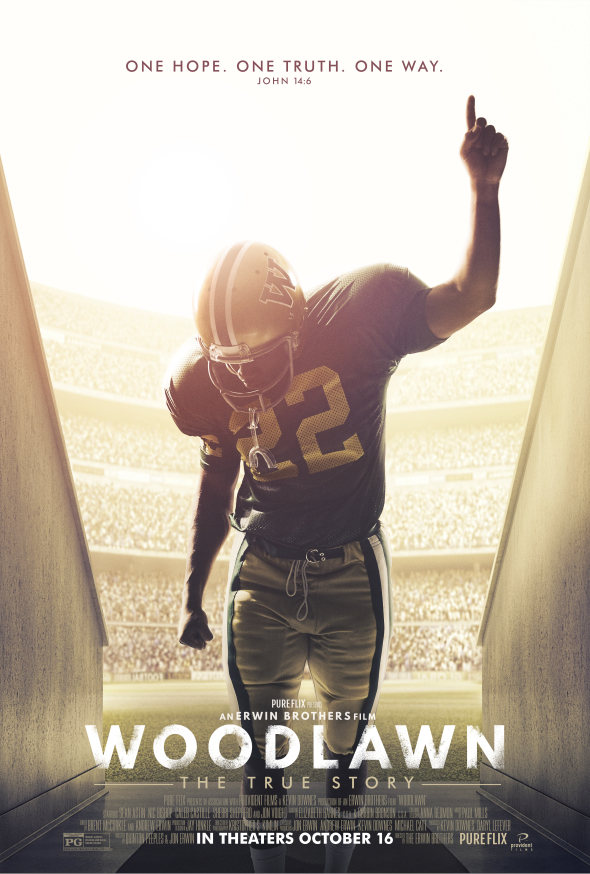 The highly anticipated Erwin brothers film 'Woodlawn' hits theaters Oct. 16 and is making his leading role debut as Caleb Castille. BREATHEcast caught up with the newcomer about the heavy topics tackled in the powerful film.
This true story is focused one of the first African-American star football players Tony Nathan and the spiritual awakening during 1973-74 season at Woodlawn High School in Birmingham, Alabama amid forced racial integration of public high schools.
The film also stars Jon Voight, Sean Astin, Sherri Shepherd, DeVon Franklin and the young Alabama native, Castille as Tony Nathan.
Recounting his experiences in such a role, Castille maintains that this generation has no idea what African Americans had to really endure back then.
"It was such a learning experience for me, soaking up those feelings and realizing what our prior generation's went through," he said, "It's funny, so many young black kids today want to talk about, they're angry, they're mad, they're this [and] that and they don't have a clue." Going on to say, "We can't even come close to the pain that our prior generations had to go through."
Castille said that he now has a found new respect for those that came before him. Born in Columbus, Georgia in 1991, Castille grew up in one of Alabama's leading football family dynasties. Two generations of his family, his father, two older brothers, played football at the University of Alabama and went on to play in the NFL.
"My dad isn't old enough to have been through segregation but the cool thing is that Tony Nathan the character I play, made the way for guys like my dad," he said.
'Woodlawn' is a true story about people changed by love and devotion to Jesus in an era where racism and prejudice were rampant. Castille talked about the role faith and sports played in that.
"I think it's so funny because people get in a sports arena and it's like those issues go right out the window," he noted about racial tention, "I think sports have a very unique way of allowing people to bond. I think that it's a great tool for people to come together and have a common goal. And that common goal is winning."
"I think that it is pretty cool that sports can break down those racial barriers in ways that certain things cannot," he continued.
'Woodlawn' highlights the revival that swept over a town because of a Chaplin's boldness to introduce a football team to Jesus. Castille described how he came to Jesus stating that he first gave his life to Christ when he was 6 years old. He admitted that he grew up in a Christian home but drifted away from the faith until the age of 22.
"It came from realizing that I had a need for him that's how my whole life changed," he said of having an encounter with the Lord and building that relationship.
The defensive back turned actor believes people should be courageous about their faith but offered some advice.
"I think that you can be bold about your faith without slapping people in the face with it. I don't think anybody wants to be beat over the head with religion but I think that young people shouldn't be ashamed. Young people shouldn't be ashamed of the Gospel, of their relationship with the Lord," he declared.
Castille goes on to say that people can fight political correctness by "living by example and then using your voice."
"Not being afraid to voice your opinion and living by example because I believe the first thing non-believers want to do is throw stones at Christians who don't live the way that they think they should," he said, "It's not like Christians are perfect people but then again through the power of the Holy Spirit we're suppose to be able to overcome all things and do things, and live in a certain way that is honorable and pleasing to God."
Adding, "I think if your doing that, you're living in a way that people who are non-believers can witness and see 'there is something different about this person, there's a genuineness to them, there's love to them.'"
Castille calls the film 'Woodlawn' "good medicine." With all the racial tension that has been going on lately in America, 'Woodlawn' couldn't have come at a better time.
"You look at how history repeats itself and I think that you can look at this film and see the things that were used to overcome that hate and apply it to what we're facing today if it worked then it can work now," he concludes encouraging people to go see the film for its strong message.
Watch the trailer to 'Woodlawn' below. For more information visit woodlawnmovie.com