Artists

|

March 07, 2019 10:51 EST
Whitney McClain exclusive interview: Don't lose sight of your ultimate goal, and remember, that is to make the world a better place.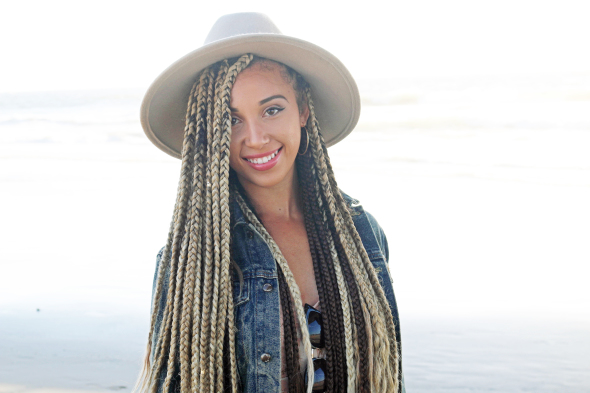 Get to know indie Christian pop soul singer Whitney McClain a little more with BREATHEcast! Find out the top Christian songs on her playlist, her favorite Bible verse, and inspirations.
Which song on your album is your favorite and why? Tell us the story behind that song!
My favorite song is, "Bombs Away" it was my First song and I have very fond memories of being in the studio and recording it. There is not much of a story behind it. The producer of that song, Mauli B., made it up at the studio, on the spot, while I was there. It reminded me of a past relationship I had been in. So, we recorded it. But I really enjoyed the process of recording that song.
What is your favorite song to perform and why?
"Nothing Left" is my favorite song to perform. With that song, I just get to sing my heart out and let out all the emotion. I really enjoy singing the song.
What do you like to do outside of music that contributes to your musicality; in essence, a hobby that you turn to in order to rejuvenate their creativity.
I wouldn't really call it a hobby but I like going to music festivals concerts and watching live music. It's always really inspiring watching other artists share their gift.
Who has influenced your music the most?
There's not really one "who" I've been influence by. So many difference artists throughout my lifetime have inspired me. I love Amy Winehouse, Adele, and a lot of Motown artists. With Adele, I really like her voice and style. Soul music is amazing to me. I love the raw and organic talent. That's what has influence me the most.
What were your greatest failures and what did they teach you?
Probably most of my relationships. Looking back, they taught me the ways I should not be treated and I'm more able to see when I'm being manipulated or being taken advantage of. They have just helped me to be smarter about the people and energy I keep in my life.
What would you be doing right now, if it wasn't for your music career?
It's hard to say but I've always wanted to do something in the fashion industry
What advice do you have for aspiring musicians?
I would say to trust your instincts!
Also, Through the highs and lows, especially the lows, don't give up.
It's easy to compare your journey to someone else's and get discouraged. You just have to trust the gift God has given you. Surround yourself with people who are honest and have your back, and keep pushing through.
What are some nicknames that your music fans or friends call you?
A lot of my friends call me Whitbear, Whit Whit, Lil Whit, and McChicken
BREATHEcast Special Segment
Dear Me: A Letter to My Future Self
Could you pen a short and simple message to your future self 1 year from now?
If I could tell my future self one thing, it would be "Don't lose sight of your ultimate goal, and remember, that is to make the world a better place."
What do you think is your biggest strength?
My biggest strength is my loyalty, and encouraging my friends. Sometimes I'm better at encouraging others than encouraging myself.
What do you think is your biggest shortcoming?
Sometimes I have the tendency to be indecisive. That comes from fear of not being good enough, which comes from perfectionism. That would probably be my biggest shortcoming.
What are some Christian songs from other artists that are on your playlist now?
The top Christian songs on my playlist, right now, are:
"Known" by Tauren Wells
"You Say" by Lauren Daigle
"Fear is a Liar" by Zach Williams
"The Breakup Song" by Francesca Battistelli
What special talent do you have that we are not aware of?
It's pretty weird but I can split my tongue down the middle. That's the best way I can explain it.
What is your favorite color?
Is iridescent a color?
What is your current favorite food you crave for?
Sushi by far has to be the favorite! I'd say I crave it 98% of the time
What is your current favorite Bible verse?
Proverbs 3:5
"Trust in the Lord with all your heart and lean not on your own understanding;"