Artists

|

August 03, 2015 04:57 EDT
TobyMac's 'This is Not a Test' Reunites DC Talk & Lets Guest Vocalists 'Shine Bright' on Sparkling Features [REVIEW]
TobyMac is gearing up to release his highly anticipated This is Not a Test album on August 7, and Christian music fans are in for another surefire smash record from the CCM pioneer. BREATHEcast had the opportunity to review the album and there is nothing else to be said but prepare for another hit.
The album opens up with the happy upbeat vibes of "Like A Match" that showcases TobyMac at the peek of his pop sensibilities as he sings about striking up love like a match. Production-wise, the song has a bumping bass, some well-placed horns, and a catchy little piano ditty.
"Backseat Diver" features newcomers Hollyn and TMac's son Tru. Tru is actually a staple on TobyMac albums as he has appeared on each one even as a baby. Toby grabs the first verse, Tru takes the second, and Hollyn kills it on the chorus. The song is a fun dance tune with a bit of the signature hip-hop flair that fans of Toby are accustomed to.
Next up is the dance anthem "This is Not a Test" featuring Capital Kings. C.K. are known for their high-energy EDM sounds and explosive songs, and the title track is a perfect exhibition of Toby's relevancy even after almost 30 years in the music industry. He can blend with any artist in any genre. "We're gone move, make every second count for you" he sings.
Hollyn returns for the R&B, pop, Caribbean infused "Lights Shine Bright." Although the track is a bit slower, it is sure to be a clap or snap inducing fan favorite. It's quite simply a "chill out" song that reminds people to let their light shine bright "everywhere we go."
While TobyMac is a Christian hip-hop legend, NF is the new breed of star. "Til the Day I Die" features both the past and present of rap music, and they both do exactly what they do best. Toby handles the first two verses, and then NF comes in dropping a lyrical bomb. The song has a two fold meaning, the first being their desire to worship God until the day they die. The second meaning could be about them doing music until they can't no more. This track has a real special feel to it, and listeners should look forward to the next time these two artists meet again.
"Feel It," featuring Mr. TalkBox is a throwback. The song sounds like it was ripped right from the '70s. The horns, synth, and disco inspired guitars and bass line add an awesome nostalgic feel to the track. "Oh I feel it in my heart, I feel it in my soul...You take our brokenness and make us beautiful," Toby and a host of other voices sing.
"Move (Keep Walking)" is a solid gospel track. TMac creatively uses his well-versed musical talents to create a song that could serve as a radio single and a church anthem. The song also features some of the best production on the entire album; from the choir of hums, horns, organ, and percussion noises in the background, this track has everything.
Up next is "Love Broke Thru" which shows off a reflective side of Toby that sees him looking deep into his life. Toby opens up about learning to devote his life to Christ and dropping the chains of this world when "love broke thru." One of the best parts of the song is the monumental sounding multifaceted build that gives it an arena rock feel.
"Beyond Me" was the first single of the album, and fans have been able to rock out to this track for a while. Again, this song is part of the TobyMac hit pop song genius he has on every album. The message is simple, our problems and struggles are "way beyond" anything we can handle. That's when we give it to God.
Finally, we have the song music fans have been waiting for for over a decade. "Love Feels Like" reunites dc Talk - yes, Toby, Mike, and Kevin. The three sound like they haven't missed a beat. "Love Feels Like" is the equivalent of closing your eyes and imagining what dc Talk 2015 would be like. Michael Tait opens the song, Toby explodes on the chorus, and Kevin Max shines on the second verse. They even throw back to old school dc Talk by having monologue mixed into the song. The possibilities of hearing this song live with all three members will definitely be hyping people up until it happens.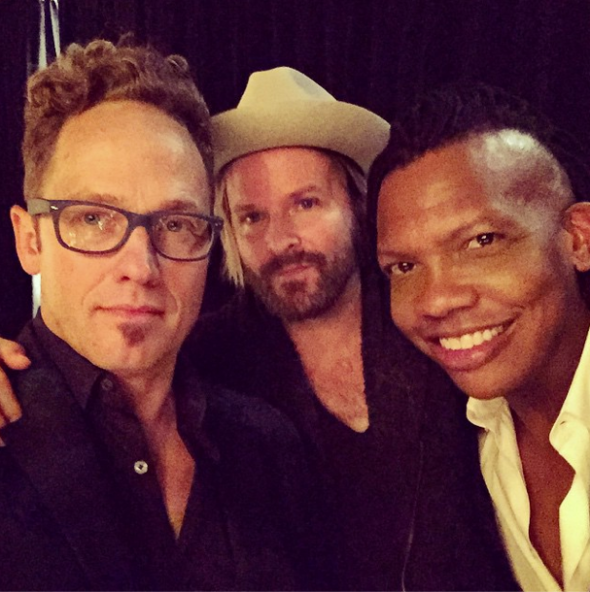 "Undeniable" comes in with some hums reminiscent of Grits' "My Life Be Like" which is totally appropriate because they were signed to TobyMac's Gotee Records. The music legend brings back some of his old school rap flow on here before jumping into a great pop hook. "From the hymns that my daddy sang, I know I was Made to glorify Your name/ From the prayers that my momma prayed, I know I was made to glorify Your name." It is undeniable how wonderful and powerful God is, and this is why all of creation was made to magnify His name.
Ryan Stevenson and Toby collaborate on "Lift You Up" and get a bit soulful and funky together. The driving piano and guitars really keep this song pumping along with the sample handclaps. Stevenson also completely nails his vocals and fits perfectly with Toby.
The album closes out with "Fall." "I'd fall for You again, every time just like the first time...I can't believe after all this time, You're still mine, I'm still Yours," sounds like it can be sung to a significant other, but in this instance just like all other, Toby is praising his Savior.
There are two more tracks on the album, but they are remixes "Beyond Me (Phenomenon Remix)" by former Family Force 5 frontman Soul Glow Activatur and "Like A Match (Garcia's Remix)."
Overall TobyMac brings it like he always does. With every release Toby tries to reinvent himself with the sound of the music, but on this record he kind of borrowed from a bit of everything, making this one of his better records. The featured performers on the record all add so much to the tracks they are guests on as Toby allows them to take some of the spotlight rather than just being a side note. The reemergence of dc Talk on a record together is magical and a real treat for old and young fans alike. This is Not a Test will make you dance, bump your head, clap along, perhaps cry on the DCT reunion, and burst in random fits of catchy chorus singing. Mr. McKeehan, you've done it again.
Be sure to pick up the album on August 7, and pre-order it now at TobyMac.com