BC News

|

March 11, 2022 04:43 EST
Steven Malcolm & Social Club Misfits make Spotify's New Music Friday Christian with "Ain't Playin"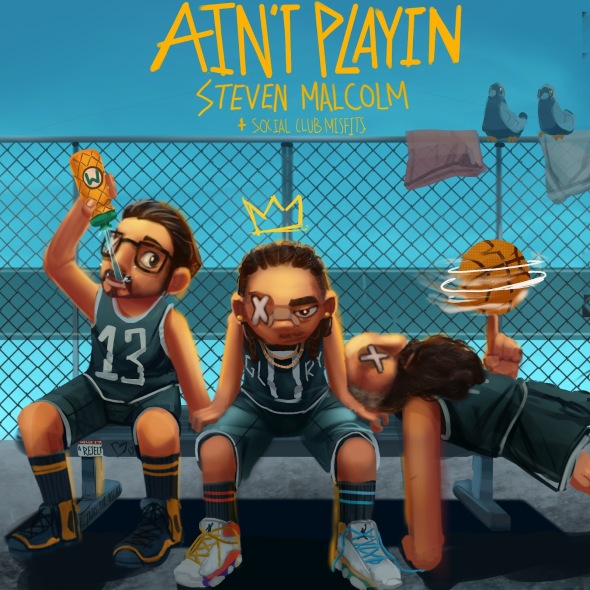 Steven Malcolm connects with Billboard-charting Christian rap duo Social Club Misfits on the brash bop "Ain't Playin". Produced by Grammy-Award winners BoogzDaBeast, FNZ, and Dayme, the track is featured on Steven's forthcoming album Tree dropping on April 15.
Malcolm says, "There's a saying in Jamaica, "playtime done." This lyrical sparring session isn't a joke. The trio delivers world-class flows that reaffirm their prowess as emcees. "The rap game is a competitive sport," adds Malcolm. With the help of Christian hip-hop dynamic duo Social Club Misfits, Malcolm is bound to claim his crown.
"Ain't Playin" is an inch closer to the release of Tree, Steven's highly anticipated new album. Today's release was added to Spotify's New Music Friday Christian playlist HERE, Apple Christian's Elevate playlist HERE, and Best New Songs chart. Currently, Steven is headlining the Invasion Tour HERE with Miles Minnick, Datin, and Kurtis Hoppie.
WATCH STEVEN'S INTERVIEW WITH THE CREW'S HIP-HOP CORNER
On Malcolm's upcoming album, all 16-tracks explore Malcolm's spiritual depth and versatility as a hip-hop artist. From the international smash "Fuego (R3HAB Remix)" HERE featuring dancehall icon Shaggy (5 million combined Spotify streams) to the Dove Award-nominated anthem "Glory On Me" featuring Childish Major & Taylor Hill HERE, Malcolm mixes the spirituality of Sunday morning with the energy of Saturday night. Tree is an eclectic depiction of Malcolm's past, present, and future with features from multiple award-winning artists such as Snoop Dogg, Shaggy, and KB.
"Ain't Playin" follows the Sango-produced track "Respect" HERE and "Accelerate" HERE that landed on Spotify's "The Flow" playlist. Recently, NRT celebrated Malcolm's "themed messages" and "rapid-fire" rhyme schemes. "Ain't Playin" is out now via IVAV, a division of Curb | Word Entertainment.
For updates and more information about Steven Malcolm please refer to the social media links below.
About Steven Malcolm:
Steven Malcolm makes faith-driven hip-hop that's as unique as his multi-cultural background. It's a diverse sound grounded in rap's rhythmic delivery, pop's modern melodies, and God's word, glued together by a street-smart artist whose music has earned five Dove Award nominations and more than 57 million streams.
Released in 2021, All Is True blurs the boundaries between Christian music and larger-than-life hip-hop, delivering universal songs about faith, family, and fidelity. This is hip-hop with a heart, mixing the spirituality of Sunday morning with the energy of Saturday night. It's also an extension of the sound Malcolm has spent the better part of a decade crafting. Raised by a family whose Ja-Jamaican-born patriarch was deported back to the Caribbean when his son was only 10 years old, Malcolm first turned to music as a source of stability. He found success in the hip-hop underground with his independent debut, Monster's Ink, then built a larger audience with 2017's self-titled Steven Malcolm. Nominated for three GMA Dove Awards, Steven Malcolm was followed by The Second City, which debuted at Number 11 on Billboard's hip-hop chart in 2019. Tracks like "Fuego'' highlighted his Jamaican roots and reggae influences (both of which were showcased on a number of remixes, which found Malcolm working alongside collaborators like Shaggy, R3HAB, The SoulBots, and Melanie Pfirrman), while a Dove-nominated remix of "Even Louder" featured his duet with seven-time Grammy nominee Natalie Grant.
About Curb | Word Entertainment:
Celebrating 57 years in business, Curb Records is one of the world's leading independent music companies. Owned and operated by Mike Curb since 1964, Curb Records has achieved 435 number one records, over 1,500 Top Ten records and charted over 4,500 total records. With over a half-century in operation, Curb Records has been influential in the careers of some of the biggest names in music, including Tim McGraw, Hank Williams, Jr., Rodney Atkins, Lee Brice, LeAnn Rimes, The Judds, Dylan Scott, Sawyer Brown, Wynonna, Lyle Lovett, Jo Dee Messina, Hal Ketchum, and Desert Rose Band, among many others. Today's roster includes some of the top names across multiple genres of music. For more information, visitwww.curb.com.
Steven Malcolm online: