Music

|

October 19, 2022 09:59 EDT
Sister duo Alicia & Whitney release new single "Believe Again"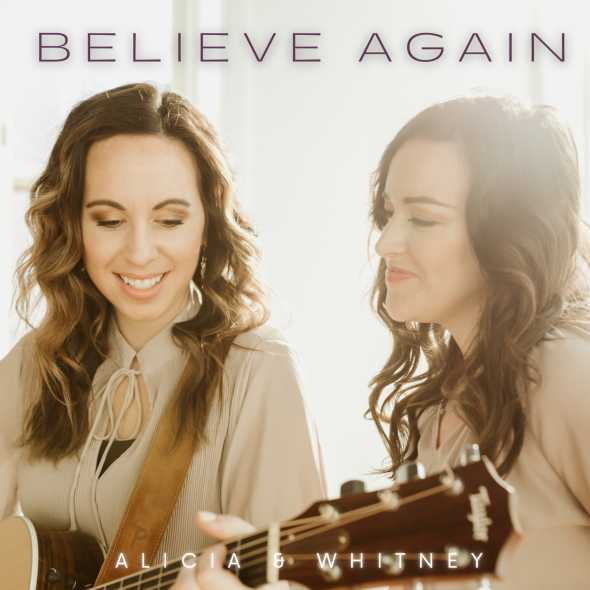 NASHVILLE, Tenn. – "Believe Again," a new single from Alicia & Whitney, sister singer/songwriters, authors and worship leaders, is set to release to radio today, going for adds to Christian AC-formatted radio outlets.
"Believe Again" follows the success of "Chasing Me Down" (non-remix version), which topped the charts at No. 1 for its CRC Weekly debut, claiming the No. 1 spot on the CRC Monthly Chart and sitting at No. 2 on the CRC Quarterly chart.
The duo released its sophomore album in 2018, "A Portrait of Worship," yielding "New Thing," which debuted at No. 1 on CRC Weekly and hit No. 4 on the CRC Monthly chart. In 2021, "All For Nothing," also debuted at No. 1 on CRC Weekly, and held the No. 2 spot on CRC Monthly and the No. 3 spot on CRC Quarterly.
In addition to music, the sisters host a weekly podcast titled "Coming Up Higher with Alicia & Whitney," where their goal is to encourage others to cultivate atmospheres for God to move in everyday life. Whitney also hosts a new podcast, "The Beauty of Becoming: the Single Ladies Podcast," meant to encourage single ladies to walk out God's purpose for their lives. Both podcasts are available on all podcast platforms.
The sisters, who grew up in a musical family, have been singing since they were young. The death of their father when they were young adults rekindled a passion for songwriting as they worked through their grief by writing songs. It was during this time that the young women felt God urging them to go back to the core of who He created them to be and to help others come to know Him and the purpose He has for each person. Their debut album, "Core," is a collection of songs meant to help others reflect and heal from the inside out through the love of Jesus.
In recent years, Alicia & Whitney have toured throughout the United States, sharing their ministry of music and speaking. They also have traveled internationally to Honduras, Tanzania and Israel.
In addition to writing and performing music, Whitney is an author. Her debut book, "Beauty for My Ashes," was written to help people cope with grief in a healthy way after losing a loved one. Her second book, "Occupy While Waiting," is a singles guide to pursuing God, purpose and healthy relationships. Alicia also has authored a book titled "Reset, Recalibrate, Restore: My Journey from Broken to Breakthrough and the Lessons I Learned Along the Way."
To learn more about Alicia & Whitney, visit aliciaandwhitney.com, like the duo on Facebook and follow on Instagram and Twitter. Subscribe to Alicia & Whitney's YouTube channel here.