Events

|

January 17, 2023 06:52 EST
Sidewalk Prophets announces acoustic "Songs & Stories Tour"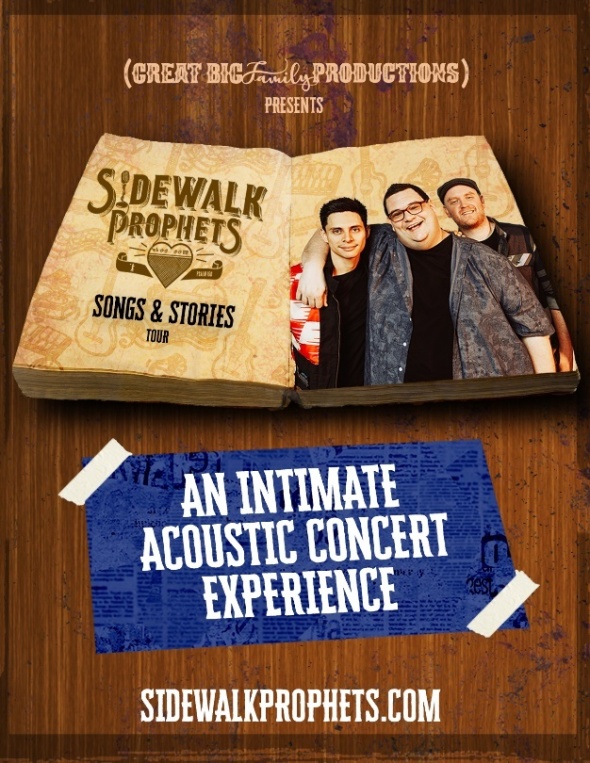 Nashville, Tenn. – Curb | Word Entertainment's Sidewalk Prophets is excited to announce their "Songs & Stories Tour," an intimate acoustic trio experience where fans will hear the group's hits and stories behind the songs, and well as brand new music. Purchase tickets HERE now.  
"This tour is really going to be something special for the audience," shares Sidewalk Prophets front man Dave Frey. "We can't wait to get out there and do what we love most, which is using music as a tool to bring people together for God's glory."
Fans can expect a special, acoustic trio experience where they will hear stories behind some of their favorite songs, as well as brand new music from the band. Tickets are available HERE now.
This past Christmas, fans created special memories with their families at Sidewalk Prophets' "Great Big Family Reunion Christmas Tour." Like past years, each show supported a local individual or organization in need, with an offering collected after the show. 2022's "Great Big Family Christmas Tour" raised over $50K and to date, the tour has raised over $150K for local individuals and organizations around the country, with a goal to raise over $1M dollars in the coming years.
For "Songs & Stories Tour" tickets and more information, visit www.sidewalkprophets.com.
"Songs & Stories Tour" Dates
2.23.23
2.24.23
2.26.23
3.2.23
3.3.23
3.4.23
3.5.23
3.11.23
3.12.23
3.16.23
3.17.23
3.18.23
3.19.23
3.22.23
3.23.23
3.24.23
3.25.23
3.26.23
3.30.23
4.2.23
4.14.23
4.15.23
4.16.23
4.21.23
4.22.23
4.23.23
4.26.23
4.28.23
4.29.23
About Sidewalk Prophets:
One of Christian music's most beloved bands, Sidewalk Prophets, marked nearly two decades of making music together with the release of their latest album, aptly titled The Things That Got Us Here. With a career spanning four major label studio releases and a celebrated holiday offering, the Dove Award-winning act remains a mainstay at Christian radio with numerous hits, including Gold-certified "The Words I Would Say," "You Love Me Anyway," "Come To The Table" and "Live Like That," among others. In total, Sidewalk Prophets boasts five No. 1 songs, nine Top 5 radio singles, more than 54.7 million views on YouTube and 350 million career streams. The band originally formed at Indiana's Anderson University, and since signing with Curb | Word Entertainment, they've been nominated for a Billboard Music Award, three K-LOVE Fan Awards and five Dove Awards, taking home the New Artist of the Year Dove in 2010. Known for spending more days on the road than anywhere else, Sidewalk Prophets has played for more than 2.5 million people, and their most recent tours have morphed into interactive evenings for their fans, whom they affectionately call the "Great Big Family." An early leader in immersive online experiences, the group has headlined nearly 100 livestream events since 2020, including a show at Nashville's iconic Ryman Auditorium. Their annual "Great Big Family Christmas Tour" aims to tangibly serve families in need in the communities they visit, with a goal to give away $1 million in 10 years. Sidewalk Prophets' single, "I Believe It Now (feat. Olivia Lane)," is available now.
About Curb | Word Entertainment: In 2016, Curb Records acquired Word Entertainment, combining two of the music industry's most respected global brands, and more than a century of collective experience. Today, Curb and Word are two of the world's leading independent music companies. Owned and operated by Mike Curb, the Curb | Word family includes the labels Curb, Word, Squint, Fervent, Sidewalk, MCC and IVAV, as well as Curb Publishing, Word Publishing, 25 Live, Curb Films, Word Films, Word Entertainment, and Curb Sports, representing top artists and entertainers in Country, Christian, Pop, Rock, and Hip-Hop. For more information, visit www.curb.com.