BC News

|

May 10, 2022 08:53 EDT
Point Of Grace's 'Beautiful Name' offers timely encouragement with digital debut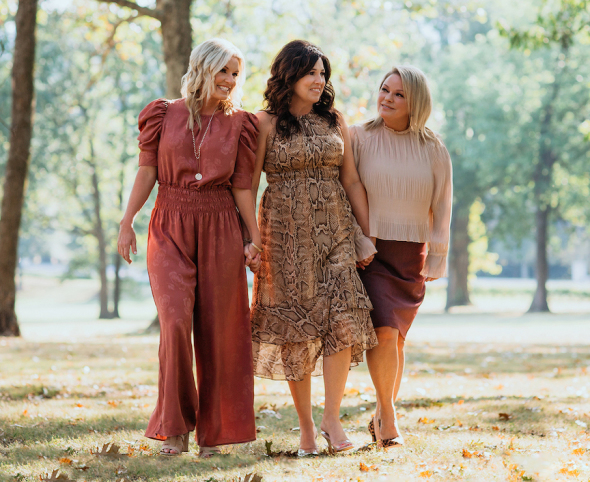 NASHVILLE, Tenn.—Beautiful Name, the 2018 collection of beloved hymns and worship songs from Platinum-selling, GRAMMY®-nominated trio Point of Grace, is now available on digital platforms for the first time. Originally released by LifeWay Worship, the May 6 Curb | Word Entertainment reissue features 11 tracks and is highlighted by the new selection "Rest In You." 
 
Penned by Scott Krippayne, Tony Wood and Cindy Morgan, "Rest In You" was produced by Morgan and is a gentle pop ballad reminding listeners that Christ is our respite when the storms of life rage. "The past few years have been very challenging for most of us, as we've experienced enormous loss and uncertainty," shares Point of Grace's Leigh Cappillino. "Even in the chaos of the world around us and the chaos encamping our own hearts, we can be assured God is in control. We may not always be able to see with our own eyes, but we can 'rest' in His sovereignty." 
 
The 10 foundational selections comprising Beautiful Name were produced and arranged by Kent Hooper and Phillip Keveren and include the cherished hymns "All Creatures of Our God and King," "Holy, Holy, Holy" and "Blessed Assurance," among others. The album also features such worship classics as the Twila Paris-penned "How Beautiful"; the title-track and Point of Grace concert favorite "What A Beautiful Name"; and renowned modern hymn "In Christ Alone," by Keith Getty and Stuart Townend. 
 
"We are beyond thrilled for Beautiful Name to now be available everywhere," says Point of Grace's Shelley Breen. "Growing up singing many of these songs, we were excited and inspired to record them in a fresh new way. We hope the truths contained in the lyrics will be a welcome source of peace for anyone struggling or needing encouragement in this season."  
 
Point of Grace's soaring melodies and rich harmonies have helped define the sound of contemporary Christian music for nearly three decades. With total sales in excess of 8 million units, the group has garnered two Platinum records; three GRAMMY® nominations; 27 #1 singles and numerous Dove Awards. Inducted into the Oklahoma Music Hall of Fame in 2018, Point of Grace has released 10 best-selling studio recordings, four Christmas albums and such Christian radio standards as "How You Live (Turn Up The Music)," "Keep the Candle Burning," "Circle of Friends" and "Jesus Will Still Be There." Comprised of Shelley Breen, Denise Jones and Leigh Cappillino, Point of Grace founded the groundbreaking Girls of Grace conference; they appear regularly on the historic Grand Ole Opry stage; and they have authored multiple books, including 2020's How You Live: Lessons Learned from Point of Grace. 
 
For further information, visit pointofgrace.net. Follow Point of Grace on Facebook and Instagram.