Music

|

October 21, 2022 05:16 EDT
Perry LaHaie unveils riveting new version of radio single, "God is Working His Purpose Out (Two Point 0)"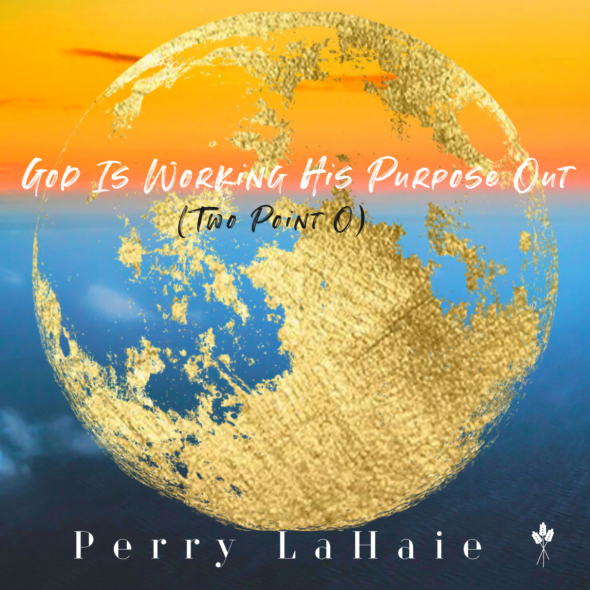 NASHVILLE, Tenn. - Singer/songwriter/recording artist and morning drive-time radio host Perry LaHaie is thrilled to unveil his latest single, a riveting new version of "God Is Working His Purpose Out (Two Point 0)," which drops today, Friday, October 21, 2022.
The song, which originally appeared on LaHaie's critically acclaimed 2020 album, Him, experienced a raw, organic makeover through the collaborative production skills of Dove Award-winning producer Stephen Leiweke (Chris Tomlin, Yancy, Point of Grace, Cindy Morgan, Chris Sligh) and emerging producer Jake DeJarnett.
Fans can listen to "God is Working His Purpose Out (Two Point 0)," on Spotify, Apple, Amazon, Tidal, YouTube, and other popular streaming platforms, or click here.
"I feel like after all these years I've finally found my voice," says LaHaie, who recorded the song at Yackland Studio in East Nashville. "With the music, it's more of a roots acoustic rock with a close-to-the-earth vibe. With my heart, it's a deeper knowing that Abba loves me as I am, not as I should be. It's taken every step in a long journey to get here and I think you will feel that in this song."
Leiweke was equally excited with the results. "Perry's level of musical professionalism and his openness to the Lord's leading made working with him a pleasure and an honor," he says. "I'm pumped to hear how this song impacts hearts across the planet."
"It was so great taking honest lyrics, and matching them with organic and raw instruments to create something that captures the reality of God's grace in a song," adds DeJarnnett.
The resulting musical style has been described as acoustic rock Americana—a combination of Chris Renzema meets Zach Williams meets Drew Holcomb. "Lyrically, "God is Working His Purpose Out (Two Point 0)," longs with hope for the promised day when all the sad things will come untrue," LaHaie explains, "and is a call to speed the day by bringing the message of new life in Jesus to every people and place on the planet."
As a recording artist with FrontiersUSA, an international community of people dedicated to inviting Muslims worldwide to follow Jesus, LaHaie is grateful for the impact his ministry is having around the world.
"Because of the incredible team and music God has given me, I was able to reach more people in 2020 than ever," says LaHaie. "McCain & Co. Public Relations opened doors for radio, TV, and online magazine interviews. Producer Joshua Frerichs and promoter Kevin Winebarger helped introduce my music to thousands of people who had never heard it. When God decides to grow something, He does it for His great purposes and glory among the nations!"
"From his music to his work with Frontiers USA to his radio career, Perry LaHaie's passion for communicating the gospel and God's amazing grace is evident in everything he does," says Inspiration.org's John Farrell. "His most recent album, Him, captures this perfectly."
"I'm passionate about Jesus because He found me at my worst, embraced me, and loved me unconditionally," says LaHaie. "What a privilege to get to share the Gospel with people all over the world through radio, music, and via amazing media platforms."
Media coverage of the project has included Cornerstone TV's flagship show, Hope Today, CCM Magazine, popular daytime TV show, Babbie's House; nationally syndicated coast-to-coast radio show Bill Martinez Live!; Inspiration.org; CRU (formerly Campus Crusade for Christ radio), Jesus Wired; World Christian Broadcasting; Jubileecast; Never For Nothing (UK); and more.
For more information on Perry LaHaie or his latest CD, Him, or to listen to the Cast Yourself In podcast, visit perrylahaie.com/home. You can follow him on Facebook (facebook.com/perry.lahaie), Twitter (@perry_lahaie), Instagram (perrydlahaie) and his website blog (perrylahaie.com/blog), or find out more about LaHaie's daily radio show at 89.3 FM Grand Rapids, MI.
About Perry LaHaie's latest project, Him:
LaHaie's latest album, Him, which released Summer 2020, is a 10-song collection of original songs and reimagined hymns that tells the grand, epic story of God. "Him is a story that began in the heart of God: the 'love story about a brave Prince who leaves his palace, his throne, everything, to rescue the ones he loves,' as author Sally Lloyd Jones puts it. And a commission for those rescued to speed the day that C.S. Lewis describes as 'the beginning of the real story... which no one on earth has read: which goes on forever: in which every chapter is better than the one before,'" says LaHaie.
The project was helmed by Grammy-winning engineer and producer Andy Hunt, and features Nashville players Jared Kneale (drums), Matt Melton (bass), Matt Stanfield (keys), Nathan Dugger (guitars), and Buckley Miller (engineer). Joining LaHaie with songwriting and additional background vocals were his adult children, Kali Joy and Taylor.
"It was hard to give up the singer/songwriter part of me to do Him," LaHaie admits. "There was some pride that had to be surrendered. But that surrender led to God working something new in me--an album of reimagined hymns of amazing grace with new choruses and bridges that call us to take His grace to the world."
The project launches with the driving call-to-action anthem, "Cast Yourself In," with its invitation to abandon yourself to the raging river of God, and be swept away by it to bring living water to the nations. LaHaie's reimagined version of the world's most beloved hymn, "Amazing Grace (Send Me)," remains faithful to John Newton's original vision, but with a compelling twist as LaHaie urges listeners to share God's amazing grace throughout the nations.
The anthem segues seamlessly into the original song, "O Mystery of Mysteries." The song takes on special meaning for LaHaie, as his daughter Kali and son Taylor collaborated in its creation. "Because of their input, the song became something I could never have created on my own," LaHaie muses. "I believe Jesus worked through us to create and express the beauty of our Lord's great mission to bring the Kingdom of God from heaven to the Earth." 
LaHaie returns again to another great hymn, the anthem of joy and worship, "O For a Thousand Tongues to Sing," that includes a new chorus that envisions the day when a number no one can count is crying: "Jesus is Lord!" "Solid Rock" continues the progression of setting old gems in new settings, as LaHaie allows the revelation of Christ's redemptive power to wash over the music. When mountains fall and planets break, on Christ alone I'll stand, he exults in the song.
"The idea for 'Solid Rock' was birthed during Sunday morning worship while we were singing Jennie Lee Riddle's 'Revelation Song.' I thought the chord progression of the song would work with the melody of 'Solid Rock.' I was so moved by how it changed the whole tone of the hymn. After all creation is undone and then remade, I will still be standing on Christ the solid rock who took my judgment day for me," LaHaie declares.
"Rock of Ages" continues LaHaie's awe-evoking re-imaging of classic hymns. On this beautiful worship anthem, he shifts the focus from the plea of a single sinner for the Rock of Ages 'cleft for me,' to a heart's cry for the redemption of the whole world. Not just me, bleeding Lamb, let mercy flow throughout every land, LaHaie entreats.
Originally written by Charlotte Elliott in 1835, "Just As I Am," emerged as one of the most familiar hymns in the world after it became the signature invitation song at Billy Graham Crusades. The song has lost none of its potency after nearly two centuries, yet LaHaie's reimagined version imbues this come-to-the cross hymn with new life and a new chorus that adds exclamation points to the timeless verses.
"God Is Working His Purpose Out" is perhaps less familiar to contemporary listeners, but no less powerful for its obscurity. Dedicated to those who weep for the nations waiting to hear the message of new life in Jesus, LaHaie's son Taylor is credited with breathing new life into this hymn. This song anticipates the day "when the earth will be filled with the knowledge of the glory of the Lord as the waters cover the sea," and it's a call to hasten that day by bringing the message of new life in Jesus to those still waiting to hear.
John Newton's contemporary and frequent collaborator, William Cowper, penned the evocative hymn, "There Is A Fountain." LaHaie takes Cowper's image of the life-giving flow of Christ's blood and expands it to a rushing river that flows to the nations--a river that will keep rushing until every nation cries, Worthy is the Lamb! 
Collectively, the ten-song album of original songs and reimagined hymns that make up Him tells the story of God--of His great rescue plan to bring His love to every tribe, tongue, and language on the planet, to rescue all creation from sin and death through the cross, the resurrection, and Christ's second coming. It offers an impassioned appeal to bring this good news to those who have never heard it, including over 1,000 Muslim people groups that are still waiting for the gospel. 
"Him was a long time in the making," LaHaie acknowledges. "But it is apparent from the response the project is getting from fans and industry pros that God's long process has resulted in something far more beautiful and compelling than if we tried to rush the process. I am grateful to everyone who has taken the time to listen to Him, and to respond to Him!"
About Perry LaHaie:
Perry LaHaie is best known as a recording artist with Frontiers USA, an international community of people dedicated to inviting Muslims all over the world to follow Jesus. LaHaie uses his platform as a recording artist to challenge believers from across America to take the gospel to the Muslim world. 
His latest project, Him, produced by Grammy Award winning engineer Andy Hunt, follows his 2008 debut, Endless Fields, and his follow-up CD, Ahead.
Fans can listen to LaHaie's current single, "God Is Working His Purpose Out (Two Point 0)," on Spotify, Apple, Amazon, Tidal, YouTube, and other popular streaming platforms, or click here.
While LaHaie has emerged as a singer/songwriter of formidable talent, he says his music is a means to an end, rather than an end in itself. "Writing songs for me is not a job; it is more like bearing fruit," he says.
"We produced this album to inspire people to appreciate the depths of God's grace, and to recognize the responsibility and privilege of taking that grace to the nations. The love of Christ compels us to go."
LaHaie currently can be heard as an on-air radio personality weekday mornings on 89.3 FM Grand Rapids, MI, as a co-host of Perry and Shawna Mornings.
He is also the host of the nationally syndicated radio feature, Cast Yourself In, a program that tells amazing stories of how God is working in the Muslim world. Cast Yourself In is broadcast on more than 450 stations and translators across the U.S., and worldwide through the Internet, and recently launched as a short-form podcast. To listen to the Cast Yourself In podcast, click here.
Perry and his music have been covered by such influential media outlets as Cornerstone TV's flagship shows, Hope Today and Real Life; award-winning television show Babbie's House; CCM Magazine; CBN.com; Inspiration.org; Making your Life Count on CRU (formerly Campus Crusade for Christ radio); nationally syndicated coast-to-coast radio show Bill Martinez Live! (300+ U.S. markets); popular daytime TV show Friends & Neighbors; Atlanta Live; LeSea Broadcasting's The Harvest Show; Jesus Wired; World Christian Broadcasting; Mornings with Eric and Brigette on Moody Radio; Afternoons with Miss Debbie & Sarah on Your Celebration Radio Network; and more.
Of his journey of faith that has taken him across the U.S., Mexico, Thailand, Turkey, Russia, and Belgium, he says, "Jesus has found me. And now He's invited me into this thing that's bigger than me, and not about me--His great work to bless the nations."
About Frontiers USA:
Frontiers USA is an international movement of over a thousand workers bringing the good news of God's grace all across the Muslim world, from Africa to the Far East. 
Frontiers now has sending bases in 30 different countries that are recruiting, training, and sending church-planting teams, sharing Jesus in over 40 Muslim countries, and facilitating the start of hundreds of communities of Muslim-born believers. 
For more information about Frontiers, visit FrontiersUSA.org.