Inspirations

|

September 29, 2014 01:51 EDT
Nicolas Cage Says His Christian Pastor Brother Inspired Him to Star in 'Left Behind' [VIDEO]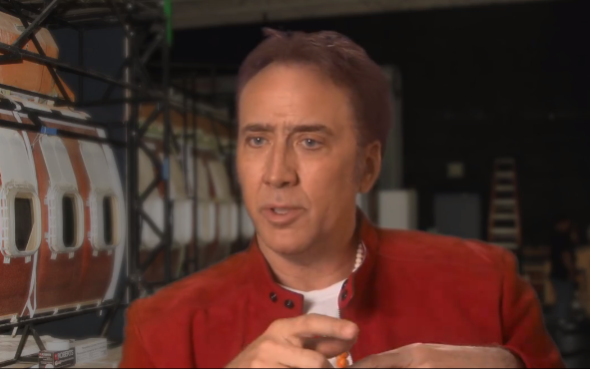 Faith based Hollywood film 'Left Behind' is set to release October 3 in theaters and a recent video revealed that it was not the $15 million dollar budget that inspired "A list" actor Nicolas Cage to take the lead role, but it was his brother Mark, who's a Pastor.
In a 30 second clip posted on Facebook, Cage talked about what really inspired him to take on playing the lead role of Rayford Steele.
"My brother Mark is a Pastor, and he was the one that really wanted me to do this," Cage confessed, "'He kept saying Nicky I really think you should make this movie.' It's a great series of books."
Cage went on to say that while reading the script he and his brother would discuss the content. "He was the one who inspired me to look at it, I would talk with him about it and clearly he is very immersed in all this so that was interesting and he was excited about it," he said.
Watch Facebook Clip HERE.
'Left Behind' follows the epic story of a group of survivors after millions of people suddenly vanish and the world is spun into chaos with destruction in its wake. The story is based on the prophesied events of the Rapture described by John in the book of Revelation.
Although it is clear that Cage has Christians in his family, fans are still unsure what the actor believes. During a recent interview with Access Hollywood, 'Duck Dynasty' star Will Robertson was questioned about Cage's faith, but he said he did not know either. "I know that his bothers a pastor and that might of played into it, but I don't know," Robertson said of Cage.
The apocalyptic thriller is directed by Vic Armstrong and written by Paul LaLonde and John Patus. The star-studded cast includes Cage, Chad Michael Murray playing the role of Buck Williams (Kirk Cameron in the original remake), television actress Lea Thompson, and actress Cassi Thomson, among many others.
Cloud Ten Pictures, who created the original trilogy of films, is hoping to bring the film to a more mainstream audience. The original 'Left Behind movie was released in 2000, and was an independent Christian film based on the novel series of the same name, written by Tim LaHaye, and Jerry B. Jenkins. It opened seventeenth in the nation and was the No. 1 selling video in America in its first week of release, beating out 'Toy Story 2' and 'The Green Mile'.
View the full-length trailer below: