Music

|

November 19, 2023 04:34 EST
New release from LeFevre Quartet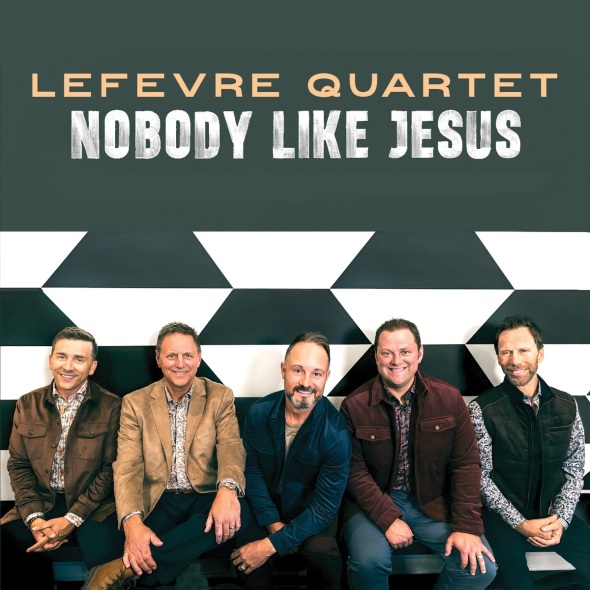 NASHVILLE, TENNESSEE (November 17, 2023) - Award-winning group and fan favorite LeFevre Quartet releases their brand new album Nobody But Jesus today. Their latest effort features group stalwarts Mike LeFevre and Jordan LeFevre and welcomes Jonathan Price (tenor), Christian Davis (bass), and Channing Eleton (pianist) to the group.

First single, title track, and album opener, "Nobody Like Jesus," written by John Honaker and Jonathan Smith, has been the #1 song on the Power 50 Gospel radio chart for the past several weeks, reflecting its dominance on the Southern Gospel airwaves across the country.  The chorus beautifully states the theme of the project:
"Nobody Like Jesus
Nobody like Him
Carries our burdens
Covers our sins
Oh, what a Savior
Oh, what a Friend.
Nobody like Jesus
Nobody like Him"

Other album highlights include "Never Walk Alone" (written by Jess Cates, Hope Darst, Tommy Iceland, Lizzie Morgan, and Jonathan Smith) which features Mike LeFevre (Gold City, Brian Free and Assurance) on lead vocals and reminds us through every storm God is faithful and right beside us. Album closer, "There Is A Name," written by Brian Taylor, features Jordan LeFevre on lead and is a perfect way to tie up the message on this project celebrating and praising the name of Jesus. 

"We're excited about the release of this new collection of songs," states group founder, Mike LeFevre. "No matter where you're at or what you're seeking, there is nobody like Jesus. We pray this album is a blessing to many."

LeFevre Quartet has set a standard of excellence at Southern Gospel radio having notched six #1 songs on the Singing News national radio chart, including "My Jesus," "Between the Prayer and the Answer," and "All the Praise." Nobody Like Jesus is sitting at #3 on that chart and moving up fast. 

"We are so excited about the much-anticipated new recording, Nobody Like Jesus, from The Lefevre Quartet," commented New Day Records A&R Director, Dusty Wells. "The guys in the group, along with producer extraordinaire Wayne Haun, have created an incredible project full of songs that will minister and touch lives with the hope and message of Jesus. The project's first single, "Nobody Like Jesus," has already been a hit at radio and is fast climbing the charts. We love working alongside Mike, Jordan, Jonathan, Christian, and Channing. LeFevre Quartet is a great group that we believe in, and we are standing alongside of. This project will be a favorite for so many."

Nobody Like Jesus, is currently available at all digital service providers.

Click here to listen now. 

ABOUT LEFEVRE QUARTET
Since 1921, the LeFevre name has always been a leader in Gospel Music. Today, the name is stronger than ever. The LeFevre Quartet formed in 2005 and within only a year, Gospel Music fans voted The LeFevre Quartet 2006's Singing News Fan Awards Horizon Group of The Year. In 2009, their song, "Big Mighty God" was nominated for a Dove Award. In 2016, 2017, 2018 and 2019, The LeFevre Quartet was nominated as a Top 10 Traditional Quartet in the Singing News Magazine's Fan Awards. 
Their recent albums from New Day Records/Daywind have produced multiple number one hit songs. Prayerfully, the message in each song will change hearts. 
It takes more than just a legendary name to gain the recognition this group has attracted, but with stellar vocals, high energy performances, and a heart for ministry, this combination of talent is one you won't soon forget. The LeFevre Quartet strives to reach the masses with a message of hope, grace, and salvation through Jesus Christ!
ABOUT NEW DAY RECORDS
New Day Records is a boutique music label and home to award winning artists including High Road, LeFevre Quartet, The Sound, and TrueSong. Founded in 2019 by Dottie Leonard-Miller and Ed Leonard, New Day Records is distributed by New Day Christian.