Trending News

|

February 09, 2015 11:30 EST
New Orleans Pelicans NBA 2015 News, Rumors: NBA Star Player Anthony Davis Listed as Day-to-Day After Injury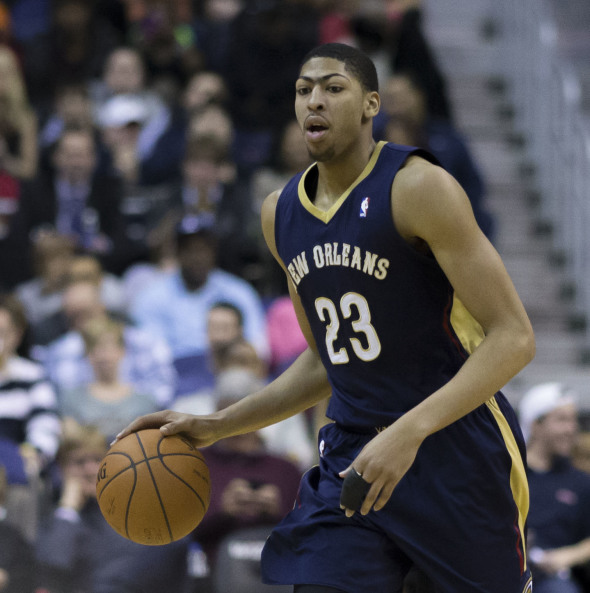 New Orleans Pelicans cornerstone Anthony Davis hurt his shoulder after an awkward fall going for an alley-oop Saturday in a loss against the Chicago Bulls. Following the game, Marc J. Spears of Yahoo! Sports reported that Davis is "just sore," while having his arm immobilized.
"He says he's a bit sore right now. He couldn't move his arm the way he needed to, so we got him out," Pelicans coach Monty Williams told the Associated Press.
"He kept saying he was OK, but the doctors didn't feel good about getting him back out, so we have got to get more evaluation and we'll have a better update Sunday."
The latest update on the all-star came from an NBA TV tweet saying, "The Pelicans announce that forward Anthony Davis is day-to-day with a sprained right shoulder."
John Reid of NOLA.com reported that Davis is listed as questionable for Monday's game versus the Utah Jazz.
Davis is steadily staking his claim as one of the best players in the NBA. He was recently voted as a starter for the All-Star Game this season, with averages of 24.5 points, 10.3 rebounds, and 2.7 blocks in 46 games.
The Pelicans are pushing hard to land the final playoff seed in the incredibly competitive Western Conference, slightly trailing the Phoenix Suns by 1 ½ games.
Earlier in the season, Davis also had to miss a few games with a toe injury and a sprained groin. Bleacher Report points out that in the games he's missed, the Pelicans have struggled mightily as evidenced by losses to bottom rung teams like the New York Knicks and the Philadelphia 76ers.
Davis injured his shoulder after converting an alley-oop after a trailing Tony Snell caused his body to swing as he grabbed the ring. After losing his grip on the rim, Davis landed on his right side, and played for about a minute before being dubbed out.