Trending News

|

July 24, 2018 07:31 EDT
Netherlands-Based Worship Band Trinity Talks About Bringing their New Music to the US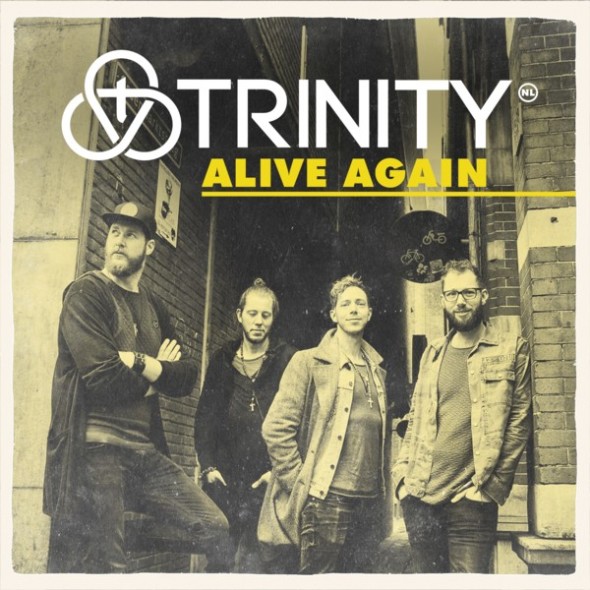 Making its mark on the international music scene, awards-winning, Netherlands-based, eclectic worship band Trinity releases its first radio single into the U.S., "Alive Again," through their newly signed agreement with The Fuel Music for global distribution and marketing. 
Formed by three Dutch brothers raised as missionary kids in Peru, Elbert (lead vocals, flutes, saxophone), Johan (acoustic guitars) and Niek Smelt (Drums, percussion), and Dutch-raised Bert Bos (bass), Trinity is a Worldbeat band that fuses South American and Irish folk with African beats and pop grooves to create a unique, acoustic worship music experience.
While growing up in Peru, Trinity's brothers bartered for lessons on indigenous instruments with English lessons and organically discovered the heart of Peruvian street music. That heart still lives in Trinity's music and the band's vision to connect with people of all backgrounds today.
The first new music from Trinity since 2016's Desert Rain, "Alive Again" was produced by Grammy-nominated, multiple Dove Award-winning Ian Eskelin and Barry Weeks and is the lead single from the band's album, The In Between, slated to release this fall. More information on the new album is coming soon, and a trailer for the full-length can be seen now at https://www.youtube.com/watch?v=qEfvvsZ6N8U.
Taking the new music on the road, Trinity embarks on a radio promotional tour beginning today in Dallas, before traveling to Los Angeles, Nashville, Seattle, Portland, Las Vegas and more radio markets across the U.S.
Q:  Thank you guys for your time.  Who is Trinity?
Pleased to do an interview with you. I'm Elbert, lead singer of the band. I'm answering your questions from a coffee LAB (so funny to see that has become the new 'way to go' (-; A coffeeshop? Ugh no! It needs to be a LAB!) 
We're in Baltimore right now: in YOUR huge country! We're here to see people at radio stations and explore the vistas. And so far, we've seen a lot of great places and we've met so many beautiful people from different backgrounds. It's fun to be on the road and it pictures nicely who and what we are: In Between-People... Journeying through life together. Navigating towards the Kingdom of Grace. Bringing hope and heavenly party wherever we go. We're four friends and brothers (of which 3 are actual siblings) and we've been playing music since like forever (-; We're an eclectic music worship experience with folk influences from all over the world creating a blend that will make you feel at home in no time and that might even make you wanna dance... 
Q:  There are four of you, so why do you call yourself Trinity?
At first it was just because we thought it was cool back in the day when we were adolescents returning from a summer of seasonal work on a farm in Ireland. It sounded nice and Celtic and we DID start with 3 band members. But after one practice we discovered we weren't so good at playing the guitar as we thought so we talked our brother Johan into joining the band and that's when it really started. 
It is only recently that our name is starting to make real sense to us. Just like Father, Son and Holy Spirit are a community we are called to be people of connection and community too because we're created in God's image! We've always felt the calling to unite worlds and bridge gaps between people and our concerts were always about that. Now we understand why! 
Q:  Have you always felt a call to record worship music?
Not always. We've had a few years of experimenting with songs that weren't explicitly about, or for, the Divine. We were sick and tired of feeling like we had to make Jesus-jingles. Now we've dug deeper and we've committed ourselves to write good songs inspired by life, fueled by love, hope and grace. Because in the end Christ is our bass note or the 'groove' on which we build everything else. So it's just like jamming: You start with a groove and a key. If you don't listen to that, your 'life song' is gonna be crap (-; If you DO listen though: it's gonna be beautiful EVEN when life gets messy and far from perfect. That's when beauty happens! That's when Jesus becomes visible today. 
Q:  Tell us how did the Lord lead you to the release of your US single "Alive Again" and working with Fuel Music? 
Man, that's a cool story: We've been working and touring in The Netherlands and Europe for 14 years and even though it's going well, we do struggle, especially since record sales have gone down so much. We've always liked traveling and exploring so we decided to do a pilot trip to the USA to check out whether there were any possibilities for us and whether people would be receptive to our songs. We did feel like we had something unique that would work here too. We contacted friends of friends and hooked up with an elderly couple in Nashville via Facebook. They offered us their hospitality and we went ahead and booked some flights... Long story short: We played some songs in an Indian restaurant for Tony Patoto of Fuel Music and we clicked! We came back a year later with a bunch of jams and recorded an album with Ian Eskelin (former All Star United) and now we're back to do a radio promotion tour! 
Q:  What is "Alive Again" about?  And why are you excited about this song?
We're excited to share this song with people like us: Who find it difficult to experience God in our day and age. Who've maybe lost touch of who they are. Who're fed up with feeding the machine. Who want to break free. Who want to let go of their old ways of seeing God and themselves. Who want to feel truly alive. Who want to be truly happy. It takes a daily 'conversion' of the mind and heart to be fully alive and this song does that in us. There's a lot of our bush crafting experiences hidden in the lyrics and the vibe of the music. It makes us feel like we're in the bush again.  
Q:  Give us a preview of your new album, what are some of the people you are working with?  
We're planning to release the record in the fall of 2018. Our sound has never been more poppy yet never been so eclectic and folky either. We've had the privilege to work on 'The In Between' with Ian Eskelin, the former frontman of 'All Star United' who lives in Nashville. These songs are our testimony of the past two years as a band and as individuals. We're proud to call ourselves 'craftsmen of heavenly parties' so a lot of the songs on the album are very energetic and crafted for an interactive live performance. We're looking forward to playing them live wherever we go. Right now we're doing festivals in Europe and on a crazy two-week radio promotion tour in the USA. It's the first time we're going 'global' with a record so it's pretty exciting and scary at times but hey! We are Trinity and the world is our home... 
Q:  Are there any songs you are really excited from the new album now?
 There is one song called 'Side By Side' which has a real gospel choir singing along with it. I can't wait to do a live recording in some chapel in one of the southern states. Also there is a real Celtic song where I play the whistle and we all dance. It talks about us all being invited to a party. I just feel that people in a lot of places around the world are realizing that putting up walls and fences is not the answer. That it will not bring happiness. We live in polarized and individualistic times but we're waking up. Dialogue and connection is the hard way but the only true way forward. And hope filled, connecting music is needed more than ever. 
Q:  I believe you will be touring the US, what can fans expect when they come to see you?  
They're in for a surprise! Four white guys with an inner Latino playing music that has influences from all around the world. We play a lot of folk instruments and we try to bring as many as possible. We speak English, but we speak Spanish too! We're always going for a unique experience and a true connection with people on and off stage. What we always pray for before a concert is that folks will leave the concert or show feeling lighter and lifted up, full of hope, ready to challenge the systems that drag us down. And that people won't feel alone any more but will know that we're on a pilgrimage together: Ready to touch lives with the grace and love of God and be transformed themselves in the meantime. 
Q: Where can they find your touring schedule?
We're on Spotify too: Trinity (NL) and via songkick you'll see our tour dates as well. 
We try to 'take people with us on the road' via Instagram and Facebook and we have a fan-base-club too called 'Trinity&Friends.'