Music

|

September 19, 2018 11:10 EDT
MercyMe Announces 2019 Leg Of "Imagine Nation Tour," Featuring Crowder, Micah Tyler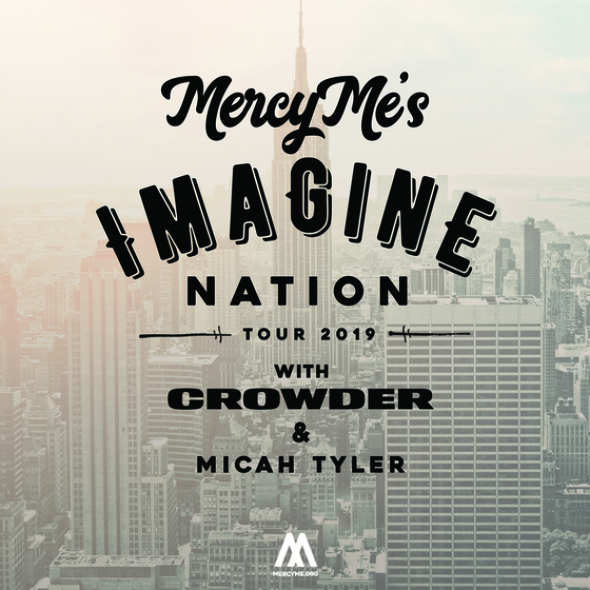 Multi-platinum selling Christian band MercyMe on Tuesday announced the 2019 leg of their "Imagine Nation Tour," which kicks off on March 7 in Bossier City, La., and wraps in Baltimore, Md., on May 11. The tour will find the group traversing over 30 cities nationwide alongside fellow Grammy nominee Crowder and multiple Dove Award nominee Micah Tyler.
During its three-month run, the 2019 "Imagine Nation Tour" include shows planned for such major markets as Los Angeles, Portland, Orlando, and Memphis. Nominated for the seventh time at the American Music Awards (AMAs), they are also scheduled to appear at the "2018 American Music Awards," which will broadcast live from the Microsoft Theater in Los Angeles on Tuesday, Oct. 9 at 8 p.m. ET on ABC.
Current GMA Dove Awards Artist of the Year, MercyMe is currently nominated for two awards at the upcoming 49thAnnual GMA Dove Awards, including again Artist of the Year. The show will be broadcast exclusively on Trinity Broadcasting Network (TBN) on Sunday, Oct. 21.
On Oct. 5, MercyMe will release its latest single to radio, "Best News Ever." The song is a cut from their Grammy-nominated release, Lifer, and is the follow-up to the song "Grace Got You," which spent seven weeks atop Billboard's AC Monitored chart.
MercyMe will continue touring this fall with Tenth Avenue North on the 2018 leg of the "Imagine Nation Tour." For tickets and the most up to date tour information, visit the band's official tour page.
Follow BREATHEcast for the latest about MercyMe, and visit their official website, Facebook, Twitter, and Instagram.
Click below to listen to MercyMe's upcoming single "Best News Ever," or click here to listen on YouTube:
MercyMe's "Imagine Nation Tour" 2019:
* all dates subject to change.
March 7 - Bossier City, LA
March 8 - Beaumont, TX
March 9 - Baton Rouge, LA
March 14 - N. Charleston, SC 
March 15 - Fayetteville, NC
March 16 - Asheville, NC
March 17 - Macon, GA
March 21 - Green Bay, WI
March 22 - Bemidji, MN
March 23 - Rochester, MN
March 24 - Peoria, IL
March 28 - Memphis, TN
March 29 - Springfield, MO
March 30 - Oklahoma City, OK
March 31 - Rio Rancho, NM
April 4 - Glendale, AZ
April 5 - Los Angeles, CA
April 6 - San Diego, CA
April 7 - Sacramento, CA
April 11 - Orem, UT
April 12 - Boise, ID 
April 13 - Portland, OR 
April 14 - Kent, WA
April 25 - Lexington, KY 
April 26 - Highland Heights, KY
April 27 - Ft. Wayne, IN 
April 28 - Rosemont, IL
May 2 - Mobile, AL
May 3 - Jacksonville, FL
May 4 - Orlando, FL
May 5 - Tampa, FL
May 9 - Toledo, OH
May 10 - Allentown, PA
May 11 - Baltimore, MD