Events

|

August 03, 2023 07:28 EDT
Matt Redman launches WOR/TH Seminar, equipped to serve songwriters, worship leaders, pastors, and the Church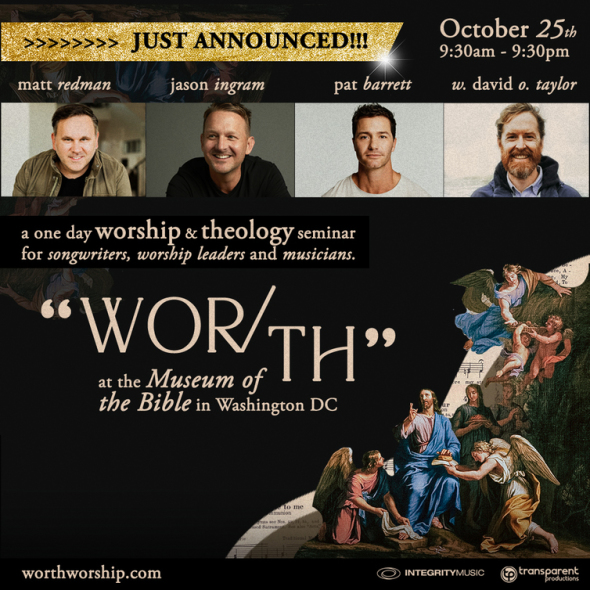 NASHVILLE, TN - In partnership with Transparent Productions and Integrity Music, award-winning songwriter, artist, and worship leader Matt Redman launches WOR/TH, a unique series aimed to equip and encourage songwriters, worship leaders, musicians, pastors, and worship teams. Created by Redman to come back to both the heart and the mind of worship, the first of the WOR/TH series will kick off as a one-day worship and theology seminar on Wednesday, October 25 at the Museum of the Bible in Washington D.C.
The day will consist of Redman instructing the art of songwriting alongside Pat Barrett ("Build My Life," "Good Good Father") and Jason Ingram (writer of "King of Kings," "Great Are You Lord"), two of the church's most prolific songwriters. Additionally, W. David O. Taylor, Associate Professor of Theology and Culture at Fuller Theological Seminary and author, will be teaching theology.
"These days, I think it's possible to present a really good argument that Worship music has taken some ground when it comes to relevance, production levels, and creativity," Matt Redman shares. "But when we look at the lyrical content of our songs, and in particular the weightiness of what we're saying, I'm not sure we measure up quite as well. I think this is the most crucial battle right now in worship music. We simply can't allow the glory of Jesus to be diluted down in our songs - we've got to fight for something purer, and deeper. When we get it right - writing and choosing songs that are biblical, poetic, and relevant - the truth of what we sing will have such a transformative effect on the singing Church. This is the heart behind WOR/TH - a series of gatherings pursuing healthy, honouring, and helpful theology in our worship music. I would love to see these rooms filled with songwriters, worship leaders, pastors, and musicians who share that same passion."
Held in the Museum of the Bible's state-of-the-art theater, Redman adds, "I'll be joined by my friends Pat Barrett and Jason Ingram - two of the most prolific worship songwriters of this generation. We'll also be joined by W. David O. Taylor - a leading academic mind in the area of worship theology. All of this and the opportunity also to explore the uniquely inspiring environment of the Museum, I'm beyond excited for these events and really hope they can be a reckoning force for the glory of our God."
A special pre-sale for the inaugural seminar begins this Friday, August 4 at 10am local time (pre-sale code: WORTH). The general on-sale date will kick off on Monday, August 7. All seminar tickets include entrance to the museum.
More 'WOR/TH' events will follow in 2024, both around the USA and abroad. For more information, please visit worthworship.com.
ABOUT MATT REDMAN: Matt Redman is married to Beth and they have five children. His journey as a worship leader and songwriter has taken him to countries such as South Africa, Japan, India, Australia, and the Czech Republic. Along the way, he has sung in venues such as Madison Square Garden, Red Rocks, and Wembley Stadium, as well as St. Paul's Cathedral and Royal Albert Hall. Redman has recorded nineteen albums – working in iconic studios such as Abbey Road in London and Capitol Records in Los Angeles – and has been presented with 12 GMA Dove Awards, a Cranmer Award for Worship by the Archbishop of Canterbury, and made a fellow of the Royal School of Church Music in the UK, his home country. His best-known songs include "The Heart of Worship," "Blessed BeYour Name," and the double GRAMMY®-winning "10,000 Reasons." More recent co-writes include "Son of Suffering" and "Build My Life."
ABOUT PAT BARRETT: With popular songs such as "Build My Life," "The Way (New Horizon)," and "Good Good Father," Pat Barrett is a key songwriter and artist in the broader worship music community. A worship leader based in Atlanta, GA, he released his solo debut album in 2018. He was also nominated for the prestigious New Artist of the Year award for the 49th GMA Dove Awards. He is also the first signing on Chris Tomlin's label imprint, Bowyer & Bow, in partnership with Capitol CMG. His No. 1 song, "Build My Life," continues to impact the church as one of his two songs in the Top 100 songs on the CCLI chart as well as 17 songs in the Top 2000.
ABOUT JASON INGRAM: Jason Ingram is a GRAMMY® and Dove Award-winning songwriter-producer who has played a major role in the releases of artists such as Steffany Gretzinger, Amanda Cook, Chris Tomlin, Lauren Daigle, Bethel Music, Elevation Worship, Maverick City, and more. Every Sunday, churches around the world are singing songs written by Ingram, and his heart is that God would continue to use him to help people encounter the true and living God.
ABOUT W. DAVID O. TAYLOR: Taylor is an Associate Professor of Theology and Culture at Fuller Theological Seminary and the author of several books, including Body of Praise: Understanding the Role of the Physical Body in Worship (Baker Academic, 2023), Open and Unafraid: The Psalms as a Guide to Life (Thomas Nelson, 2020), and Glimpses of the New Creation: Worship and the Formative Power of the Arts (Eerdmans, 2019). An Anglican priest, he has lectured widely on the arts from Thailand to South Africa. In 2016 he produced a short film on the Psalms with Bono and Eugene Peterson. He lives with his family in Austin, Texas, and you can usually find him on Twitter (@wdavidotaylor) or on Instagram (@davidtaylor_theologian).