Interviews

|

April 10, 2018 05:49 EDT
LOVECOLLIDE Talks Exclusively About their New Album "Tired of Basic"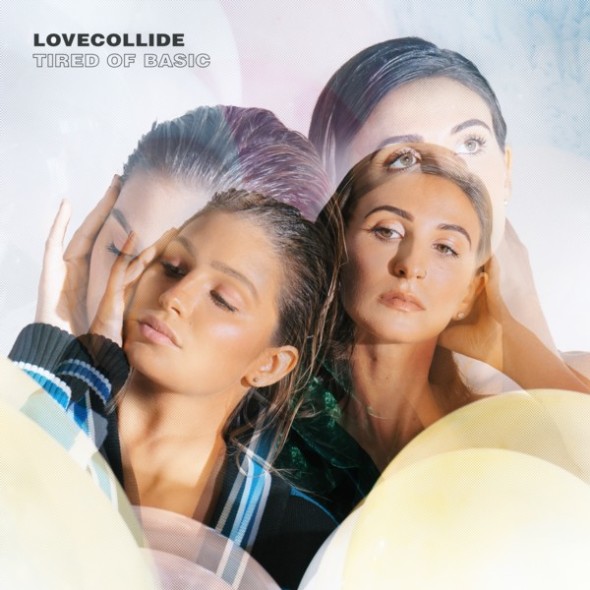 Lauren DeLeary Budnick and Brooke DeLeary, known collectively as the faith-forward pop duo LOVECOLLIDE, are ready to release of their first major, nationally distributed album, Tired Of Basic (The Fuel Music). LOVECOLLIDE is formally making their introduction to the larger music world and is poised to vastly expand their sphere of influence.
With their 10 new tracks, the sisters have crafted a soundtrack for the revolution--a revolution against boredom, mediocrity and status quo living. It's a message that isn't just for the band's audience; it's for the band, too.
Sonically, Tired Of Basic finds LOVECOLLIDE at their musical peak, experimenting with new, cutting edge sounds that stand up to the best Top 40 radio has to offer. Armed with the prowess of new producers Riley Friesen (Family Force 5, Group 1 Crew) and Matt Dally (Superchick, Jamie Grace), LOVECOLLIDE has found its perfect match to achieve the sound they want to accompany their lyrics.
We are honored to catch up with Lauren DeLeary Budnick for this exclusive interview. 
Q:  Thanks for doing this interview with us.  Why did you call yourselves LOVECOLLIDE?
A: Right before we released our first, self-titled album back in 2014 we realized we needed to choose a new name. We had previously just gone by our last name, "The DeLearys," which we thought sounded like a southern gospel group and did not fit our sound or style. We knew that when we transitioned from just positive music to overtly Christian music, God would reveal to us the name we were to go by. LOVECOLLIDE is the act of humanity encountering God's love. Essentially, the first great love collide was when Jesus was born to save us, died on the cross and rose again. We believe we can encounter and collide into God's love in our every day. 
Q: On your website, you describe yourselves this way: "we are aliens in this world and live by heaven's rules." Can you explain what this means?
A: We must look to the Bible here. Let's take a look at two translations of 1 Peter 2:11
AMP: Beloved, I urge you as aliens and strangers [in this world] to abstain from the sensual urges [those dishonorable desires] that wage war against the soul.
MSG: Friends, this world is not your home, so don't make yourselves cozy in it. Don't indulge your ego at the expense of your soul. Live an exemplary life among the natives so that your actions will refute their prejudices. Then they'll be won over to God's side and be there to join in the celebration when he arrives. 
Q:  You are about to release your new album "Tired of Basic."  What are you most excited about this album?
A: We are most excited to share the new style of this music, which is a current top-40s pop sound. We believe the vibe will resonate with people of all ages, but specifically those in their teens and 20s. We hope the message of Tired Of Basic comes across loud and clear. 
Q: Did the two of you write all the songs on this album?  And what was the most challenging song to write and why?
A: Yes, we wrote all the songs on the album. We had previously written 7 of the songs with other writers before ever getting in the studio with our producer. Of the three that we wrote with them, "Breaking My Heart" was most INTERESTING as it is a heartbreak song coming from Jesus' perspective. Of the 7 we wrote before getting in the studio... "Wildfire" was the most challenging! We fully re-wrote that thing literally like eight times. But we love the result 
Q:  On the title cut "Tired of Basic," you sing the fact that we are made for the extraordinary.  In what ways are we made for the extraordinary?  
A: God made us for a purpose. We live an extraordinary life by being bold and breaking out of boxes created by culture or by ourselves. By living as rebels and living by heaven's rules. By embracing ourselves, flaws and all. By not following the crowd. By not sitting on the sidelines watching life go by - being a spectator. We live extraordinarily when we don't let fear make our decisions. Living an extraordinary life is fully living out God's unique purpose and dream for our lives.
Q:  Talk to us about your single "I Don't Want It."  How did this song come about?
A: We wrote this in the studio with our producers. If you have ever been in a room of writers, you know most songs all start off with mumbles and made up phrases and words. We came up with a melodic hook based off what the producer was putting together and just started singing "I Don't Want It." It kind of stuck! We did not like any other ideas or words we tried to place in there. So, we all sat back and asked ourselves... "Obviously, I Don't Want It" wants to live on and be sung. I'm not gonna fight that. So, what is it that I Don't Want?" A lightbulb went off in mine and Brooke's head! We had been praying for a while about this next step in our career. Praying and pondering if we should take it. And if God was not in the plan - then we Did Not Want It. And we mean that in every area of our lives - not just our musical career. 
Q: In your album you sing about being bold and being loud.  Are there any areas in your career or your life that the Lord is speaking to you to step out in faith?
A: God is teaching us to let go of what other people think. To know that it does not define who we are. We are learning to just go after what we are truly designed for and not fear if people misunderstand. We are not letting anxiety stop us from achieving our goals. God is teaching us that in the end, Love is the greatest motivator.