Events

|

March 24, 2015 04:49 EDT
'Killing Jesus' Movie Premiere in NYC: Star Studded Event Brings Out Bill O'Reilly, Kelsey Grammer, & More [VIDEO Recap]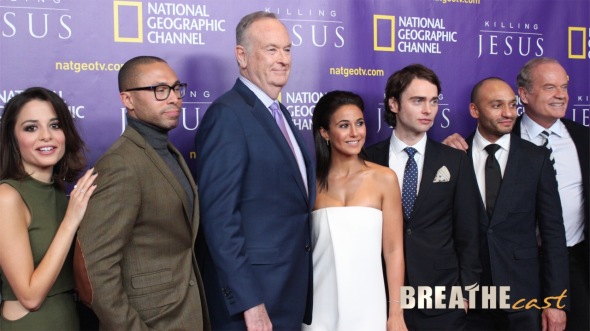 BREATHEcast had the opportunity to attend last night's NYC premiere of National Geographic's film 'Killing Jesus', and the star-studded event shined a little light in the city for Jesus.
The movie is based off Bill O'Reilly and Martin Dugard's best seller of the same name, and was brought to life by executive producer Ridley Scott.
Taking place at the Alice Tully Hall at the famed Lincoln Center, the actors and actresses who brought the story of Jesus to life entered in on the red carpet at around 6 o'clock pm.
The stars were kind enough to stop to answer questions from the press that was there, and BC was able to speak to Kelsey Grammer (Herod), Emmanuelle Chriqui (Herodias), Haaz Sleiman (Jesus), and a few others.
O'Reilly entered the red carpet, but unfortunately media was not permitted to record video at the time. The cast posed with the iconic news show host for a few minutes to take pictures before dispersing and continuing interviews or preparing to watch the movie.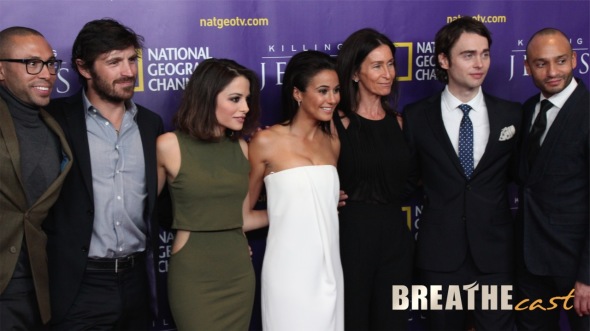 Carla Gugino (Sin City, Spy Kids), was even there as a special VIP guest throughout the night, as she perused the red carpet and media after party.
At around 7 o'clock the carpet began to clear, and people began to make their way into the theater. Popcorn and water bottles were served to the media guests as refreshments, and the seating was freestyle. Then O'Reilly and Sleiman spoke briefly before the showing.
The film went on for a little over two hours (review of the film and content coming soon). At the conclusion of the movie, the SRC All-City Chorale did a stunning a cappella rendition of gospel classic "Lean on Me."
Upon walking out of the reviewing, media and guests were greeted with Champaign and wine. From there, the room was covered with multiple food stations sticking with the Mediterranean themes of the movie. There were shish kabob skewers of beef, chicken, and vegetables along with roasted barley, falafel, and pita wraps.
Another table featured a spread of cheeses, fruits and veggies, smoked meats, and crackers. Then of course, there were two bars that served wine, beer, champagne , and soda. Waiters also walked around with various appetizers, and a dessert station with donuts and gelato was set up in a corner.
Some celebrities and socialites mingled around with the media and various guests, and the entire event was fun. The choir was in another corner singing throughout the party as well.
Lastly, as guests left, they were given a National Geographic goodie bag that contained the book 'Killing Jesus', the soundtrack of the movie, promotional materials, and a notebook.
Overall the event was an excellent time, the actors were gracious, and the movie was well done. For some highlights of the red carpet interviews, watch the video below, and stay tuned for our review of the film.