Inspirations

|

October 13, 2015 10:14 EDT
Inspirational Film 'Switching Lanes' Wins 2015 Feature Film Silver Award [TRAILER]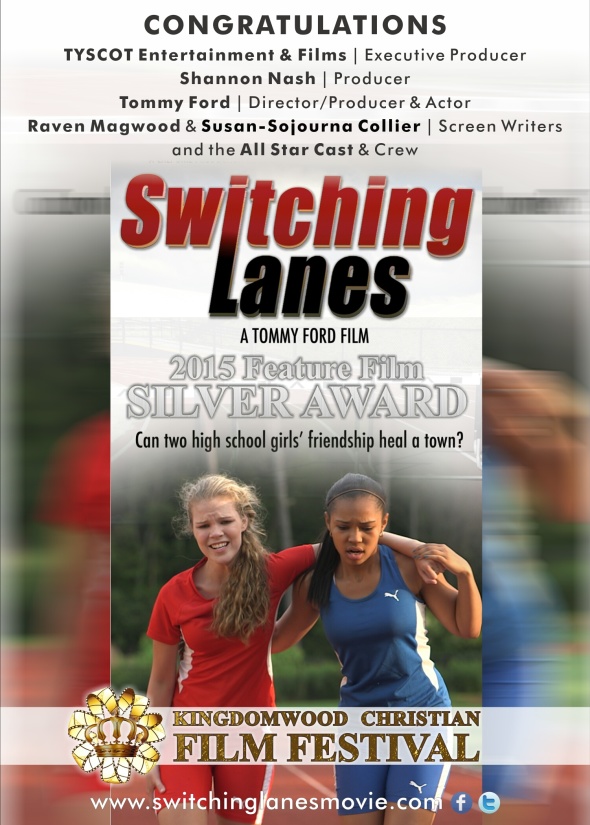 Tyscot Entertainment & Films' motion picture "Switching Lanes" has won the 2015 Feature Film Silver Award at the seventh annual Kingdomwood Christian Film Festival that took place last week at the Embassy Suites Hotel-Buckhead in Atlanta, GA.
The four-day event showcases independent films that promote Christian values. "This is a film I'm so very proud to be a part of," says its Director Tommy Ford in reflecting on the accolade. "Audiences have shared overwhelming enthusiasm and passion for the movie's storyline, performances and dramatic interpretation. It is our prayer that we touch the minds and hearts of all who view this film, in hopes of spawning meaningful dialogue for change."
The change Ford refers to is the on-going issue of racism. The "Switching Lanes" storyline revolves around the unlikely friendship between a black girl named Kaneesha (Jamilla Thompson) and her white counterpart Sarah (Victoria Staley). They live in the racially divided fictional town of Summerston. The young women forge a strong bond in spite of the strong racial tensions plaguing their community. Soon, Kaneesha and Sarah discover that their unlikely friendship not only changes their communities but their lives as well. The film also features noted actors and actresses such as Terri J. Vaughn ("The Steve Harvey Show"), Michael Lerner ("Glee") Marla Maples ("Executive Decision") and Kim Fields ("Living Single"). Recording artists such as Fred Hammond, Angie Stone, Wes Morgan and Kenny Latimore all have acting roles in the inspiring film.
The "Switching Lanes" film was produced by documentarian Shannon Nash alongside its director Tommy Ford who is known for his work in the '90s sitcom "Martin" and several other television productions. Raven Magwood and Emmy Award nominated screenwriter Susan- Sojourna Collier who has written for the soap operas "One Life To Live" and "All My Children" wrote the screenplay.
Visit www.switchinglanesmovie.com for more information on the film and to watch its trailer below: