Events

|

November 16, 2021 05:45 EST
Inspiration Ministries' to feature actor/singer Carla Bianco today, Tuesday, November 16, 2021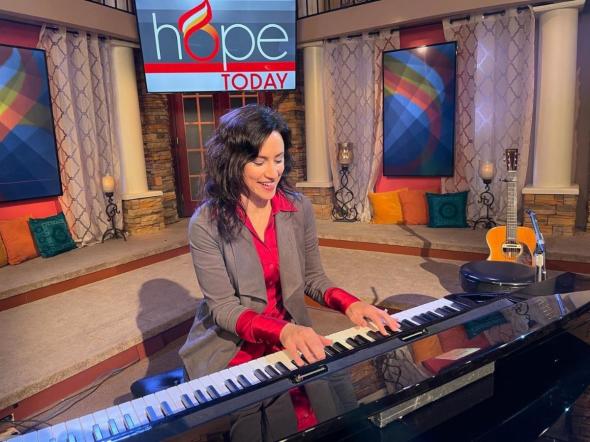 NASHVILLE, TN. - Broadway powerhouse actor/singer, ASCAP Award-winner, and Billboard chart-topping songwriter, Carla Bianco, is a featured guest on Inspiration Ministries' influential website, Inspiration.org, today, Tuesday, November 16, 2021.
To read Part One of Inspiration.org Digital Content Writer/Editor John Farrell's 2-part interview with Bianco, visit the Inspiration.org homepage (on Tuesday, November 16 only) or click here.
The new interview follows on the heels of the physical release of Bianco's highly anticipated debut Contemporary Christian EP, You Love Me As I Am, on October 29, 2021, as well as her powerful interview and the first televised performance of her debut single on Cornerstone TV's flagship show, Hope Today, on November 9, 2021. A powerful affirmation of God's unconditional love, her single, "You Love Me As I Am," encapsulates Bianco's personal journey of loss, redemption, healing and hope.
"She was such a wonderful guest and has such a beautiful voice!" says Hope Today producer Neil Fasekas.
"I loved how you could feel the lyrics in her presentation of the song, You could sense the Holy Spirit's touch on her song writing," adds Dave Tucker, Cornerstone Television Network's Director of Production.
To watch the YouTube link of the Hope Today episode featuring Bianco's interview and performance, click here.
A lifelong Christian, Bianco, who is perhaps best known for her starring turns as Maureen in the Tony and Pulitzer Prize-winning musical RENT on Broadway and the West Coast, was discovered by legendary music producer and manager John "Jellybean" Benitez, (Madonna, Barbra Streisand, Paul McCartney, Whitney Houston, Michael Jackson, and Sting), who signed her to a management and publishing deal while she was still in college.
"From the moment Carla sat down at the piano to sing me one of her songs, I knew she was a gifted and talented artist," says Benitez, who has expressed his excitement about Bianco's new music and direction.
The powerhouse pop vocalist soon inked a distribution deal with Sony/RED and released two albums as a recording artist on Ivory Note Records. She went on to become an ASCAP Award-winning, No. 1 Billboard chart-topping songwriter. Her work has received international press coverage, including features in publications such as The New York Times, The New York Post, and The Huffington Post, as well as television performances including Good Morning America. She has shared the stage with the likes of Platinum-selling Grammy winner Kenny Loggins, and she has appeared in commercials and notable films including Unstoppable with Denzel Washington, and Promised Land with Matt Damon.
Bianco's new direction on her stunning new EP marks a stylistic shift for the acclaimed singer/songwriter and performer, who experienced a spiritual reawakening following the death of her parents, when life-long feelings of self-doubt and insecurity threatened to take over her mind and heart.
Five years ago, while still wrestling with her losses, Bianco participated in a spiritual retreat, where she says she was overwhelmed by the grace of the Savior she has called her "Best Friend" from childhood. She began to experience the unequivocal, unconditional love of God in a brand-new way. She also felt God calling her in a new direction artistically, leading her to pen songs of worship, praise, and self-reflection.
"Something just broke loose," she explains. "During that retreat, I was immersed in scripture and felt His love and reassurance comfort me and distill a new sense of identity and purpose unlike any I've ever felt before."
To stream or download Carla Bianco's new You Love Me As I Am EP, click here. To watch the stunning music video, directed by Peter Guellard and shot near the stunning Quakertown Falls, click here. To watch the lyric video, click here. For more information about Carla Bianco and You Love Me As I Am, visit carlabianco.com, or follow on Facebook (m.facebook.com/CarlaBiancoMusic), Instagram (instagram.com/carlabiancomusic), or Twitter (@CarlaBMusic).