Music

|

November 19, 2023 03:26 EST
Get your tickets for "K-LOVE Live In Honolulu" - coming June 22, 2024!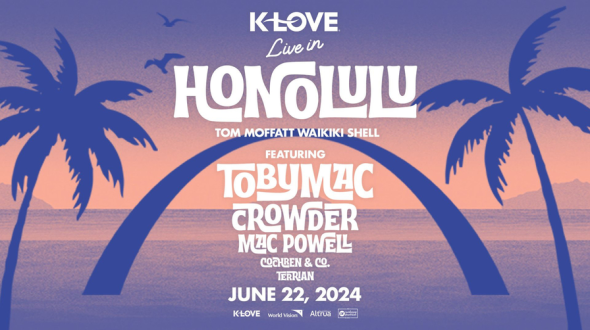 17 November 2023 - Nashville, TN - The Awakening Foundation, powered by Awakening Events, announces "K-LOVE Live In Honolulu" on Saturday, June 22, 2024. To be held at the Tom Moffatt Waikiki Shell, this first-of-its-kind summer concert event will feature TobyMac, Crowder, Mac Powell, Cochren & Co., and Terrian. The one-night-only concert is supported by K-LOVE Radio, Air1 Radio, World Vision, and Altrua HealthShare. 
"We are thrilled for 'K-LOVE Live in Honolulu' and this outstanding lineup," said David Pierce, K-LOVE Chief Media Officer. "The Tom Moffatt Waikiki Shell is as iconic as they come, and we are delighted to share this amazing night of music and worship with our K-LOVE community."
Concertgoers will experience an epic summer concert under the Hawaiian stars with Diamond Head in the background while getting to experience the power of music from many of today's biggest artists live from Waikiki Beach. Tickets go on sale December 1 at 2pm CT / 3pm ET. Click HERE for more information about the concert you've been dreaming of, waiting for you in paradise. 
- # # # -
About K-LOVE Radio: K-LOVE creates compelling media designed to inspire and encourage audiences to have a meaningful relationship with Christ. K-LOVE is listener-supported and delivers positive and encouraging music and messages through nearly 600 signals across all 50 states, the K-LOVE App, smart devices, klove.com, and K-LOVE On Demand. 
About World Vision: World Vision is a Christian humanitarian organization dedicated to working with children, families, and their communities worldwide to reach their full potential by tackling the causes of poverty and injustice. With staff in nearly 100 countries, World Vision serves all people, regardless of religion, race, ethnicity, or gender. For more information, please visit WorldVision.org.
About Altrua HealthShare: Altrua HealthShare is part of Altrua Ministries, a 501(c)(3) nonprofit organization. As a nationally recognized, faith-based Health Care Sharing Ministry of individuals and families, a collaborative community of health-conscious people, providers, dentists, nurses, staff, and members, we are dedicated to a single purpose: improving your health by "Caring for One Another." Our membership opportunities are developed and based on Biblical principles established for living a healthy and honorable lifestyle, and members must believe in our Statement of Standards to join. Find out more at altruahealthshare.org.
About Awakening Foundation: The Awakening Foundation exists to share the message of hope and resources with individuals and families in local and international communities by bringing together artists, fans, and like-minded organizations through live events and missional endeavors to serve and empower those in need. All Awakening Foundation events are powered by Awakening Events. Consistently ranked among the top promoters in America and reaching No. 1 in the world in total tickets sold, Awakening Events is a leader in the live faith-based entertainment industry. Be sure to find out more at AwakeningFoundation.com.