Music

|

September 27, 2023 02:36 EDT
Elevation Worship's "O Come To The Altar" RIAA-Certified Double-Platinum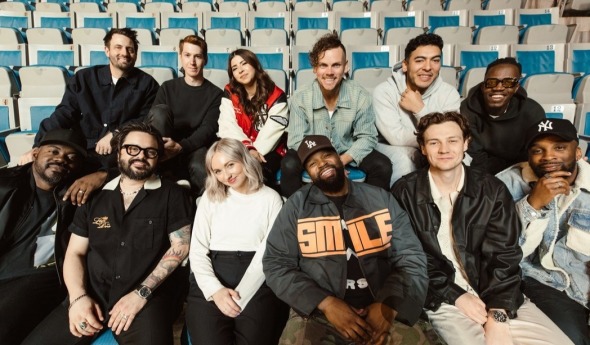 Nashville, TN / Charlotte, NC - The chart-topping single "O Come To The Altar" from the GRAMMY Award-winning and multi-platinum group Elevation Worship has been certified Double Platinum by the RECORDING INDUSTRY ASSOCIATION OF AMERICA® (RIAA). This is their first double-platinum single. 
"I'm completely blown away by the news that 'O Come To The Altar' has touched this many lives," shares Elevation Worship's Chris Brown, who co-wrote the song with Pastor Steven Furtick, Mack Brock, and Wade Joye. "I think it's amazing that a song about the open invitation Jesus offers all of us to come just as we are to Him has meant so much to so many."
Listeners will be able to experience "O Come To The Altar" live beginning October 3 when the group will embark on the next leg of their "Elevation Nights Tour" with Pastor Furtick. Kicking off in Miami, some of the eight tour stops have already sold out. To find a city near you, visit Elevation Nights Tour for more information. 
Adding to their accolades, Elevation Worship received multiple nominations for the 54th Annual GMA Dove Awards, including "Song of the Year" for their Billboard No. 1 song "Same God," and "Worship Album of the Year" for LION: Live From the Loft. 
In addition to the group's nominations, Brown was nominated in the "Songwriter of the Year - Artist" category and Pastor Furtick in the Worship Recorded Song of the Year category for co-writing on Phil Wickham's "This Is Our God." Collectively, Brown and Furtick are recognized for co-writing "Same God" (Song of the Year), both "Graves" and "Jireh (My Provider)" (Rap/Hip Hop Recorded Song of the Year), and producer nominations for LION: Live From the Loft (Worship Album of the Year). The GMA Dove Awards will be held on October 17th, 2023 in Nashville, Tennessee, and air exclusively on TBN and the TBN app on Friday, October 20th, 2023 8pm ET and 10pm ET. 
ABOUT ELEVATION WORSHIP: Elevation Worship is the worship ministry of Elevation Church, a multi-site church based in Charlotte, North Carolina led by Pastor Steven Furtick. They have released 16 albums that include RIAA double-platinum single "O Come To The Altar" along with RIAA Platinum-certified songs: "Jireh,"  "Graves Into Gardens," and "Do It Again." The group also has seven RIAA Gold-certified singles including "The Blessing," "Here Again," and "Wait On You," joined by their RIAA Gold-certified album, Here As In Heaven. Additionally, Elevation Worship has achieved three No. 1 radio songs, "Graves Into Gardens," "RATTLE!," and "Same God." The group currently has eight songs on the CCLI Top 100 list and more than ten songs in the top 100 week by week on Planning Center. To date, they have 8.65B all-time global streams, 5.43M YouTube subscribers, and 5.86M monthly listeners on Spotify. 
Their GRAMMY-winning album, Old Church Basement, is a live collaboration with Maverick City Music and was released in 2021 to wide acclaim. Elevation Worship recently celebrated their latest GRAMMY nomination for their album, LION, for the "Best Contemporary Christian Music Album" category. LION was also nominated twice for the 53rd Annual GMA Dove Awards. They've won six GMA Dove Awards and two Billboard Music Awards, and have received nominations for the AMA's (American Music Awards), BET Awards, and K-LOVE Fan Awards. 
The ministry of Elevation Worship is passionate about producing songs for the local church that connect others to God. Their main priority is to create an atmosphere of worship so people can encounter Jesus personally. Their most recent albums are LION (March 2022), LION: Live From The Loft (August 2022), and CAN YOU IMAGINE, released on May 19, 2023. CAN YOU IMAGINE? topped the Billboard Top Christian Albums chart during street week, the seventh album in their career to do so.