Artists

|

January 25, 2018 07:57 EST
Colton Dixon, Hawk Nelson To Co-Headline Spring Tour With Special Guest Sarah Reeves Kicking Off Feb. 22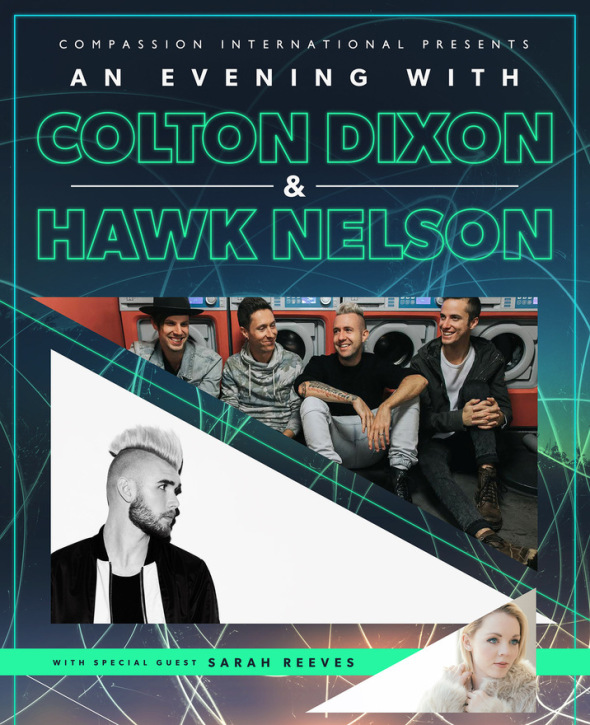 Award-winning artists Colton Dixon and Hawk Nelson will co-headline the upcoming spring tour, "An Evening With Colton Dixon & Hawk Nelson" featuring a special guest Sarah Reeves. The tour will kick off Feb. 22 in Fort Smith, Ark. and wraps in Springfield, Ohio on March 24, following concerts in 16 markets in Arkansas, Texas, Iowa, South Dakota, North Dakota, Michigan, Illinois, Georgia and more.
Dixon will be touring in support of his third studio album Identity, which was released last year and went straight to the top of Billboard's Christian Albums chart, and features the Top 5 radio single, "All That Matters."
Meanwhile, Hawk Nelson is touring in support of their upcoming album Miracles which will be released on April 6, and features the single "He Still Does (Miracles)" which the band dropped on Dec. 15.
Both artists are busy preparing for the tour, with Dixon exclaiming, "I'm so excited to play new music for the fans and share the stage with our friends in Hawk Nelson. It's going to be an awesome tour of celebrating life, love and the One who makes it all possible."
Hawk Nelson's Daniel Biro, Jonathan Steingard, David Niacaris and Micah Kulper add, "This will be a tour of firsts! The first tour of what is going to be a great 2018. Also the first time we get to tour alongside Colton Dixon and his awesome band. And the first time everyone can hear us play new music from our upcoming album."
Fans commenting on the artists' social media joined the artists' excitement, with many quickly picking up tickets, including a special VIP ticket available in most markets that includes a pre-show artist meet & greet with early entry for the best seats.
For more information and tickets, please visit the artists' official websites www.coltondixon.com and www.hawknelson.com.