Interviews

|

March 27, 2018 06:48 EDT
Cliff and Antoinette Murray Chats About their Marriage, New Hope Oahu & their New Worship Record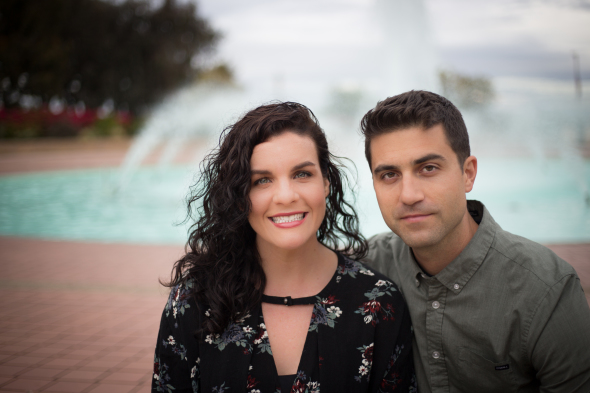 Cliff and Antoinette Murray currently reside with their kids in San Diego, CA. Cliff is a military musician and Antoinette is a singer, song-writer, director, and private music instructor with a Bachelor of Arts degree in Music from California Baptist University. Having both been raised in music ministry from a young age, Cliff and Antoinette have continued in that calling together leading worship in churches from Southern California to the Northwest, to the island of O'ahu.
In 2017, while serving with Frontlines worship ministry at New Hope O'ahu, they experienced breakthrough and healing in their hearts and marriage by the power of the Holy Spirit that continues to transform and realign their faith, marriage, and vision for the future.
With the help of producer and co-writer Scotty Mearig and the team at Dream Worship, Cliff and Antoinette are excited to release their debut album on April 20. The record is a testimony of God's grace and power in their lives. The desire of their hearts is to see these songs of praise, victory, hope, and forgiveness, facilitate life-changing connection with the Living God. 
Q:  Thanks for doing this interview with us.  Both of you, I believe, are musicians, tell us a little about your background.
Cliff: It is our absolute pleasure! Thanks for reaching out. We are both preacher's kids who grew up singing and playing in church from an early age. I started playing guitar at ten and was on the worship team playing and singing by fifteen. Choir and band through high school and into college where I met Antoinette at California Baptist University (CBU). I joined the navy as a guitar player in 2008, and we have been serving in music ministry in local churches in each duty station ever since.
The most recent and life-changing church for us has been New Hope O'ahu in Hawaii where we were just stationed for five years. The presence of God is heavy there and our lives will never be the same. He really met us where we were at and set us on a new trajectory while we were there. In many ways, we really don't feel like we left New Hope, just been sent out on Kingdom assignment! 
Antoinette: Yes! I grew up with music. My mom, who is an amazing singer and piano player, would always say "you don't do music, you ARE music". Truthfully, I never have had any idea what that meant! But, I've always understood that music is a deep part of who I am.  My mom liked to teach me through fire, so without any preparation she would hand me music or a chord chart and say "you're singing and playing this Sunday".
I think that helped prepare me for my future. Knowing how to prepare and handle one's self in a high pressure situation is a wonderful life skill.  As I began to cultivate who I was as a singer and musician, songs came out of me. I've been writing for as long as I can remember. I went to University for theory and composition. I did all the requirements but my passion for original singer/songwriter compositions remained. I have other family members working in the industry. Because of that connection I was able to do vocal session work and a number of professional singing jobs throughout the last 17 years.  I have taught music, directed choirs of all ages and now teach my own children music. Through it all, I have had this passion remain in me and I am beginning to understand why. It's not just passion, it's purpose. God loves music and He wants songs to come out of us that He gives us, so He can accomplish His purposes and be worshipped.
Q:  How did the two of you meet and how long have you been married?
Cliff: We met at CBU and were married the summer of '07. I think I'll ask Antoinette to jump in here.
Antoinette:   We had a mutual friend directing a musical review at our University.  During rehearsals I kept noticing this super brooding, good looking guy that I hadn't met before.  It wasn't the biggest school, so the fact that I hadn't met him yet was intriguing. We got to know each other and pretty quickly started dating and about a year later we got married. We were babies who knew very little, next to nothing, about the real world, but God was in it in a major way.  We both see that now and are excited because if God is in something, it is amazing. 
Q:  Where and in what roles are you serving God right now?
Cliff: Our primary ministry is to each other and to our kids. Antoinette can share more about being an awesome homeschooling mom and business administrator for our music ministry, but for me, God's been showing me recently that my job is more than just where our primary income comes from. Everyday I go in to work I have to put on the armor of God 'cause it is a spiritual battle ground. It is so tangible. Work, for me, is becoming an exercise in spiritual gifts, particularly prayer.
Let's face it, I'm in the military and there are souls from every kind of situation and background all thrown together into one unit. There's stuff going on in the heavenlies for sure! Beyond that we are excited to see what God has assigned for us to do in this next season. One of the things with being a military family is that we are always moving around, picking up and starting over.
Thankfully, it looks like we have found our new church family just in the last couple weeks and are excited to be plugging in. Before leaving O'ahu, we were very involved with "Frontlines" worship ministry at New Hope O'ahu and are so excited that our relationship with them is not over. Antoinette can share a little bit more about that. 
Antoinette: Honestly, I always thought I would work full time and my husband and I would both pursue our careers and raise a family together.  That was before we had children! When I became pregnant with our son, a truth was ringing in my head - either I would be the full time caregiver or I would have to pay someone else to do it. For our family and situation, I wasn't sure if that was best.  My heart became burdened. I felt a strong desire to put my child and family before my career.
God wanted and wants me to be a glue for my family. All that to say, I am serving God by serving my family in a capacity that wasn't part of my plan. God was and is so right though! I can see that His plan has ALL of us in mind, not just a couple of us.  I also feel a strong call to serve God in music in my home and in corporate settings. Anytime opportunities present themself, I try to obey! By obeying Him and letting go, he is bringing my passion and purpose into alignment! I couldn't have planned THAT! 
Q:  You have a new record coming out with DREAM Worship, how did you get to work with DREAM?
Cliff: We are so blessed and so excited about this album with producer Scotty Mearig from New Hope O'ahu and Dream Worship. As we mentioned before, New Hope is a special place and was a turning point for us. As our time to transfer from O'ahu was fast approaching we both felt in our spirit that God was speaking to us to do a project together with the New Hope team to take with us to the mainland.
We didn't know where the extra time would come from to get it all done nor did we know how we were going to pay for it, but we knew we were to simply start the process in faith. Because of New Hope's connection with Dream Label Group, we were very blessed to get a call from Dave Hanley along the way to talk about joining together in this next season.
God is working at a level that is so far above and beyond what we can even begin to imagine. He wants us all to let go of our lives and plans and listen to Him, to His Spirit. He has assignments for us to do and when we begin to connect to that reality, miraculous things start happening.
Antoinette: It was a MIRACLE! God specifically and audibly called me to attend New Hope O'ahu.  The people of New Hope, specifically Frontline ministry servants, opened their arms and hearts to me! It was a healing experience for me.  I can't quite articulate what that will always mean to me. It's a very big deal. I began serving on the team and through different conversations with Fred Alcain and Scotty Mearig, the idea of a project came about.  My husband was also serving with "Frontlines" by this point as well.
Songwriting was a somewhat dormant thing in our minds at that time. It was something we both were passionate about but the responsibilities of job and child raising were overwhelming our time and creative space so we weren't able to flow in that part of our life. 
But, when the idea of a project came about, it was like we musically woke up! There were a lot of "oh yeah!" moments and a lot of reserve energy and creativity found during that time. I see God's hand all over it. As we began to record the project, God was in it and the opportunity to work with Dream arose. I have to mention Scotty again, because he is truly a huge catalyst in all of this.  He believes in Cliff and I and because of that so much life has come!
Q:  I have read that the record came out of a difficult time but a time where you have also felt the power of the Holy Spirit.  Tell us what happened there.
Cliff: You know, Pastor Wayne Cordeiro of New Hope O'ahu has this powerful illustration that I'll try and paraphrase here. Essentially, a clean car just needs to drive around for a day and it starts getting dirty. A constant theme at New Hope is that we all need our hearts washed every single day. Daily time in God's word and in prayer and fellowship with Him is not only important, but completely essential for life.
Not to mention, regular time with a Spirit-filled community. Another take away from New Hope for me is transparency. This life is so short and our assignments from God so important that there is no time to be wasted by sparing people the gritty details. Now, not everyone is ready to hear everything we have to say all at once, but I don't think God wants or is asking us to walk around acting like we have it all together when we don't. You don't know what someone else has dealt with or is currently dealing with who needs to hear what you're story is.
God seriously works on such a higher level than us. As far as our story, the short version is this: There's no place for secrets in marriage. My advice to every couple desiring to be married is to give the other person the opportunity to know everything that you carry and everything that has happened to you in your life, especially the stuff you're terrified of sharing. If they love you, and God desires for you to be together, they aren't going anywhere and you'll save yourselves intense heartache by not waiting six or seven years into your marriage. It doesn't help them to not know the whole story before they commit to a lifetime with you and you can be sure your sins are gonna find you out.
Thankfully, God's mercy is vast and unending and there's hope in Christ Jesus for every situation. I'm so overwhelmingly humbled by that mercy. The last few years have been a journey through confession, repentance, anger, hurt, mercy, joy, and more. The enemy tried desperately to keep me from being honest with Antoinette all through the years about things that happened to me before I met her, using fear and doubt to shut me up. But God, in His grace, mercy, and awesome power, had plans for us and His Spirit finally said, "Cliff, enough is enough!" About four years ago He quite literally brought to my knees in repentance and confession and from that point, the strongholds and chains in my heart and in our life and marriage began to shake and crumble.
The Lord brought us to New Hope O'ahu during that time and through a seminar called LifeChange, a prayer and deliverance ministry, I experienced the power and presence of God in a way I had never known my whole life. This album is a product of that journey and the work God is continuing to do in us and through us. These songs are His songs to us and we are so excited for this thing to be released. There are souls out there that God is preparing right now to hear His message through this album. This is our new calling together in the Lord and we could not be more blessed!
Antoinette:  When I look at my own capacity, I become full of fear.  But, when I catch a glimpse of Yaweh, I become a bold warrior with nothing to fear.  
Our marriage was not fantastic at the time.  Cliff was deploying a lot and I was pregnant and taking care of children without help for about 4 years.  I could feel a rift between Cliff and I. I was beginning to feel a need to escape. A need to breath. I became angry at Cliff and when everything surfaced from his past, it fueled my anger.  Who was I? What had I become? Who had Cliff and I become? Had I ever truly known who I was? What was ahead?
The only solace for me came from music and the presence of GOD. I knew that while I had no idea how to answer all those questions I had peace during worship. The nice thing was that I was finally humble! I was able to just be thankful for any good thing. I sought God, begged him for help and He took our hands and gave us the help we needed.  During that time I wanted to point the finger at Cliff. But, the more I drew near to God, He brought to surface some things that needed to be refined out of me too - Wrong mindsets, wrong desires, lack of discipline, pride, etc...
The Holy Spirit did for us during that time all the things that the Bible says he will do - He cleansed us, gave us gifts, set us straight, comforted us, reminded us of what Jesus said, and gave us boldness. The things that have transpired in the last year and a half are only the beginning.  Not because of our might and power, but because of His Spirit. It's absolutely amazing to be able to see that our help isn't in our perfection, because that is impossible to achieve, it's in Him! Our pursuit of Him is life. 
Q: How has this experience helped you in writing and recording of this album?
Cliff: Before this whole journey started, I would have shied away from an endeavor like this. There was no time really to get it all done before we left, the songs were not all finished or even completely flushed out when we started, and we didn't really have enough money to pay for it. The difference now is that from the moment we were in unity of spirit about what God was assigning us to do with this project, it was just like, yes. Totally. Full speed ahead, we are doing this! Our God provides and this is His album. We had better get out of His way and get started! And every step of the way, when we needed money for a payment or a lyric to finish a song to begin tracking, He laid it before us and we moved forward. One day at a time, one step at a time, brick by brick. He has been growing us through the "process".
Antoinette:  What we experienced is REAL. The lyrics in our songs are REAL and meaningful based on our life.  Nothing was a throw away lyric or for any other purpose than authenticity. Our lyrics have been a constant reminder when the enemy tries to come back and get us caught up again in a wrong mindset.  "The Lord is greater than any other!" "He's faithful to complete this work in me", etc... This album is a lifeline for Cliff and I and I think that's it's purpose for others as well. We were in pain and not sure what was going to happen but we turned our minds to the things of God and wrote lyrics inspired from His word.  We began to change the state of our minds because we were believing the Word of God instead of what the world says. Now, there's joy and hope and this incredible future and plan! We know battles will come, but we have Jesus! 
Q: What are you most excited about this new album?
Cliff: The fact that Antoinette and I have come together in unity with this album is a testament of God's grace and the Holy Spirit at work in our marriage and in our hearts. I'm so excited that God will use this album to bring power and healing to other people for His glory. 
Antoinette: I'm very excited to sing! I'm very excited to play these songs as many places as we can. I am excited to see this album form the foundation for things to come. 
Q:  How can this album encourage your listeners to love Jesus deeper?
Cliff: I hope that if they take one thing away from hearing this album it is this: That your sins are forgiven. That work was already done 2,000 years ago by Jesus of Nazareth by His death and resurrection. The enemy tries to whisper in our ears that we have to fix ourselves, that we have to stop doing something we are addicted to before we approach God. That is works-based salvation and it is a lie! God's wrath is already satisfied because of Jesus. Our Father is waiting everyday, right here, for each of us to just surrender and come into His loving arms. He is everything we need to live, to overcome, to have victory over the enemy in Jesus' name! Hallelujah! 
Antoinette:  HIS LOVE IS BEAUTIFUL!  The lyrics in our songs describe a beautiful God, we don't deserve His love but He gladly offers it.  My hope is that they can love Jesus deeper by learning about or being reminded of His great love for us.  He first loved us and we can love Him back deeply, the way He loves us.