Trending News

|

March 20, 2016 04:23 EDT
'American Horror Story' Season 6 Cast News: 'Scream Queens' Actress Emma Roberts Joins Lady Gaga In Next Season?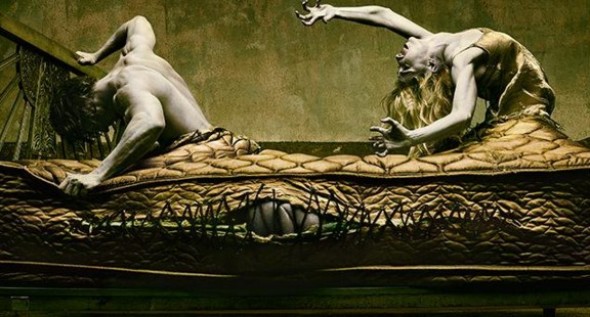 In addition to the inclusion of singer-actress Lady Gaga, it has also been rumored that "Aquamarine" and "Scream Queens" actress Emma Roberts is set to return to "American Horror Story" season 6.
In her interview with Entertainment Online, Roberts expressed her enthusiasm on returning to the sixth season of the horror drama "American Horror Story." She said that she had been hopeful to join again the series this season.
The actress explained that she was not able to be part of "American Horror Story" season 5, as she was buys filming Ian Brennan, Brad Falchuk, and Ryan Murphy's comedy horror television series "Scream Queens," which centers on the 20th anniversary of a 1995 sorority pledge that went wrong, along with a college campus distraught by a series of murders.
According to Roberts, "Scream Queens" was shooting its second season in Los Angeles and not in New Orleans, which means that she just had to walk over to the stage and force herself onto the show. In fact, the actress mentioned that it was a dream to see two young female heavyweights in one television series.
"My dream. Do you hear that? My dream!" the actress said.
Aside from her potential role in "American Horror Story," Roberts is also set to appear in James Cox's biography drama "Billionaire Boys Club" and Henry Joost and Ariel Schulman's thriller film "Nerve."
In October 2015, Murphy tweeted that Lady Gaga was so brilliant in "American Horror Story" season 5 that he had officially asked the latter to join season 6. After her portrayal as the Countess in season 5, seeing the singer-actress with Roberts in the same season would be interesting.
Fans have last seen "American Horror Story" in its season 5 episode 12, which is entitled "Be Our Guest." The episode saw Iris and Liz as they oversee a new period at the Cortez. Meanwhile, John and Alex found it hard to adapt outside the hotel.
"American Horror Story" season 5 episode 12 aired on Jan. 13. Season 6 is expected to air this year, but its exact release date is yet to be revealed.