Inspirations

|

September 29, 2015 04:41 EDT
Actress Judi Evans Talks Going from 'Days of Our Lives' Star to Funeral Worker; 'I am Making a Difference' [INTERVIEW]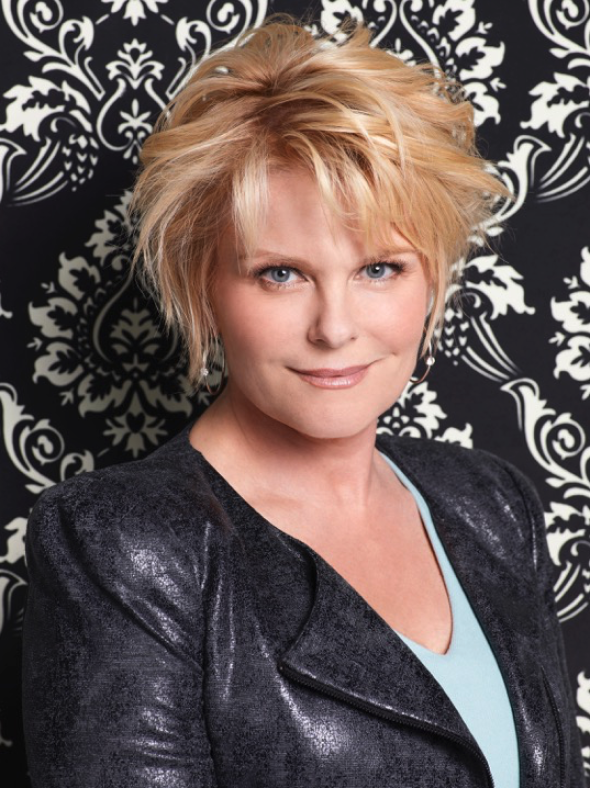 BREATHEcast caught up with 'Day of Our Lives' actress Judi Evans to talk about her faith, interesting career change and her attraction to the Catholic Church.
Evans openly embraces her faith while working dual jobs as an actress on the long-running soap, 'Days of our Lives' and as a full-time sales director at a funeral home in Rose Hills in Los Angeles. She converted to Catholicism about 5 years ago (from Protestant) and serves in her local church in CA.
Evans talked to BREATHEcast as 'Days of Our Lives' celebrated their 50th Anniversary. Check out the full interview below:
BREATHEcast - Reading through your extensive catalogue of work in acting, we wanted to know what made you moonlight as a grief counselor and funeral director?
Judi Evans - Actually my title now is Sales Director.... I have just been promoted to this position. What that means is I am the director of a Pre-Need Sales Team. We go out into the community and educate people on the importance pre-planning their funeral and cemetery needs. We often see families come through our doors when a death has occurred, and the person who has passed has no plans in place. The family is experiencing a great deal of sadness, and then has to make a multitude of decisions and choices in a very short period of time. And then try to figure out how to afford it. It's a tremendous burden at the most difficult time. By pre-planning well in advance, you protect your family from having to go through that. My team educates people, then if they're ready, we help them put their plans in place, beautifully and affordably. I started in this business 7 years ago. I wasn't working much as an actress. And given my age and my gender, there weren't a lot of opportunities acting-wise. I wanted to do something that would really make a difference in people's lives, and I kind of stumbled into this career, and fell in love with helping people.
BC - Entertainment can certainly sometimes separate the entertainers from their audience. Were you looking to be more hands on with the people?
JE -I've always been proud of what I do as an actress, however, there was always this "thing" in the back of my mind. What am I really contributing to society? What am I giving back? Working in the funeral/cemetery business I truly feel like I am making a difference in people's lives, person by person. At the end of the day if I have somehow made someone's darkest day a little better, a little brighter, then I am truly happy and blessed.
BC - Can you explain to us how you came to your own faith? You were once a Protestant who recently converted to Catholicism. Can you tell us what prompted that decision?
JE -I've always believed in God and Christ. I've been to many different churches. Presbyterian, Baptist, Southern Baptist. Since I was a little girl, I have always been drawn to Catholicism. I don't come from a Catholic family, though I've always felt an affinity towards Catholicism. In my search for "the church" I came across a wonderful Catholic Church in my neighborhood. From the moment I walked in, I felt like I was home. Within a few years, I started on my path to becoming Catholic.....
BC - What is the difference between being a Protestant Christian and a Catholic Christian?
JE - Traditions, I suppose. I love that there are services every day. I love confession. It's a steady religion. Not much has changed in 2,000 years. I find it very beautiful and fulfilling. Not that other religions/churches aren't, because of course they are, as well. Catholicism simply appeals to me, and feels right for me.
BC - Grief is a very hard thing to get through, how do you council people through such devastating occurrences?
JE - Honestly I don't counsel. I listen. Sometimes I hold/hug them, or hold their hand. Sometimes I cry with them. No one can truly know what someone else is going through. All I can do is empathize, listen, and let them know someone cares.
BC - You spent a good portion of your life acting on 'Days of Our Lives', what has been the most amazing part of it all for you?
JE - It's all been pretty amazing. The people I've worked with, especially the crew. How much is done in one day. We basically shoot a movie every day. Acting is fun. How great is it to go to work every day and have fun?? Even the crying is fun!!!
BC - Do you get recognized while counseling people?
JE - Up until a couple of years ago, when I moved up to management, I did meet with families who had just lost a loved one, and occasionally, I would get recognized. It's actually a good thing. It kind of takes them out of their grief for a moment. They smile, or laugh....or tell a funny story about their loved one when they would watch the show. Or it would remind them that they shared watching the show with their loved one, and the good memories surrounding that.
If you would like to connect with Evans or find out more information about her interesting dual jobs visit her on Facebook HERE