In the news

|

February 04, 2016 06:48 EST
11th Hour Gospel Trio Sing Hearts Out In Latest Record 'What A Moment' [REVIEW]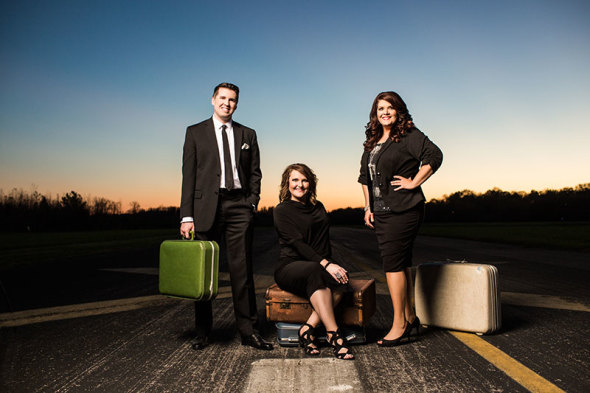 Top Tunes: "He Welcomes The Beggar," "I Trust," "Love Still Holds Our Scars"
11th Hour's new release "What A Moment" is a plethora of scripture based songs that sound like they come straight from the good book itself, and although they give a valiant effort, most of the songs on this album fall short of being exceptional.
Starting the disc off with "Mountain Moving Faith" could give one an idea of what to expect from the trio, fine-tuned three part harmonies, good lyrics and catchy melodies, but there is much more to this album than that. 
Unfortunately, it doesn't show up on this first track or the second, "Look At Me Now," which has the familiar sound of a Ray Charles-like organ riff, but that's where the similarities end. This punchy little tune tells of a woman who is set free after an encounter with Jesus, but although it's a cute blues diddy, the song never reaches its full momentum. 
"Bound" is another song of redemption that rings true of an old gospel tune, but remade into a bluesy contemporary. The homonym effect that the song is trying to do is obvious, but somehow it just doesn't cross the finish line.
The trio's two other upbeat songs on the record "Can You Burn" and "No Bones" are filled with lovely harmonies and perfectly thought-out vocal licks, but I can't shake the feeling that they are singing just a bit too safe.
Things start to look up with the song "When God Shows Up," a ballad that really reflects the trio's heartfelt vocals and lyrical emotion. You can feel the longing in each verse and a great sense of Jesus in the song. Where the album really takes flight is with the standout songs "Love Still Holds Our Scars," "He Welcomes The Beggar" and "I Trust."
The first two songs have a contemporary arrangement that give way to a whole other side of the trio. This is their powerhouse and where they have the most movement on the album. Beautiful vocals, harmonies and compositions that will have your heart yearning for more.
"I Trust" which was written by the group's Jaquita Lindsey, is a beautiful song about trusting God's promises no matter what one might be going through. It's arrangement is sweet, soulful and vocally soothing, my only complaint it that there weren't more songs like this on the record.
Finding a balance is key to having an overall exceptional record. The group didn't quite master it on this album and it wasn't quite cohesive with it's blues, country, gospel and contemporary themes. But the songs that they did do very well were a breath of fresh air.
This isn't your mama's country gospel, but it's also not your teenagers either.
Hopefully the group can find a happy medium for their next album and "trust" in their abilities to write more great songs that will leave the audience longing for more, as they did with the four ballads on this release.