Trending News

|

June 07, 2016 01:56 EDT
Xbox Games With Gold For June 2016 Lineup: New Titles Include 'Goat Simulator,' 'Costume Quest 2'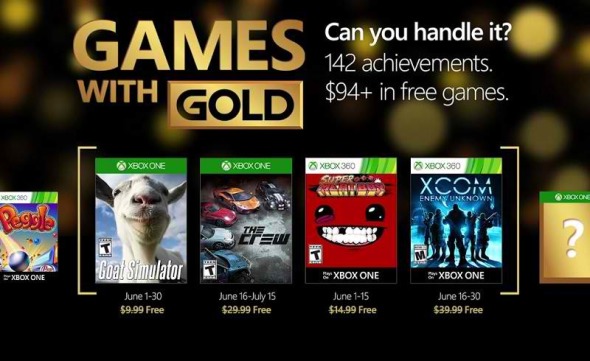 Five more games are coming this June for Xbox Live Gold members as part of their premium membership with the Xbox Live program of Microsoft. These games are "Costume Quest 2," "Goat Simulator," "The Crew," "Super Meat Boy," and "Xcom: Enemy Unknown."
A short video of Microsoft's offers for June are featured on a short video that was recently released by the company on its official Xbox channel on YouTube. Its description says, "Play together with Xbox Live Gold. June's Games with Gold lineup for Xbox One includes Goat Simulator and The Crew. For Xbox 360 owners, (and through Xbox One backwards compatibility) June kicks off with Super Meat Boy, followed by XCOM Enemy Unknown."
Developed by Double Fine Productions and available for Xbox One until June 15, "Costume Quest 2" is an action role-playing game where players can play Ween and Reynold and fight monsters on a Halloween night.
"Goat Simulator," produced by Coffee Stain Studios in 2014, is available for Xbox Live members for the entire month of June and offers a third-person perspective of a goat. The more damage the animal creates, the higher score the player gets.
Developed by Ubisoft, "The Crew" is an online racing game that is set in the United States. It will be made available starting June 16 until July 15.
In  "Super Meat Boy" and "Xcom: Enemy Unknown," gamers have to control Meat Boy as he saves Bandage Girl from an evil scientist named Dr. Fetus. This game is available until June 15.
Lastly, "XCOM: Enemy Unknown" is a tactical game that will be available for download starting June 16.