Trending News

|

March 04, 2016 03:30 EST
'Star Wars 7' Blu-ray and DVD Release Date: 'The Force Awakens' Hits Home Theaters On April 5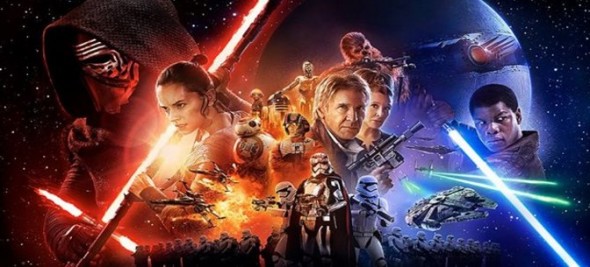 After J.J. Abrams' "Star Wars: The Force Awakens" hit theaters last year, the space sci-fi blockbuster film is now set to hit home theaters in the second quarter of 2016.
Chairman and Chief Executive Officer Robert Iger announced at Walt Disney's Annual Meeting of Shareholders that "Star Wars: The Force Awakens" will be available to be accessible on Digital HD and Disney Movies anywhere on April 1, according to the official "Star Wars" website. As per the publication, the film is set to come home on Bu-ray Combo Pack and DVD on Apr. 5.
According to Game Spot, the Blu-ray and DVD release features exclusive interviews in "Secrets of The Force Awakens: A Cinematic Journey," the cast's script reading in "The Story Awakens: The Table Read," how filmmaker's built BB-8 and other creatures in "Building BB-8" and "Crafting Creatures," the lightsaber batter between Rey and Kylo Ren in "Blueprint of a Battle: The Snow Fight," John Williams' musical thoughts in his "The Seventh Symphony," visual effects in "ILM: The Visual Magic of the Force," how the film brought fans together in "Force For Change," and some deleted scenes.
The Blu-ray combo pack features the film title while the DVD features the image in the film's poster, which includes Carrie Fisher's General Leia, Harrison Ford's Han Solo, Adam Driver's Kylo Ren, John Boyega's Finn, Daisy Ridley's Rey, and the adorable new android BB-8.
"Star Wars: The Force Awakens" awakened box office records after its release on Dec. 18, 2015 in the United States. According to Box Office Mojo, the film grossed about $248 million in its opening weekend, had a domestic gross of about $927 million, and a foreign gross of about $1.1 billion. Overall, the film grossed about $2 billion worldwide.
"Star Wars VII: The Force Awakens" hit theaters on Dec. 18, 2015. Next in line are Gareth Edwards' "Rogue One: A Star Wars Story," which is set to premiere on Dec. 16, Rian Johnson's "Star Wars: Episode VIII," which hits theaters on Dec. 15, 2017, and Colin Trevorrow's "Star Wars: Episode IX," which premieres on May 24, 2019.