Trending News

|

September 12, 2014 12:41 CDT
Star Trek 3 Movie Release Date, Plot News: Directed by Roberto Orci May Premiere in 2016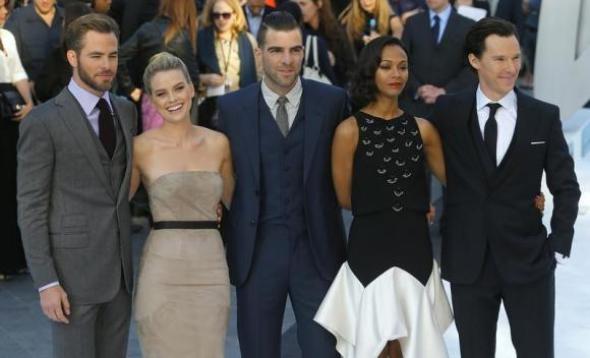 If what Screen Rant says is true, then the upcoming science fiction movie 'Star Trek 3' will be released on schedule, as director Roberto Orci is said to have completed the first draft of the film. The sci-fi blockbuster is expected to be released on the 50th anniversary of the series in 2016.
Orci reportedly said, "p & m [Payne and McKay] & I wrote, 'fade out' yesterday on first draft. Things are moving." He has further confirmed, saying "The first draft is done."
Talking to Collider, Roberto Orci, who is supposed to be replacing J.J. Abrams as the director, said that he is still waiting for Paramount to approve the movie.
He said, "Well, I don't want to count my chickens before they hatch. The studio has yet to even read the script. I'm in the middle of writing it, with the talented team of [JohnD.] Payne and [Patrick] McKay. They are true Star Trek fans, as well. So, I can't even think anything about the future until I give them a script and they greenlight it. Until that happens, everything else is just a rumor."
In the meantime, new reports are saying that 'Hobbit: Battle of Five Armies' star Benedict Cumberbatch will be returning to reprise his roles as Khan in the franchise.
"Maybe. He is in a freezer...we have all defrosted chicken in our day...Set the toaster to defrost and he will come out all bad and angry again. I don't know. It depends on what direction they are going to take. There is definitely room for him to come back in some shape or form," Orci continued.
Zachary Quinto, who portrayed the character Spock, also stopped by and commented on the news of Cumberbatch returning for the role. He said, "Any chance to work with Benedict...But I don't know if it is now or later. I don't know what they have in store for Ben? I would love to have him back."
Apart from the exit of Abrams, even 'Attack the Block' director Joe Cornish as well as the former producer and co-writer Alex Kurtzman are officially out of the project.
According to a report by the Hollywood Reporter, the next 'Star Trek' film is still untitled and unscheduled, but Paramount and Skydance are expecting to have a film in time for the franchise to celebrate its 50th anniversary in 2016. Additionally, stars Chris Pine, Zachary Quinto and Zoe Saldana are expected to return.