Trending News

|

May 05, 2016 04:41 EDT
'Scorpion' Season 3 Renewal News, Spoilers: Happy and Toby Will Brew Romance In Third Season?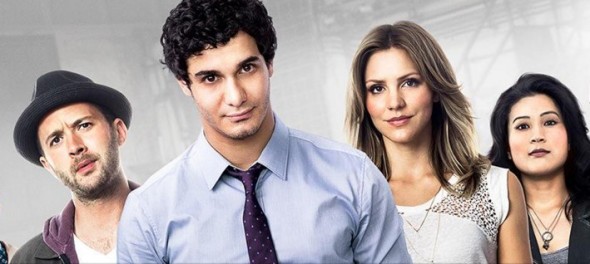 Happy and Toby, as well as Walter and Paige, are set to brew some romance in "Scorpion season 3. Also, the show's producers released a commentary track for the season finale of the series.
Series executive producers Nick Santora and Nicholas Wooton revealed what "Scorpion" season 3 has in store for fans when it comes to the romance among Happy, Toby, Walter, and Paige.
In his interview with Zap2it, Santora teasted that they knew Happy and Toby belonged together, adding that they just knew it was really boring of they just got together without any obstacles. According to Santora, that was the essence of drama and storytelling about what the heroes did have to overcome. For the executive producer, the characters had to overcome the fact that Happy was actually married to somebody else and they had to deal with that.
It is also revealed that Walter will make an effort to have Paige back, after Toby made him understand how he let go of the woman he loved.
In the same interview, Wootton said that they had been talking about the issue for a long time and they had always been excited about the impact it could have on the people who loved and were really invested in the show.
"Scorpion" season 2 left fans with episode 23 (season finale), which is entitled "Toby or Not Toby." In the episode, Team Scorpion had to outwit their unpredictable former Scorpion teammate, Mark Collins, after the latter abducted Toby and threatened to kill him unless his demands were satisfied.
In other news, the show's producers also released a new commentary track for the finale of "Scorpion" season 2. According to Carter Matt, it is their way to provide fans inputs on what happened in the episode, along with some behind-the-scene sneak peek. The track can be seen on CBS.
"Scorpion" season 2 episode 23, "Toby or Not Toby," aired on Apr. 25 while season 3 is expected to return on Sept. 19.