Families

|

November 04, 2014 12:22 EST
Music Legend's Battle with Alzheimer's & Final Tour Documented in 'Glen Campbell...I'll Be Me', Wife Says Singer Still Gives 'Thanks' to God [INTERVIEW]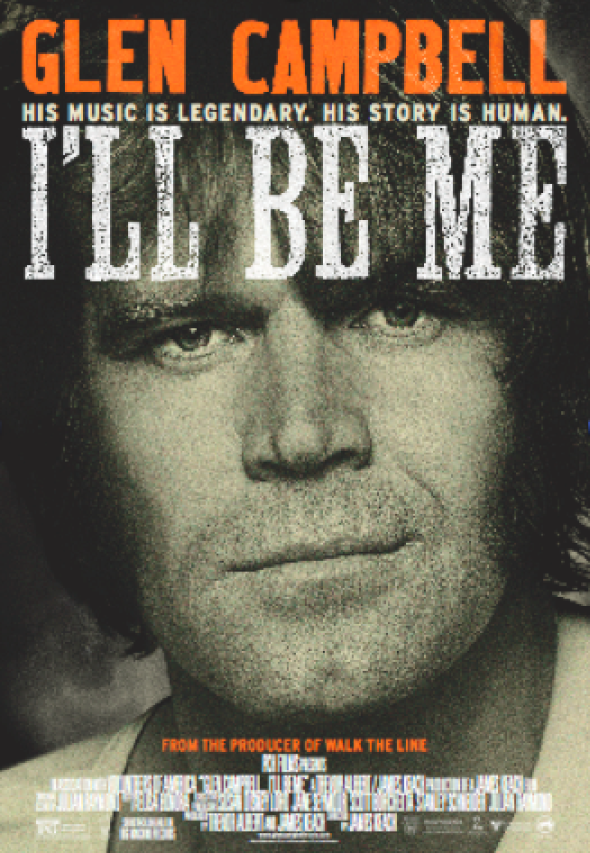 The country music world was stunned a few years ago when famous singer/musician Glen Campbell announced he was diagnosed with Alzheimer's and would be going on his final tour. BREATHEcast sat down to chat with Campbell's wife Kim about the powerful film documenting his final days on the road fighting the disease and Campbell's condition now.
During his 50 years in show business, Campbell has released more than 70 albums, sold 45 million records and accumulated numerous Gold, and Platinum albums along with one Double-Platinum album. His new documentary 'Glen Campbell...I'll Be Me' showcases the singer's rough battle with Alzheimer's as he says farewell with his final 151 date nation-wide tour.
Well-known for his hits such as "Rhinestone Cowboy," "Wichita Lineman," "Southern Nights," and "Gentle on My Mind," Campbell no longer has any recollection on his accomplishments, although he does still tune his guitar at times Kim Campbell told BREATHEcast.
"Most of the time he's totally oblivious to everything. I can put an iPad right in front of him with a video on or something and he's just starring off everywhere else," she said, "I'll put on YouTube and try and show him old clips of him playing."
Although his mind has undergone severe memory loss Kim says, "His body is healthy." The difficult part for her and the family is that he can "barley communicate."
"He can make short sentences," she said and most of those sentences reveal Campbell's great nature given his current condition because he even tries to be a blessing to the other residents. "He can most always say I love you and we are so blessed," she added.
"I've seen him walk over to the window and he'll raise up his hands and say 'Thank you Lord,'" she continued, "Even the workers tell Mrs. Campbell about how thankful he is to God all the daylong."
The film documentary shows how Kim assumed the tasking responsibility of being Campbell's caregiver and how she and their children gracefully and lovingly dealt with Campbell as he fought hallucinations, agitation, and struggled to remember.
The film features some of Campbell's celebrity friends such as, Bruce Springsteen, Bill Clinton, Paul McCartney, Jay Leno, Vince Gill, Blake Shelton, Sheryl Crow, Keith Urban, Brad Paisley, and Steve Martin among many others and shows how the music industry dealt with his diagnosis. Kim maintains that everyone who worked with Campbell or loved him felt the same way. "I think everyone was cautiously optimistic but worried that it could be a disaster, we all were!" she revealed.
"We didn't want to embarrass him or exploit him in anyway," she continued, "but he made the decision, 'I'm going to go out and do this, this is my record, and I wanna go out and do the tours we've planed and take my kids out with me' and we did."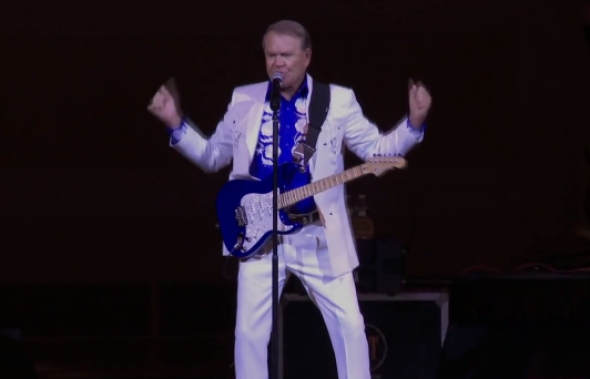 Campbell although raised in the Church of Christ, and is a God fearing man until this day, had a great deal of struggle with alcohol and substance abuse. Kim admitted that in the early stages before knowing that Campbell had Alzheimer's she found herself very lost and confused in the marriage.
The couple also initially thought that he was struggling with dementia because of his alcohol abuse. "It could have been alcohol related at first, he got better and then years later it came back in the form of MCI," she stated.
"It helped to get the diagnosis because before the diagnosis I was dealing with craziness, and not knowing where it was coming from. I felt really lonely, I felt depressed, I felt disconnected with him in someway but I couldn't figure out why," she confessed, "He would get OCD about things and drive me crazy and I just became very unhappy."
Kim admits she was somewhat relieved when finding out it was Alzheimer's because it changed her attitude towards him. "When we got the diagnosis and I could make sense of it all then my heart was filled with compassion," she said, "I knew that I just had to be there for him and not let things irritate me."
When asked how she is handling the fact that her life partner is battling such a terrible disease that has no cure, Kim was very transparent.
"I wake up every single morning and open my eyes and say 'oh no I'm so depressed' and every night I go to bed and put my head on the pillow and say 'oh no it's so depressing,' she admitted, "But in between that time I have to make a conscience decision to say. This is the day the Lord has made, let us rejoice and be glad in it. How can I be a blessing? How can I bless Glen?"
When Campbell was first diagnosed in 2011 Kim assumed the hard job of caregiver to Campbell and just some of her struggle is caught on camera for the documentary. Now Campbell is in a nearby memory care community really close to Kim.
There is no evidence whether or not Alzheimer's medicine has any affect on patients so Kim is comforted by the fact that there is a doctor monitoring him weekly.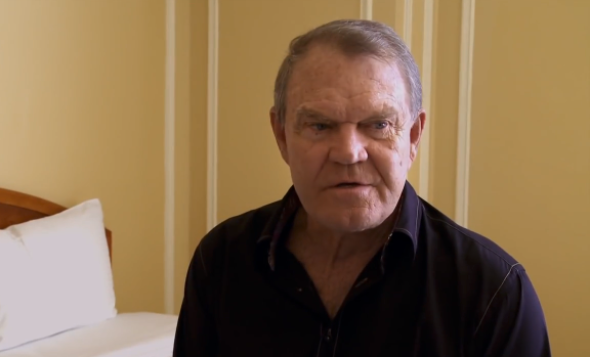 "I feel like it's an extension of out home. His bedroom is just down the street," she said but admitted it is nice to be able to rest a bit more, although she still helps Campbell with the essentials.
"Thankfully I can have the peace of mind in the morning to get up and grab a cup of coffee and pray, maybe go take a ballad class, which is really therapeutic for me, and then go have lunch with Glen," she revealed, "I still bathe him, which is not easy, he fights me he doesn't want me doing it."
"He can't understand anything I'm saying so if I say lift your arms or let's change shirts' he doesn't know what I'm talking about," she continued.
He may not comprehend basic instructions but Kim says he does still know who she is. "I think he still understands that I am his wife and he will call me by name occasionally. Usually it's 'Stop it Kim,'" she laughed, "Sometimes he thinks our daughter is me, so she says 'I don't like to go there alone because he tries to kiss me.'"
Kim and Campbell have been married for 32 years and when asked if she still has romantic exchanges with Campbell she replied, "We still kiss and cuddle and hug, I'll climb up in bed with him and snuggle."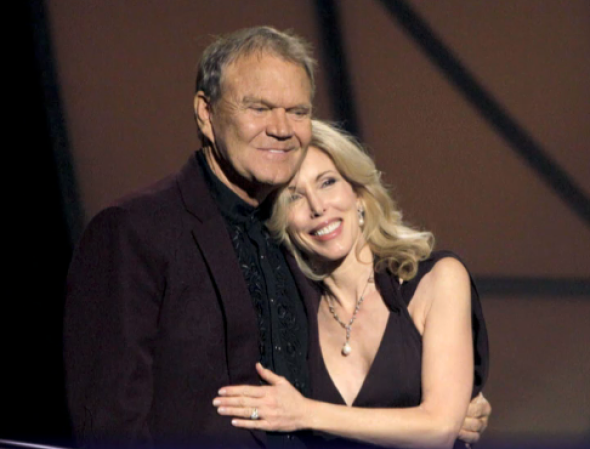 'Glen Campbell...I'll Be Me' documented the first couple years of Campbell's battle but he has unfortunately become worse since then.
"He's pretty unaware; he doesn't really know where he is," Kim sadly admitted, "This has been going on for years because we'd be at home at the dinner table and he'd get up and say 'Well I'm ready to go home, lets go home now' and I'd be like 'we are home.'"
The Campbell's have publicly released this movie in hopes to raise awareness of Alzheimer's and encourage others to help find a cure. "People who have Alzheimer's lose their voice so they need us to speak for them and generally people who are caregivers are to busy taking care of them to go to Washington and speak out or go on an Alzheimer's walk. You cant leave them at home and go off you have to watch them every second," she stated, "People can help by being the voice for people who can't speak for themselves."
Watch the trailer for 'Glen Campbell...I'll Be Me' below and be sure to support the film and help spread awareness to find a cure for Alzheimer's disease.

MOVIE RELEASE OPENING DATES & MARKETS*:
- November 7 -
Phoenix, AZ
Cincinnati, OH
Chicago, IL
Washington, DC
Rockville, MD
- November 10 -
Anchorage, AK
- November 14 -
Los Angeles, CA
Irvine, CA
Burbank, CA
Santa Barbara, CA
San Francisco, CA
- November 21 -
Dallas, TX
Houston, TX
Austin, TX
Boston, MA
- November 28 -
Hartford, CT
- December 5 -
Miami, FL
Fort Myers, FL
Sarasota, FL
Tampa, FL
St. Petersburg, FL
- December 12 -
Jacksonville, FL
*Markets and theaters are being added daily; please check here for the most updated schedule