In the news

|

June 16, 2015 03:13 EDT
Miley Cyrus Slams the Bible, 'We've Outgrown that Fairytale'; Former Christian Star has Completely Left Christianity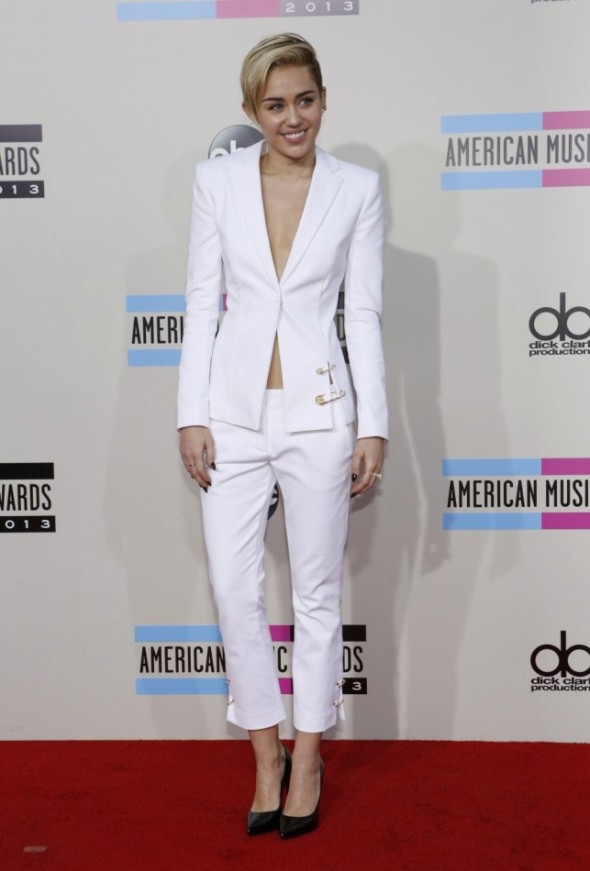 If her intention is to distance herself from her Disney Channel persona, Miley Cyrus has succeeded. In a new interview with Paper magazine, she posed nude and implied that Noah's Ark is just as likely to have existed as the tooth fairy. While Miley insists that she answers to no one, demanding that the rest of the world enable her to be "free to be Miley," her comments on spiritualism, conservatism, and sexuality are contrarian and, at times, self-contradictory. Hannah Montana may be miles away, but is Miley Cyrus the product of her own self-realization, or the inevitable conclusion of a girl built by the Hollywood machine? 
Back in 2008, the conservatively raised Cyrus was proud to wear a purity ring and stated how blessed she felt to be able to be a career performer. She also called the Bible her "how-to guide for life." At that time, Miley's manic schedule included filming her television show, doing press in support of her movie, and also touring to support her albums. Her ubiquitous long, wavy hair and broad grin were inescapable; splayed on glittery socks, purple lunch boxes, temporary tattoos and hair barrettes. She was not yet sixteen years old. Although her mother, Tish Cyrus, had made it a point to oversee Miley's early career, with careful attention to the agencies she signed with and the people she spent time around, there was only so much that Tish was able to control as her daughter's fame exploded. With chart-topping hits, a rabid fan base and an army of press watching her every move, Miley's adolescence wasn't just spent in the spotlight; it was examined with a scrutiny typically reserved for aspiring United States' presidents. Then came the controversies.
At a time when most 15-year-olds were posing for junior prom photos in front of their parent's porch, Miley Cyrus was photographed by Annie Leibovitz for the cover of Vanity Fair. She wore only a bed sheet. 
When her coming-of-age romantic drama The Last Song was released in 2010, Miley Cyrus was eighteen years old. She had been a public figure for four years, and had already seemed to grow weary of the pressure of being a squeaky-clean role model manufactured by the Disney brand. She became a prolific tweeter of things both mundane and manic. At the tender age of 20, Miley continued her tendency to live life in fast-forward by becoming engaged to her Last Song co-star.
And yet, when she reinvented herself as an in-your-face, raunchy, bisexual, selfie-obsessed pop icon, the public at large reacted with surprise.
There was an outcry of disgust when she shimmied and simulated sex with Robin Thicke at the MTV VMAs in 2013. Her songs began to gravitate from fun-loving ("Party in the USA") to drug-glorifying ("We Won't Stop".) With every public appearance she seemed to feel the need to shed more of her clothing. And now, with her set of inflammatory statements about her feelings on conservatives ("they shouldn't make our laws") and sexual liberty ("I am literally open to every single thing, as long as it's consenting"), it seems that Miley has emerged from her time of rebellion as a fully-formed product of a lifetime of others' adulation.
She doesn't feel "blessed" anymore -- she feels "lucky." Commendably, she feels called to rescue and assist marginalized LGBT youth that have been left homeless because of their parent's rejection. However, she doesn't have any problem with children such as herself rejecting their own parents, calling hers a variety of expletives in the interview. While she does not feel content to simply bask in her wealth and achievements, her altruism extends only so far as her own eyes can see. The at-risk populations in Los Angeles that she set up a foundation to help are her main concern, perhaps because of how much she seems to identify with them. Miley now claims that she is "gender-fluid." It is clear that she feels that while sexual behavior is a choice, sexual identity is not.
And she is carrying her role-model status of years past with her, claiming that her shock-antics and naked photos are part of her ruse. "When you have all eyes on you, what are you saying? And that's what I had to ask myself a lot," she said. "It's like, I know you're going to look at me more if my (breasts) are out, so look at me. And then I'm going to tell you about my foundation for an hour and totally hustle you." 
The twang-voiced teenager is now 22-years old, and seems open to everything; except her conservative past. However, Miley admits that her current views are as much "preaching" as anything else. And while it is certainly a wonderful thing for Miley to be so committed to those that she sees as less fortunate, it remains to be seen how long this current iteration of Miley Cyrus will insist that she's figured it all out. After all, most kids her age still have a long way to go.