Families

|

May 04, 2015 10:27 EDT
Manny Pacquiao Declares 'God's Ways Are Higher' After Boxing Defeat to Floyd Mayweather [VIDEO]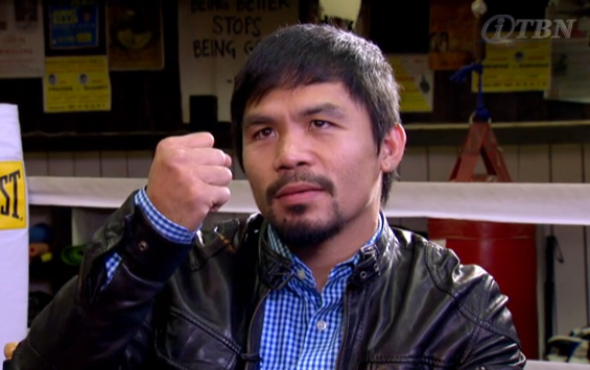 Millions tuned in on Saturday night as Manny Pacquaio and Floyd Mayweather went head to head for the title. Although Mayweather walked away with the win Pacquaio declared his victory in God with a message to fans on social media.
The 36-year-old took to Facebook after his well-publicized defeat with a message that was very similar to the positive statements he made before the fight.
"To all the fans, thank you for all your support. Thank you for always being there for me no matter what the outcome," he wrote, "I thank God for always guiding us through our lives. His plans is higher than our plans and His ways are higher than our ways. God Bless you all."
He ended the touching message by quoting the Bible verse,"And we know that in all things God works for the good of those who love him, who have been called according to his purpose," found in Romans 8:28.
Pacquiao the "Pacman" has won eight divisions as world champion in boxing and regardless of his loss he said his biggest goal on Saturday was to share Jesus with Mayweather after the fight.
"The most important thing is that I hope that after the fight [I] can have a conversation with Floyd, sharing my faith about God, there's nothing bad about that," he stated during a press conference, "[On] how we need to believe and how we can inspire more people especially those children that are looking [up] to us."
Pacquiao currently has 57 wins, 7 losses, 2 draws and 37 KO's but perhaps his biggest accomplishment is not in the boxing ring at all. He attributes everything to his Christian faith. He is a congressman in his country, has had a platinum album as a singer, is a father, and husband but what he says is the most important is his relationship with Jesus Christ. The Filipino native sat down with Matt Crouch for an interview on TBN. See below: