Interviews

|

June 12, 2015 12:36 EDT
K-LOVE Fan Awards 2015 Interviews: Meredith Andrews, Ryan Stevenson, & More Announce New Albums [Red Carpet Recap Video]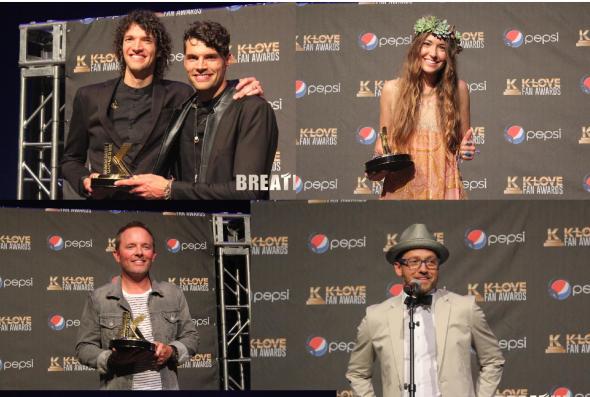 The K-LOVE Fan Awards 2015 was filled with some of the best entertainers in the Christian music industry, and BREATHEcast had the chance to interview many of these faces both established and upcoming.
In this BREATHEcast recap video we take a quick glimpse of some of the artists on the red carpet.
CCM artist Chris August quickly spoke about his new record the Maker, which came out in April. He said the songs on the album reflect all the Lord has done for him the last three years.
Next up is, Meredith Andrews, who said she brought her seven month old baby on the road while touring. She also has a new recording coming out soon. She is 10 song in, so far and the single comes out in August. Andrews said the album is coming in the new year, and that the songs are "super personal."
Love & the Outcome stopped by and said they have written 20 songs for their new record. "As long as our hands are open, and we're asking the Lord to show us what He's up to, there's always a lot to say," said Jodi King.
Singer/songwriter Jonathan Tulin said he is a month away from signing to a new label. He also told us his new record is being recorded in London and will be, "very piano and orchestral driven..kind of Adele, Sam Smith-y, in that direction."
Author Jan Harrison was nominated in the Book Impact award category for "Life After the Storm: God Will Carry You Through the Heartache." It story is about losing who son, who was an African missionary. "No matter what your life storm is, and unfortunately everybody has them or will have them, is that God is sufficient in whatever your need is."
Singer Ryan Stevenson has an album that's "Cooking" and "It's ready." He said the tracks are a blend acoustic North Western pop songs that "speak truth and are honest."
7eventh Time Down's new album, God is On the Move, is coming out in August. The single, "Promises" just hit radio, and they said the new record is them very grown up. They are married, have kids, and the maturation they experienced in life will be reflected on the album.
Unspoken hit the studio to just have a little fun, and they managed to churn out a record. They simply reinvented five songs that they already have out, then recorded five more songs that they had written over the years that were never released.
Last but not least are newcomers, Coldwater Jane. They are an acoustic pop duo with a slight country edge that are making their first record now. They are about half way done with the record and hope to have their touring schedule released by the fall.
Watch the full recap video below, and stay tuned for more coverage from BREATHEcast: