Families

|

September 30, 2015 11:11 EDT
Justin Bieber Unashamedly Talks Relationship With Jesus Christ & Preaches on Mainstream Outlet [SEE HERE]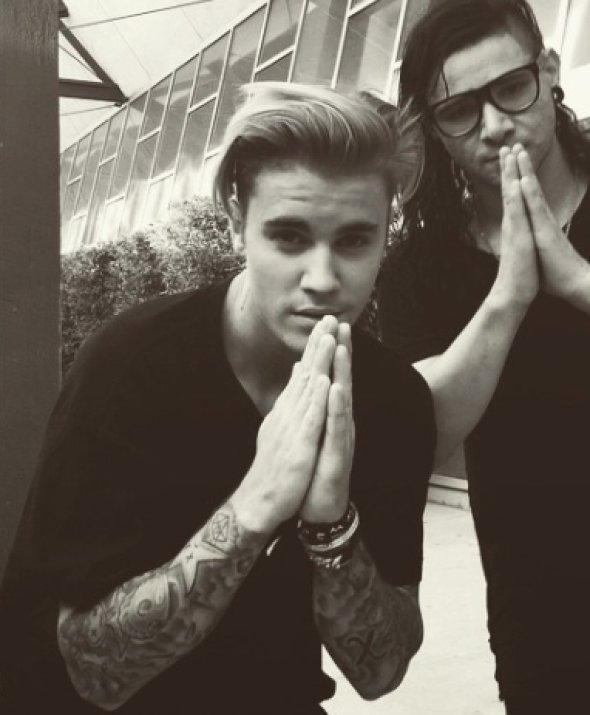 Both the mainstream and Christian world is raving about Bieber's recent comments on Christianity during his latest interview with Complex and whether you agree with him or not you have to give him credit for speaking so openly about his faith.
Bieber's Christian faith does not come as a surprise. His mother has always made it a point to say she raised Bieber Christian. The young pop star has often talked about his faith as well. Much of his tattoo art has also paid homage to his faith but it appears the Canadian native is taking it a step further and openly sharing about his relationship with Jesus.
Bieber talks about science, his bad boy past, and touches on homosexuality but he made sure that the misconceptions about church and Christianity were cleared by sharing his own experience having a relationship with Jesus Christ.
Check out excerpts from Biebers interview with Complex below:
"At this point, my faith has gotten me to where I am. My faith has brought me to a whole other level. I love talking about my faith. I think that with Christians, they've left such a bad taste in people's mouths. Just like, overly pushy with the subject, overly churchy and religious."
"Some people are bad communicators. They find something that works so well for them and they wanna share it, but they don't know how to share it so they're kind of pushy. There's a lot of really weird stuff going on at churches."
"I'm not religious. I, personally, love Jesus and that was my salvation. I want to share what I'm going through and what I'm feeling and I think it shouldn't be ostracized."
"I'm gonna use my voice for a reason. I think that people, as soon as they start hearing me saying I'm a Christian, they're like, 'Whoa Justin, back up, take a step back'. Also, I do not want to shove this down anyone's throat. I just wanna honestly live like Jesus. Not be Jesus-I could never-I don't want that to come across weird. He created a pretty awesome template of how to love people and how to be gracious and kind. If you believe it, he died for our sins. Sometimes when I don't feel like doing something, but I know it's right, I remember, I'm pretty sure Jesus didn't feel like going to the cross and dying so that we don't have to feel what we should have to feel. What Jesus did when he came to the cross was basically say, 'You don't have to feel any of that stuff'. We could take out all of our insecurities, we could take away all of the hurt, all the pain, all the fear, all the trauma. That doesn't need to be there. So all this healing that you're trying to do, it's unnecessary."
"We have the greatest healer of all and his name is Jesus Christ. And he really heals. This is it. It's time that we all share our voice. Whatever you believe. Share it. I'm at a point where I'm not going to hold this in."
"It's like with God: The whole thing with religion is you present yourself holy and bring your offerings so that God can bless you, when the whole point of the relationship [should be], 'No, I'm gonna do this because he loves me. I'm gonna do this because he's amazing and not because [I] have to, [but] because [I] want to'. That's the whole thing with religion that's been throwing off the people. It's not a "have to." It should be just like a personal relationship. Like, "Hey, I love you because you first loved me.""
"If we can understand that we're all imperfect, let's come to God and come for his help. You're not weak by doing that. I think that's a common misperception of Christians, that you're being weak because you can't handle it. None of us can handle this world, dude! It's eating us alive. But, man, I don't wanna have to do it on my own. I know for sure my parents can't give me all that I need. I know that my friends can't give me all that I need. There's something missing. That's why I think Christians do that."
"I think that going to church is fellowship, it's relationship, it's what we're here on the earth to do, to have this connection that you feel there's no insecurities. I think that's where we need to be. Like I said, you don't need to go to church to be a Christian. If you go to Taco Bell, that doesn't make you a taco."
"I feel invincible like, nothing is bigger than God. If God's for me, who can be against me? That's helped me in a lot of situations where I feel judged. It gives you confidence and you can carry yourself in a cool way, but it's not cocky. It's a confidence that's a godly confidence. That's what I always want. I wanna be loved for being a good dude and for being confident in myself because I know who I am and what I carry and what I sacrifice."
What are your thoughts on Bieber's mini sermon? Leave your comments below. To read the full interview in which he also shares about Selena Gomez and more click HERE