Trending News

|

September 27, 2016 11:31 EDT
'Fruit Ninja' News: Hit Mobile Game Becomes A Film After 'Angry Birds'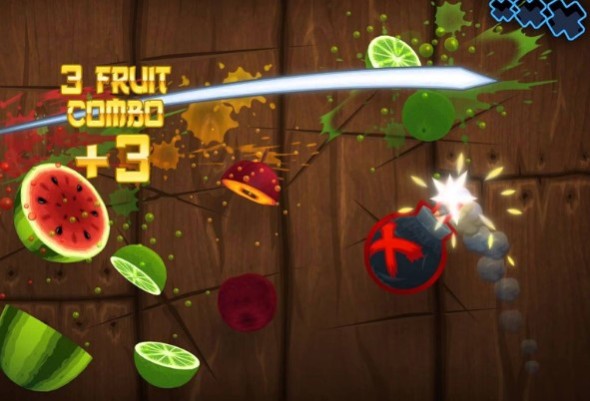 Halfbrink Studios' "Fruit Ninja" is set to have a film, as per reports.
New Line announced that "Fruit Ninja" is going to have its own film, The Hollywood Reporter has learned. According to the publication, the studio has acquired the film rights to the fruit slashing mobile game. It is added that "San Andreas" producer Tripp Vinson is set to produce the film.
Along with "San Andreas," Vinson also produced other films, which include "The Exorcism of Emily Rose," "The Number 23," "Red Dawn," and "Hansel & Gretel: Witch Hunters," along with television series like "Intelligence." He is on board as the producer of Kenny Golde's "Thirteen," Evan Daughtery and Jacob Grimm's "Rose Red," "Eloise," Ben Wexler's "Bobism," and Brad Peyton's "Journey 3: From the Earth to the Moon."
On the other hand, "How to Survive a Garden Gnome Attack" writers J.P. Lavin and Chad Damiani are set to pen the script of the film. As per reports, the plot follows a team of misfits, who are recruited to become Fruit Ninjas and save the world.
In line with the game's premise, it is assumed that the film villains could be evil fruits. The movie is set to be a live-action family comedy, which is based on the best-selling game and second-highest-selling iOS game of all time. "Fruit Ninja" has got more than one billion downloads, as per reports.
As per The Verge, the film suggests that other studios have opted to join the bandwagon of turning mobile phone games into movies. "Fruit Ninja" follows "Angry Birds," which grossed over $300 million at the box office, as per The Verge.
Developed by Halfbrick Studios, "Fruit Ninja" was initially released in Apr. 2010 for iOS, Android, Xbox One, Microsoft Windows, Windows Phone, Xbox 360, Symbian, Bada, and PlayStation Vita.