Families

|

February 27, 2015 12:36 EST
Disney Star David Henrie Returns to Christian Faith After Filming 'Little Boy' Movie, 'The Film Saved My Life' [VIDEO]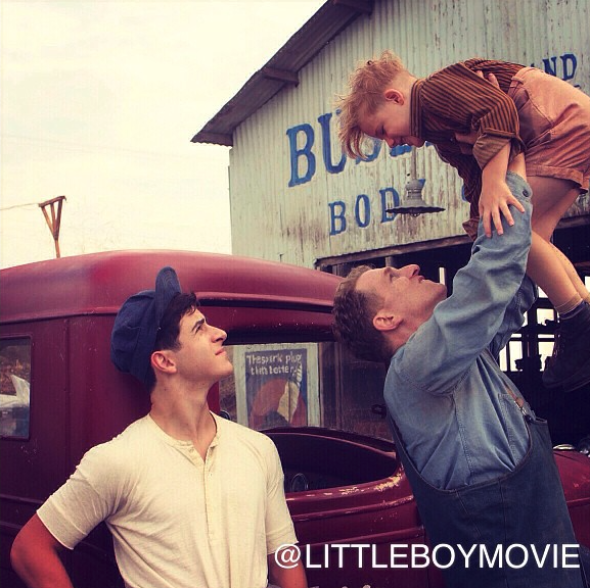 Popular Disney star David Henrie plays London Busbee in the upcoming film 'Little Boy' scheduled for an April 24th release. Thursday night at the New York screening of the film Henrie talked about how the film changed his life forever.
Henrie plays the older brother of the lead actor who is the film's "Little Boy." It is a very dramatic role for the 'Wizards of Waverly Place' star - making him step into a non-comedic role. Henrie told New Yorkers at the screening that when he received the script he sat in a coffee house and just wept. He then called his agent and said "this is the best script I ever read, please get me in for this."
After having what he called the best audition of his life, Henrie said he met some of the film producers including producer/actor Eduardo Verastegui (Bella). "They were instrumental in changing my life, helping me to find the greater good and awaken the little boy in my heart, and led me back to my faith, led me back to my beliefs, and it has completely changed my life," he confessed.
Henrie admitted that before the 'Little Boy' movie he was in a "very agnostic place" in his life. The actor said the script was life changing and the atmosphere was welcoming to all.
"When we were on set there were people of all different beliefs. I had no clue that there were Christians behind the film. I will forever be grateful for little boy because it was the film that saved my life," Henrie declared.
The California based actor started acting at the age of nine with his mom as his coach. He said that she helped him with this serious script as well.
"The emotion was a lot and I wasn't use to that. Angry and emotional all the time was though, but you learn to laugh at it" he maintained.
'Little Boy' is a powerful and moving film about a little boy who is willing to do whatever it takes to bring his dad home from World War II alive. The heartwarming story will capture your heart and lift your spirits as it reveals the indescribable love a little boy has for his father and the love a father has for his son. Set in the 1940s, 'Little Boy' is an instant cinematic classic that captures the wonder of life through the eyes of a 7-year-old little boy.
Written directed by Smithsonian Institute Award winning director Alejandro Monteverde, 'Little Boy' highlights themes of faith, hope and love in the face of adversity. 'Little Boy,' executive produced by Mark Burnett and Roma Downey and is set for release April 24. For more information visit littleboymovie.com.
Watch the trailer and a video of the films lead actor, 7 year old Jakob Salvati, talk about the powerful film: