Trending News

|

December 18, 2014 12:33 EST
Chloe Grace Moretz Dating Rumors: 'The Fifth Wave' Co-star Nick Robinson Romanitcally Involved?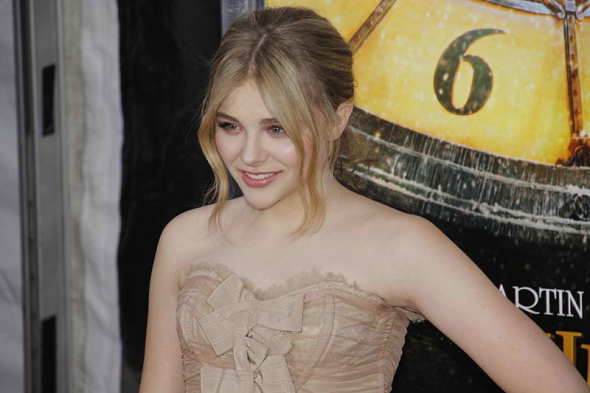 Relationship rumors have sprouted after actress Chloe Moretz was spotted posing with co-star Nick Robinson at a promo event for their upcoming film 'The Fifth Wave'.
For those that may not know, Chloe Moretz has been filming the science fiction movie 'The Fifth Wave' with rising star Nick Robinson since October. The pair attended a book signing event and posed side by side for the promo of their latest movie.
Moretz is spending time with her co-stars while shooting in Georgia for the first film adaptation of the trilogy series, 'The Fifth Wave'. Aside from the book signing event, Moretz and Robinson were seen wearing army fatigues with the book's author Rick Yancey. The three of them posed for another photo op and smiled for the camera.
The pair donned fatigue costumes for a pivotal scenes in the movie. During the shoot of the said scene, Moretz and Robinson ran together in the middle of extras wearing blue jumpsuits.
The blonde beauty will play as the main character Cassie Sullivan in the upcoming movie. Stepping into the plot, Cassie tries to survive in a world invaded by aliens. Robinson portrays the role of Ben Parish a.k.a Zombie whom Cassie has a crush on. Although a love triangle is presented in the book, some Tumblr users who are fans of 'The Fifth Wave' have already dedicated their sites to the pair tagging it as Cassie x Ben.
Moving along, a synopsis of the 'The Fifth Wave' movie from United Press International reads:
"Against a backdrop of fear and distrust, 16-year-old Cassie is on the run, desperately trying to save her younger brother. As she prepares for the inevitable and lethal 5th wave, Cassie meets a young man who may become her final hope."
'The Fifth Wave' is set to be released in the U.S on Jan. 29, 2016.