Families

|

December 02, 2014 03:24 EST
Candace Cameron Bure Joins Brother Kirk Cameron & Makes Headlines with 'Christmas Under Wraps'; Film Receives 5.8 Million Views [TRAILER]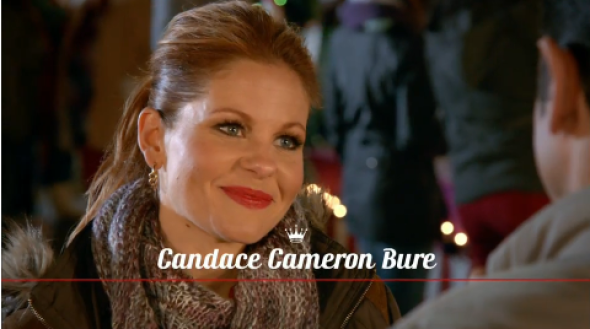 Candace Cameron Bure was featured in a new Christmas film and like her brother Kirk, millions also tuned in to see it. 'Christmas Under Wraps' broke records in its Hallmark Channel premiere over the weekend.
The Hallmark Channel reached record heights on Saturday with an original movie premiere of 'Christmas Under Wraps' averaging a colossal 5.0 HH coverage area rating and 5.8 million total viewers, according to Nielsen Fast Cable Ratings. It was the No. 1 HH rated original movie premiere on all of cable and secured the spot as the No. 2 most watched cable original movie premiere among Total Viewers. According to TV By The Numbers, the premiere became Hallmark Channel's highest rated and most watched telecast in network history with a total of 5.8 Million Viewers.
"You guys.... I just can't even.....I'm so humbled by this, Bure wrote on her Facebook page celebrating the success of the movie. "I don't even know what to say. I'm so grateful and so excited and so blessed. All praise and glory to God for He provides every single step. Thank you all for watching! You made this happen!"
'Christmas Under Wraps,' is about a woman named Lauren (Candace Cameron Bure), who has her entire life planned out, loses her boyfriend and residency at a top Seattle hospital on the same day - she reluctantly takes a residency position in Alaska. That's where she meets Andy and his father, and she slowly begins embracing her simpler (unplanned) life in Alaska. But as luck would have it she gets the position she originally hoped for, and now she must choose between the life she always wanted or her new life in Alaska.
Bure's brother Kirk also recently celebrated the success of his new Christmas film, 'Saving Christmas'. Despite the heavy criticism of the film the actor said that over four million people went out to watch the film in its premiere week.
Watch the trailer of Bure's film below and visit www.hallmarkchannel.com for more information.