Trending News

|

May 15, 2014 03:26 EDT
Rebecca St James' Home Spared as California Wildfires Stop Just Feet From House; Singer Asks Fans to 'Please Pray For Us' (VIDEO)
UPDATE:
Singer Rebecca St. James was forced to evacuate her home after California wildfires were making their way straight for her house. James had asked her fans to pray for her and her family through this difficult as they prepared to be homeless. The singer's team updated her Facebook and reported her home was still intact and the fire had stopped just feet away from the home.
"A tree in our front yard was burnt and a water pipe burst, but our house is ok! Sounds like the fire came right to our back fence. It's a total miracle cause the wind changed right when the fires were about to take over our house. You can see the proof when you look at where the fire stopped, 3 feet from our back fence. The fire was a 2-3 story wall of flame, only meters away from our home!" her team wrote on Facebook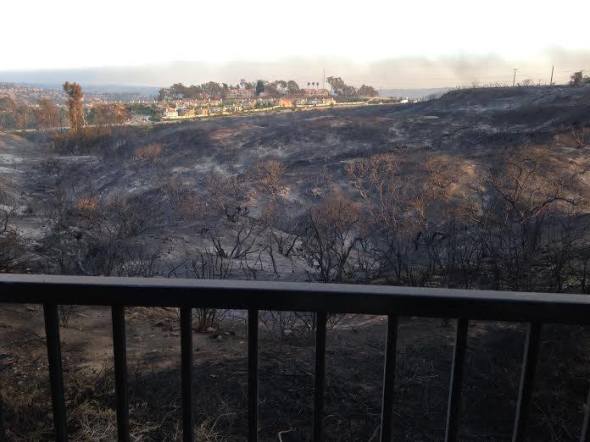 ORIGINAL STORY:
Popular Christian singer Rebecca St. James was asked to evacuate her home during California wild fires, and is now seeking prayers from her fans, friends, and family.

A representative of James took to Facebook early Thursday morning to reveal that the singer's home is one of the homes in the cross way of the wild fires. "Prayers needed! Rebecca was just evacuated from her home in CA due to a wildfire," the rep stated.
The post contained a message from James informing her fans and asking for prayers. "We may have lost our house and everything we own to a fire today..." she said. "I saw the 2 story flames a few hundred yards away... Please pray for us. I got out with Gemma [her baby], our dog and a baby book in the car when police were arriving ordering evacuation."
The representative went on to add, "She's safe and at her parents-in-law now, but we do not yet know the status of their house. Praise God for safety. Prayers would be greatly appreciated."
Fans in the thousands took to Facebook with good wishes and prayers.
New evacuations were ordered Thursday morning in San Marcos, and overall about 21,000 people have vacated their homes, including students who were in the middle of finals at a campus of California State University.
San Diego County is under a state of emergency as nine fires have been burning in a 14-square-mile area, and are being fanned by hot, dry air, and unusual springtime Santa Ana winds. California Governor Jerry Brown declared a state of emergency to free up resources.
The forecast shows things may not change for at least another day. Weather.com senior meteorologist Jon Erdman explained, "Friday, the Santa Ana winds will finally cease, but it will remain quite warm. This weekend however, onshore winds will bring temperatures back to mid-May averages, with 70s along the coast, along with higher humidity, morning low clouds and fog."