In the Spotlight

|

September 22, 2014 11:02 EDT
Buddhist Actress Kate Hudson Reveals Her and Mom Goldie Hawn's Encounter With Ghosts and 'Dead People'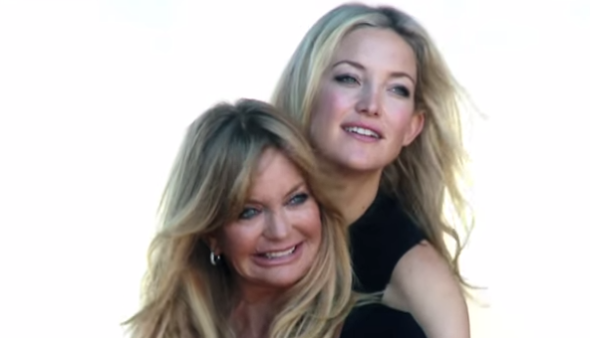 Buddhist actress Kate Hudson recently revealed in an interview why she and her famous mother Goldie Hawn see dead people.
"Me and my mom Goldie can see dead people. It is not really seeing, it is feeling a spirit. A fifth energy. I believe in energy. I believe our brains can manifest into visual things," said Hudson in an interview with Alan Carr's 'Chatty Man Show' in London.
Hudson also revealed in the aforementioned interview that she once saw a ghost that resembled a woman without a face.
The 35-year-old Los Angeles native also gave advice to viewers regarding what a person should do if that individual encounters a ghost face-to-face.
"When you see something, you are supposed to tell the energy what year it is and that they don't belong there. When your brain is freaking out on you, you may have to remind it. Why is being dead funny?"
Like her mother, Hudson is a devout Buddhist who previously attended Yankee games with Buddha prayer beads when she was dating her former boyfriend A-Rod several years ago.
"It's (Buddhism) an important part of her life," said the anonymous source to the New York Daily News in 2009, about their relationship, "And it seems like Alex really just wants to make her happy."
Hudson was raised in a Buddhist household which reportedly resulted in her mother Goldie Hawn wanting the MLB athlete to convert to her nontheistic religion.
"Goldie more than approves of Alex," according to the unnamed source five years ago, "If he becomes a Buddhist, it'll only seal the deal."
The famous couple would break up later that year, where A-Rod would win his only championship of his career as a member of the 'Bronx Bombers'.
On that note, Hudson has been engaged to fiancé Muse frontman Matthew Bellamy since 2011. The pair also gave birth to their son named Bingham Hawn Bellamy that year.
Hudson's 'Wish I Was Here' co-star Zach Braff recently praised the actress's recent work in their most recent film together.
"She's extraordinary. God doesn't make women that beautiful that talented too often. What I like about Kate in this movie is that, much like Almost Famous, she shows a raw side of her that isn't the romcom star we so often see. She's great at that stuff but I know underneath that is a really skilled artist," said Braff to Metro.
Hudson's film 'Wish I Was Here' arrived in theaters was released on July 18, 2014 in NYC and LA, before expanding its availability in other markets last month.