BC News

|

September 30, 2015 12:27 EDT
Blindside Guitarist Talks 'Silence' Reunion in NYC, Touring with P.O.D., & 'Pitiful' Breaking Ground for Christian Music [INTERVIEW]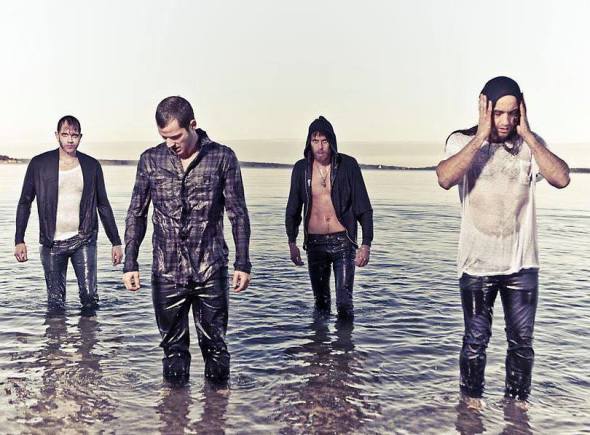 Christian alternative/hardcore band Blindside is coming back to the U.S. for the first time in four years to play one show in NYC, and BREATHEcast had the opportunity to speak to guitarist Simon Grenehed.
Blindside, based in Sweden, seemingly came out of nowhere announcing a one off show on October 10th where they will play their groundbreaking and perhaps most popular album to date, Silence. The band wrote in their announcement that this will be the first time Silence has ever been played in its entirety.
The show will take place at the Marlin Room in Webster Hall, and will feature guests Adept, Solence, and Rideau, all who will be playing for the first time in the U.S.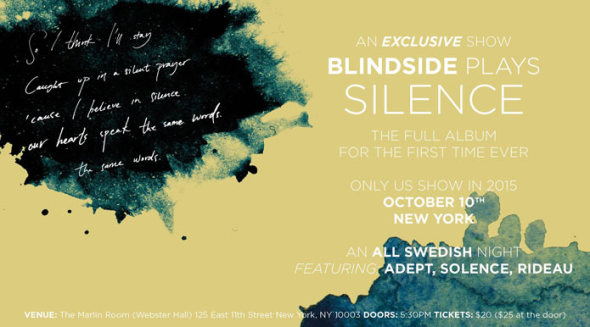 Read the full interview below:
BREATHEcast: Welcome back to the U.S.! What has Blindside being doing over the last couple of years since With Shivering Hearts We Wait?
Blindside: Thanks. We have been writing Blindside material occasionally but haven't found the right material or creative flow until recently. Me & Christian have been working with Lindforest and Marcus has been doing his electronic projects. Music has never been absent but we tend to need a vibe where we're all feeling it at the same time to make music.
BC: What is the status of the band? Are you guys still active or is it just a once in awhile thing?
Blindside: Yes, the band is still around, we never quit.
BC: You guys missed the 10 year anniversary of Silence, is that why you are coming to America to rock out for one big night, and why specifically New York?
Blindside: No, there are different reasons for us doing this night which will become more transparent eventually, but I really like the idea and we've had thoughts about playing the whole album before but timing or motivation was never right, until now.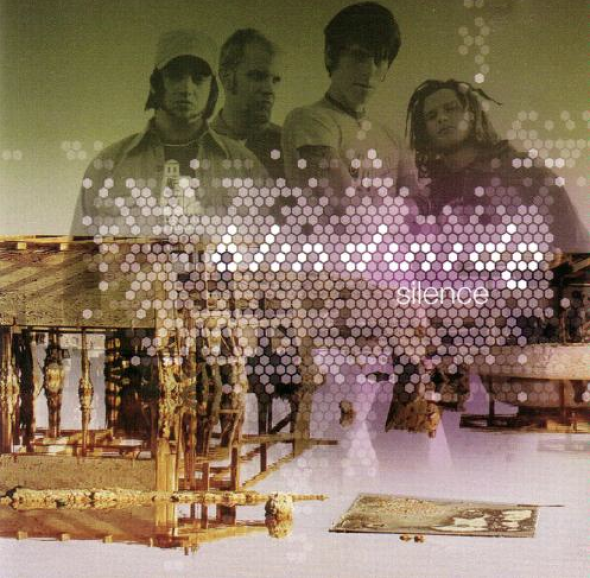 BC: Moving on from A Thought Crushed My Mind to Silence showed a monumental shift for the band. Was the music changing a gradual shift or was moving away from the more hardcore sound intentional?
If you listen to our first album the step isn't that far from Silence musically although it has more qualities and maturity, partly musical and also, of course, in terms of production.
ATCMM was really the odd album in our whole career. I think we enjoyed the HC-scene and musical direction so much at that point that it was the right step musically but when we were done I think we were really done with it, we'd made the album we wanted to make at that very time and there was nowhere we were interested in taking any further.
However we do come back to certain elements of that style of music. I don't know if we'd have written the track 'About a Burning Fire' or 'Yamkela' if we hadn't done ATCMM.
BC: While on the subject of ATCMM, I have to ask, what's the story behind both the "King of the Closet" song and music video? It embodies crazy in all the best ways.
Blindside: 'King of the Closet' is about hiding from the light, and that can be interpreted in different ways I'm sure. We had our friend Linnea Vidén write a script and direct the video which is really capturing us as some kind of vampires.
BC: Was it difficult for you guys to come from Sweden to America and learn to adapt to the culture here? And what are some of the differences in the reception of music in Sweden versus America?
Blindside: Yes and no. We felt very at home in the states from the beginning even though we didn't know the place really.
There are a lot of differences in the culture but we adapted pretty quickly. It does make it easier to do underground tours to start with since you stay at people's houses a lot and get to know the culture and make good friends at the same time. It also makes you dive deep into the society in a whole different way than just passing through towns and staying in hotels and not really interacting.
As far as music reception we have received a lot more love in the states than in Sweden. I think that has a lot to do with the lyrics, since we feel we've made a connection with our fans in a great way and that they do get us and what we're about.
BC: The song "Pitiful" is perhaps your biggest song as a band. The message is purely one that speaks about Christ and His sacrifice. With such a blatantly Christian message, how did it feel to have that song become so popular in the mainstream? Do you guys feel like you broke ground?
Blindside: I do think we broke ground with 'Pitiful'. We were almost attached to P.O.D. at the time with the same management and them opening a lot of doors for us and they had broke ground on a huge level. But I believe we attracted a different audience and wrote lyrics in a different way. I'm not really surprised that the song and album did well in a mainstream environment because it's a great track and if the lyrics are for real it will break through any walls that might have been in the way.
BC: What was it like to have P.O.D. take you guys under their wing at the peek of their success? Are you guys still good friends and how much fun was it to shoot the "Boom" video?
Blindside: It was great. We love those guys and they did a lot of great things for us for sure.
We do talk to them occasionally and try to see them if we're in San Diego or if we cross paths elsewhere in the world.
The shoot for 'Boom' was a lot of fun. You know us Swedes can actually play ping pong so I think we were perfect for the role as the Swedish team. The big fight at the end of the video was not part of the script but happened because of us messing around with them. That's my favorite part of the video!
BC: You guys are not considered to be a progressive rock band, but your style is by no means cookie cutter. Are any members of Blindside classically trained and also where does some of that electric/dance influence come from?
Blindside: We have had no musical training which is really easy to tell if you listen to our first album. We got better at playing and writing songs through rehearsing and touring. I think that's why we are progressive, we don't really know the rules so we break them all the time. Our recipe is heart & inspiration only.
The dance-music comes from Marcus mostly, he's done that kind of music simultaneously as Blindside since we started the band. If we get a vibe from anything that's not really rock music we don't hesitate bringing it on a track if it makes it more interesting.
BC: Blindside has been around for about 20 years and have managed to keep the same members which is rare in this day and age. How do you all manage to work so well together?
Unity within the band comes from brotherhood really. We respect each other and always have. I can't explain why we don't really disagree or fight within the band. We've shared a vision together since day one. That is also part of why things have been going slow, sometimes somebody have something else in the way of the band and we wouldn't replace someone in the band because of something like that.
BC: Do you feel music is a powerful tool for evangelism and would you say rock music makes it easier to reach people who are not Christians more than say, worship music?
Blindside: I can't really speak for anyone else than myself. I don't think you can limit God to any specific music genre. He doesn't really need us, He is God. But if he can use us to touch people spiritually through music, that is the biggest reward. I do feel that music is really filled with the spirit.
Perhaps the issue with worship music touching people outside of the Christian scene is that is labeled worship music or Christian music and thus less available/attractive outside of the church walls.
I think you corner every part of evangelism by labelling it. It doesn't have anything to do with the way the art is performed or what kind of music you do, it's just how you choose to present it to people.
BC: Rock music has certainly changed since you guys were touring consistently. What do you think of the direction music is going and who is on your radar as far as talent?
Blindside: I haven't heard a new rock act that I've been smitten with in a very long time. I might just be out of the loop but bottom line is that rock music isn't really happening right now. But since it's all cyclical there will be a rock music revival eventually. The right band/song just to have to come along.
As far as the direction of the music I think it's really interesting. It's easier than ever to get your music in front of people but there are different tools you need to use.
To learn more about Blindside and stay up to date with the band, check out their Facebook page.
Blindside has experimented toward multiple genres of rock ranging from hardcore, thrash, screamo, and indie while always staying toward the heavy side.
Blindside's heyday was in the mid 2000's when they had the support of their good friend's P.O.D. and signed from Tooth & Nail Records to major label Elektra. From their they released Silence and About a Burning Fire, their two most successful albums.
These days the band has quieted down and were on a bit of a hiatus for awhile. Their last release was 2011's With Shivering Hearts We Wait.