Trending News

|

October 27, 2014 03:40 EDT
'Attack on Titan' Season 2 Update: Wit Studios Silent on Release Date Rumors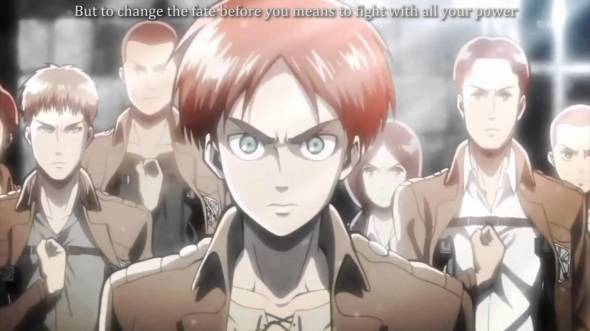 Even as fans of the popular 'Attack on Titan' series have been demanding more information about the second season of the anime, the producers has preferred to keep quiet on the matter.

While numerous rumors are circulating on the Internet claiming that 'Attack on Titan' Season 2 may be released in April 2015, developer Wit Studios has neither confirmed nor denied the reports so far. Some reports claim that Wit Studios has decided to stop the development of the new episodes of the show as they are reportedly waiting for the release of the upcoming Volume 15 of the manga 'Shingeki no Kyojin' written by Hajime Isayama. In fact, 'Attack on Titan' is entirely based on 'Shingeki no Kyojin'.
As of now, the only confirmed news is that Wit Studios will be releasing two new prequel episodes later this year.
It is worth noting here that as soon as the Japanese apocalyptic, dark fantasy series was adopted for the television in 2013, it took the world by storm. The anime as well as the manga turned out to be a major hit among fans, who take delight in watching teen warriors combating man-eating mosters to save Earth. On a side note, a videogame, which is based on the TV show and the manga, also became an instant hit worldwide.
Recently, the Internet was abuzz with the leaked rating from the Australian Classification Board with various websites claiming that the upcoming 'Attack on Titan' 3DS game was given a 15+ label owing to its extremely violent plot. However, this is not surprising for the fans, as both the TV as well as manga versions are known to contain violent graphics and storyline.
Meanwhile, it has been learned that the first prequel episode that will accompany the purported Volume 15 release has been titled 'Attack on Titan: No Regrets Birth of Levi'.
Kodasha Comics has, meanwhile, issued a statement describing the premise of the forthcoming episode, which reads, "This prequel to megahit 'Attack on Titan' answers the questions: How did Captain Levi of the Survey Corps go from street tough to humanity's strongest soldier? And how did Commander Erwin become a cold, calculating leader, ready to sacrifice anything to save the human race? The fires that forged this bond of loyalty and trust were intense indeed!"
As of now, it is confirmed that the prequel episode and Volume 15 of the manga will be released in December 2015.