Trending News

|

August 19, 2015 04:44 EDT
5 Year-Old Heavenly Joy Infiltrates Mainstream Television With The Name of 'Jesus' [VIDEOS]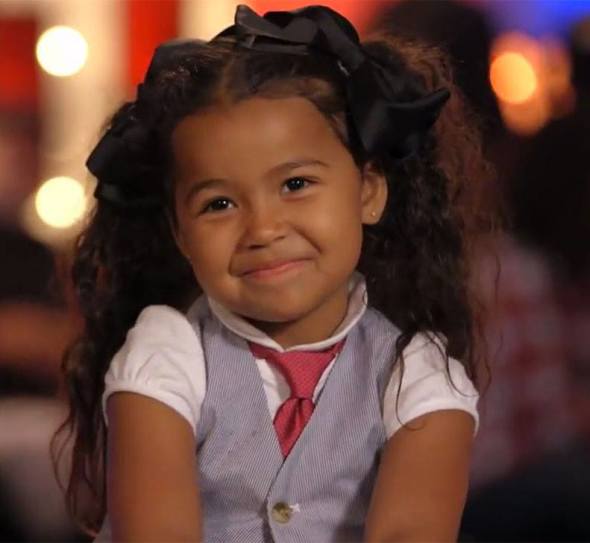 5-year-old Heavenly Joy became an overnight sensation when a clip of her appearance on 'America's Got Talent' (AGT) went viral. Now after the recent passing of Kathy Lee Gifford's husband, the precious child is back at it, this time more bold about her faith than before.

Daughter of Grammy award winning producer Rodney Jerkins (Dark Child) and singer/actress Joy Enriquez, Heavenly, has been using her talents and charm to win over the hearts of America and while she is at it taking the liberty to profess her Christian faith as well.

On a recent nationally televised audition for AGT Heavenly Joy set the record straight with judge Howard Stern when he asked if she might perhaps have a little bit of Shirley Temple living "inside" of her.

"Not Shirley Temple," she instantly responded, "Jesus!"

Watch below:



Then again this week after the tragic loss of former NY Giants player, Frank Gifford husband of TODAY host, Kathy Lee Gifford, Heavenly Joy reemerged offering her condolences and singing two songs both with religious themes. "This Little Light of Mind" and the second one a very bold declaration of Christianity, titled "Jesus," according to the young Jerkins. Both songs bringing Gifford to tears prompting her to repeatedly call Heavenly "a blessing."

See the emotional exchange below:



Heavenly is undoubtedly being raised up in a Christian home as seen in her mother's newest video titled "Hallelujah" in which Heavenly is featured in. Her dad Jerkins who has produced songs for Michael Jackson, Whitney Houston, and recently Sam Smith has recently launched Lifestyle Music Group, focusing on Christian and Gospel music, according to Billboard.

Keep the rising star and her family in prayer as they continues to boldly profess their faith. To find more about Heavenly Joy subscribe to her YouTube channel HERE.