Events

|

March 10, 2015 08:32 EDT
The Bible Tour 2015 Launches April 8; Lineup Includes Steven Curtis Chapman, Danny Gokey, and Francesa Battistelli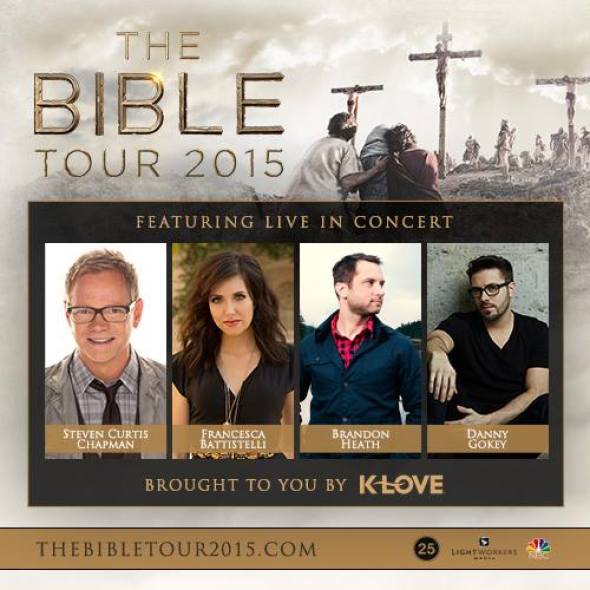 The Bible Tour 2015 launches on April 8 and has already sold-out a Philadelphia show and is adding a matinee just to meet the demand in Stamford, CT. This extra show begins at 2pm, and is followed by an evening performance at 7pm.
Click HERE for more information.
The 16-show live-concert experience is inspired by TV-series, "The Bible," which was watched by over 100 million people. It has also been announced they are partnering with ChildFund International. Each of the shows will include an opportunity for concert-goers to learn about the work of ChildFund and provide monetary support for families and children in a specific region in Kenya.
"ChildFund is excited to partner with The Bible Tour," said Jeffrey Miller, Director of Artist Relations at ChildFund in a press release. "As a result of this partnership, the lives of thousands of children and families in the Great Rift Valley of Kenya will be forever transformed. It's an amazing thing to work with artists and producers who not only work to create an amazing night of experiential music, but also seek to use the evening to positively impact the lives of those in greatest need."
The tour is a partnership between 25 Entertainment and K-LOVE, as well as The Bible series creators and producers Mark Burnett (The Voice, Survivor, The Apprentice, Shark Tank, The Bible, Son of God, A.D. The Bible Continues) and Roma Downey (Touched by an Angel, The Bible, Son of God, A.D. The Bible Continues).  
The concert event will bring the Bible to life through live performances of today's biggest songs paired with breath-taking visuals from The Bible mini-series. The all-star lineup will include multiple Dove and GRAMMY winner Steven Curtis Chapman, Dove Awards' Artist of the Year and one of the highest-selling females in Christian music history, Francesca Battistelli, three-time Dove Awards' Male Vocalist of the Year, Brandon Heath and American Idol finalist, who recently garnered his first No. 1 at Christian radio, Danny Gokey. 
The tour will also offer a sneak peak of upcoming episodes of the upcoming NBC Series, A.D. The Bible Continues, which premieres on NBC on April 5.