In the Spotlight

|

August 24, 2015 12:12 EDT
Steven Matz: Faith, Fastballs, & the Future; NY Mets Pitcher is 'Prepared' to Do 'Whatever' the Team Asks to Win [INTERVIEW]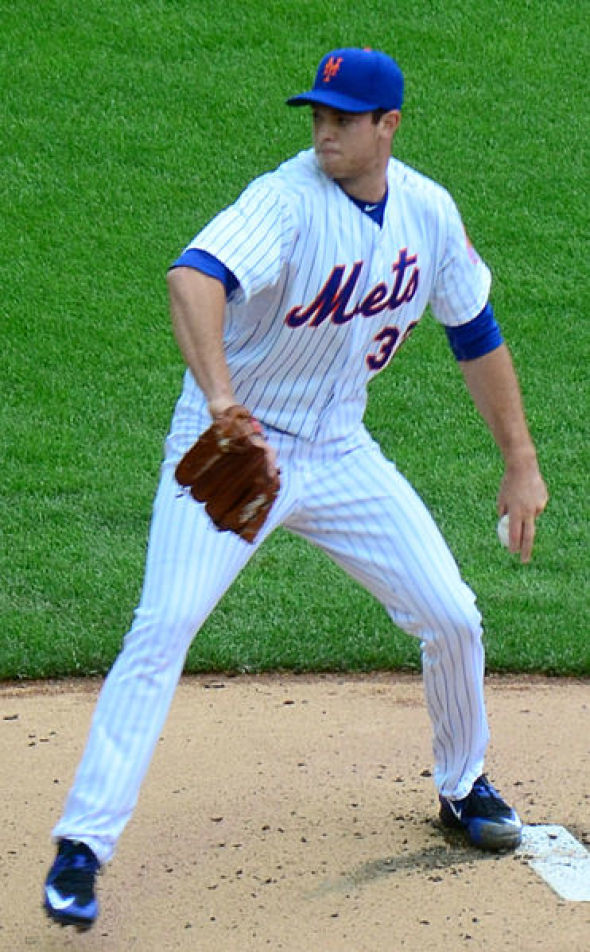 "Let's go Matz, let's go Matz" chanted tens of thousands of Mets fans now on their feet as rookie pitcher Steven Matz made his historic big league debut. For months the young stud pitcher from Stony Brook was being heralded as another ace to add to the team's dynamic foursome of Matt Harvey, Jacob DeGrom, Noah "Thor" Syndergaard, and Zack Wheeler.
In Matz's debut he pitched 7 2/3 innings and only gave up two runs. While that may seem impressive, even more so was his appearance at the plate - 3 for 3 with a double and four R.B.I.'s. In the next game he pitched to 6 innings, no runs, and 8 strikeouts; also adding another R.B.I. However, the cheers were short lived as Matz soon went down with a partially torn lat muscle"¦welcome to the big leagues kid.
"Yeah, it's been a crazy year. It's very frustrating to work so hard through the minors and get to that point just to get slowed down by an injury," Matz said. He's now working hard to get back and should be with the team for September call-ups.
The journey of the 24-year-old pitching phenom hasn't been an easy one. Much like the quick injury after two starts, he was diagnosed with an ulnar collateral ligament tear shortly after getting drafted by the team. This meant it was time for the dreaded Tommy John surgery. Under normal circumstances, this epidemic that seems to be affecting the game's best pitchers, takes about a year to recover from. In his case it took two.
Fortunately for Matz, he had someone to get through surgery with, DeGrom, who was also recovering from the dreaded injury. Matz said the two of them share a close bond and listed the "Degrominator" as one of his best friends.
The recovery is long and slow, and during that time Matz found himself a bit lost and unsure of himself. At the time he was really "discouraged that his arm was not coming back and still bothering" him. When he felt at the lowest point of his early career, an eye-opening encounter occurred.
"I was in pro ball, around 19 or 20, and one of the guys on the team invited me to go to a Bible study. I had never been to anything like that before and that was really the first time I actually sat in and read the Bible along with him, trying to understand it.," shared Matz. "That was the first time I heard the Word."
That whole summer and spring he did a Bible study every Thursday with the same guy. He found it a blessing because it afforded him the opportunity to grow in his faith. From the Bible study Matz was able to find a non-denominational church, Calvary Chapel, right across the street from the field.
"It was a really sound church that teaches verse by verse. So that's how it all started."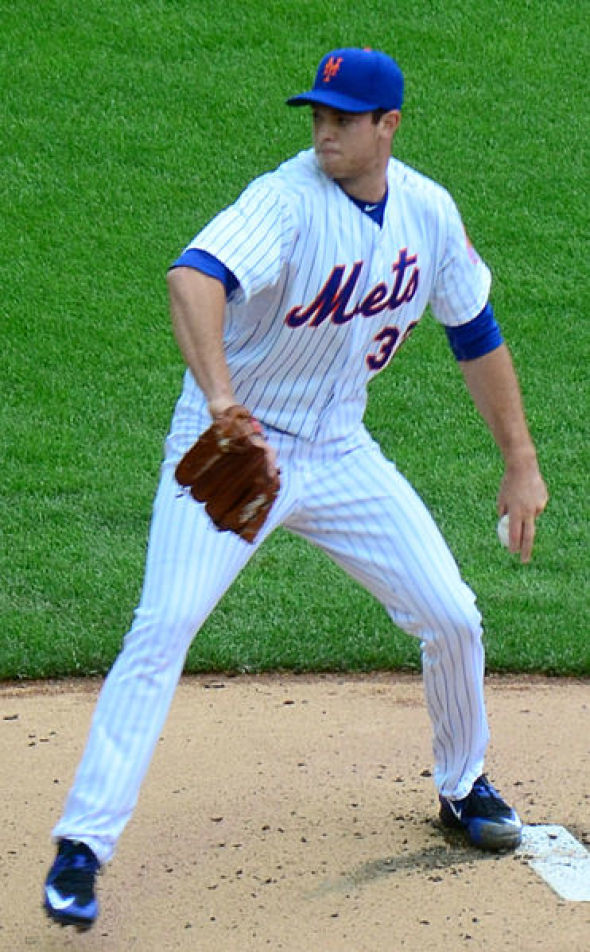 Prior to this, the pitcher's only religious experience was being raised a non-practicing Lutheran. Church and faith was never something that really crossed his mind, but in his darkness he found light. "My faith really means everything to me. I try to read the Bible everyday, I pray everyday, it's just part of who I am now since I became a Christian," said Matz.
He's not someone who is too flashy about his faith because he's a relatively new Christian, but said he tries to be a light and shining example of Jesus in all aspects of life. This especially holds more true than ever before now that he's reached the national spotlight of a New York sports team.
"It holds you more accountable too because now people are going to be looking up to you. You are going to be having those opportunities to represent Jesus," revealed Matz. "Now that I'm on the bigger stage, I think at this point God has prepared me really. I'm now 24 and back when I was 19/20 that's when I first really heard the message. I've tried to stay with it all the way through and I've been pretty consistent that I'm going to a good church every Sunday."
Matz said the MLB does an awesome job for people of faith. Each team, Majors and Minor, has a baseball Chapel representative. He and some of the others guys pile in there every time there is a service, "We learn so much. It's a blessing to have that to help guys get through the course of a baseball year."
Chapel usually consists of a quick 15 to 20 minute message every Sunday since going to church is not an option during the season. Chaplains also have free range to go into the clubhouse, and say, ""Hey we're gonna have chapel service if anyone wants to go'. Not everyone is allowed in the clubhouses, but the MLB allows these chaplains to be. The chaplains are even in the player's manual."
All throughout the minor leagues Matz has slowly grown in his faith and at this point feels God prepared him for the Big Leagues. "You can see how it has unfolded. If I kind of kept the path I was going, I don't know how I would handle this to be honest. Not to say I would be in a ton of trouble, but maybe I would take it a little differently with all the stuff that comes along with it."
This "preparedness" started back as a kid living in a family of Mets fans. He admits he was not a die-hard fan like the rest of his family, but definitely loved baseball. Matz said he didn't have time to watch all the games or go to games because he was too busy outside playing it. Still, playing for the Mets was a "dream come true" for him, and after many years of watching the organization struggle to put together winning teams, the culture is finally changing.
This is a sentiment shared by many of his teammates who love New York and the organization they play for.
"It feels really exciting. I mean, Wheeler is calling the GM during the trade deadline to say not to trade him. That's a pretty gutsy move," he said. "It shows how excited all of us are to be a part of this organization when it's really uprising. We are really thinking we can be a solid team for years to come. To be part of that and to have a chance to pitch in that staff, I can't even put it into words."
He also mentioned the respect shortstop Wilmer Flores garnered from teammates and fans. The adage of "no crying in baseball" seems to only matter for things you can control on the diamond. Flores being traded mid-game from the only thing he has ever known in America is not one of those things.
"I think it's really cool for the Mets fans to see how us players want to win with the Mets, and it really shows you the passion the players have for playing in New York and how really blessed we are to be in New York under the Mets fan base," Matz said of Flores' emotions.
Matz also understands just how special the Mets pitching staff is and is aware of how important it is for these guys to all pitch well. "I already see what they are doing up in the Big Leagues and just want to be a part of it myself." He feels a little bit of the pressure to perform well, but is confident in his work ethic that has already gotten him this far.
As the 24-year-old was answering questions he was partaking in part of his game day pitching routine, relaxing. He explained that on pitching days, the focus is on eating a good breakfast and lunch while making sure to "take it easy." All the preparation he needs for a start comes in the days before while doing work in the bullpen, watching video, and completing long tosses. About an hour before the game he'll begin to stretch and go over the hitters with the catcher and coaches.
For Matz these games are more than just starts, they are rehab assignments. He finds himself once more fighting to make it to the MLB and knows how crucial it is that he executes successfully. During a rehab start Matz said he is trying to work on his pitches to see how it feels, but also trying to reach some of his in-game intensity without going overboard.
"I see a hitter in there and I definitely don't want him to get on base, but at the same time I have to tell myself I haven't pitched since July 5. I need to use time to find tune myself to where I was," he admitted.
Included in his pitching regimen is time in the batter's box, which has paid off pretty well in his short six MLB at bats. Matz said he's "always been a hitter" through the years of playing baseball. "It's something I could always do and I like to do. The hitting coaches on the Mets are great, they let us take as much BP and will work with us as much as we want."
In an already impressive year for Mets pitchers, that includes homeruns for both Harvey and Syndergaard as well as a three hit game for DeGrom, and now Matz, fits right in.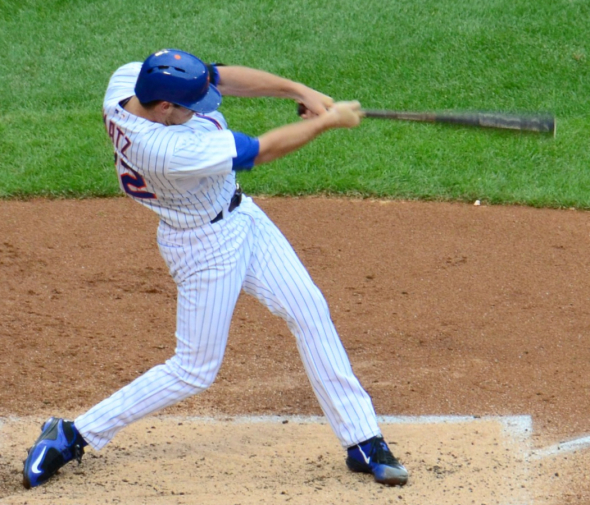 Speaking on the "Big Three" (Harvey, DeGrom, and "Thor"), Matz said there isn't much he can say about them that NY media hasn't already uncovered, or at least anything they would want him sharing he said with a laugh. However, a look into his own activities reveals someone who has a "Southern soul." Matz enjoys hunting, fishing, and listening to country music. Some of his favorite music to listen to is by Third Day, NEEDTOBREATHE, Crowder, and Lecrae, although he admits he's not much of a rap fan.
A new development in the "Big Three" is getting them rest in September so they can pitch into the post season if the Mets keep their five game lead. Harvey is coming off Tommy John surgery, so the plan was to keep him at 180 innings. DeGrom and Syndergaard will have a little more leeway, but will also be monitored so they are not over worked. Niese and veteran Bartolo Colon round out the order of the five starters, and Matz would make six. The six-man rotation will take place once he gets back in the first week of September. With that being said, once the playoffs start most teams switch to a three or four-man rotation to have their best guys throwing the biggest games of the season. This could potentially leave Matz as an odd man out in the rotation, and the only spot left would be in the bullpen.
Traditionally, going from starter to the bullpen during the middle of a season is a rough transition, but it is something Matz is ready for.
"I'd be comfortable coming out of the bullpen. I'd do whatever they ask me to up there," he said confidently. "I'm not a guy who takes relatively long to get loose so it shouldn't be a problem if I'm called upon in that way."
His humble whatever it takes to win attitude could be the difference for the Mets down the long stretch and perhaps to the hopes and dreams of fans, a World Series win. This drew the all important question of, "What kind of champagne will Steven Matz spray after a baseball championship'?
"Oh man, I don't know anything about champagne," he said laughing. "I'll spray whatever they put in my hand. I don't have a clue."
But with championships out of his mind for a moment, Matz's number one focus is getting back to helping the team and setting himself up for a long career. In fact, if he could model his game and trajectory toward any one pitcher, it would be a Yankee, Andy Pettitte.
For him, aside from Pettitte's admission of PED use, he was able to pitch until he was 40, win championships, perform well in huge games, and gain the respect of his teammates. Most importantly, he was able to be a man of dedicated faith.
Special thanks to Steven Matz for redoing parts of his interview after an audio recording issue. Catch Matz with the New York Mets this September as he works his way back from injury.
Check out our interview with former Mets pitcher Jeremy Hefner here.