BC News

|

October 16, 2015 01:11 EDT
NY Mets Playoff MVP Daniel Murphy Says He Wasn't Alone on the Field, 'That was all Jesus' [VIDEO]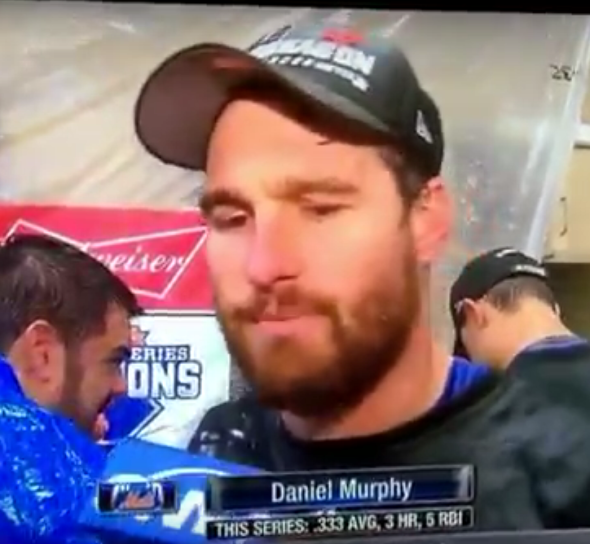 In what proved to be a wild night for two intense MLB franchises, the New York Mets and Los Angeles Dodgers, the best of 5 NLDS was decided by a believer - Daniel Murphy.
The Mets second basemen hit a decisive homerun that helped give the team the lead over their crusing pitcher Zack Greinke. In fact, the hardnosed ballplayer almost single handedly did it all himself, or did he? At the end of the game he was asked by an on field reporter on how he had such an incredible game, "That was all Jesus" he said. When asked about dealing with nerves he said, "That's the Holy Spirit...the only thing keeping me calm."
For a team that has a slogan of, "You Gotta Believe," Murphy, and a few other of his teammates do believe; in Jesus.
As the team popped champagne and celebrated in the visiting clubhouse, Murphy was again approached for an interview. The question, "Why have you been able to so elevate your game?" to which Murphy replied, "I don't know. Sometimes the blessings come, Jesus is good..."
The 30-year-old has been with the Mets since 2008, and was part of the rebuilding process during the down years of the franchise. Now in his last contractual year with the franchise Murphy has proved to be an integral cog in the machine and a leader in the locker room.
The every-man player has never been flashy at any of his infield positions and doesn't put up incredible offensive numbers. However, what he does do well, is come up in the clutch. Perhaps Murphy has an angel in the outfield helping him out.
The Mets will take on the Chicago Cubs on Saturday October 17. Like the Mets, the fans of this club have being extremely hungry for a championship, even moreso than the NL East champions.