Trending News

|

February 02, 2015 01:39 EST
Macbook Pro vs Dell Precision M3800 Comparison: Specs, Features Review - 15-Inch Display & 4K Resolution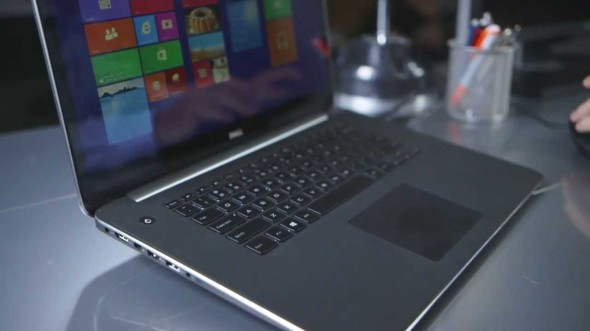 Dell, a multinational computer manufacturer, is offering the tech consumers a chance to improve upon their old MacBooks for their new, updated Dell Precision M3800 - a 15-inch laptop rendering 4K resolution.
Christian Today reports that taking into account the prospect that Apple has not yet taken any initiative to launch an upgraded version of the MacBook Pro yet, Dell has been endeavoring to increase the difference between itself and the Cupertino-based company by presenting an updated version of its laptop.
The existing Apple MacBook Pro is a heavy duty laptop packing a 2,880 x 1,800 pixel screen resolution that has remained unchanged since 2012. On the other hand, Dell has boosted its Precision M3800 with a 4K resolution (3,800 x 2,160 pixels, which is a clear advantage over the Apple device. In addition, the screen of Precision M3800 comes with a touchscreen feature.
The hardware of Precision M3800 now also includes a Thunderbolt 2 port, while the storage capacity of the device has been augmented to 2TB, which doubles the storage amount offered by the earlier version of Dell laptop. While the Apple MacBook Pro runs only on iOS, Dell offers consumers the option of using two operating systems - Linux OS as well as Windows OS.
However, one aspect of Dell's Precision M3800 has disappointed the users and it is the fact that the Texas-based tech manufacturer has retained the previous Haswell Core i7-4712HQ quad-core processor and Nvidia Quadro K1100M graphics co-processor, while Intel already launched the new generation of Broadwell CPUs.
The 4K variant of Precision M3800 comes with 16GB of RAM and also incorporates a 256GB SSD. This variant is available for $2,179. On the other hand, the Full HD 1080p display is cheaper costing $1,649. However, consumers are able to upgrade the Full HD screen to 4K by spending $70 and also opt for Ubuntu, which will save them $101.50. Therefore, there is no doubt that Dell is offering its customers added options to customize their laptops.
In the meantime, there are reports that Apple too is planning to update the MacBook Pro laptop sometime soon. The purported updated Apple device is expected to come with 4K screen display coupled with touchscreen feature, Intel's new Broadwell chipsets and USB Type-C port, which will do away with all the ports in the currect version of the laptop. In addition, the upgraded MacBook Pro is also likely to incorporate a TouchID fingerprint sensor as well as an enhanced TrackPad and a superior battery capacity.