BC News

|

September 23, 2014 04:21 EDT
KJ-52 Talks Performing 'Jesus Freak' with the Newsboys in Front of TobyMac; 'How Does This Song Go Again?' [INTERVIEW]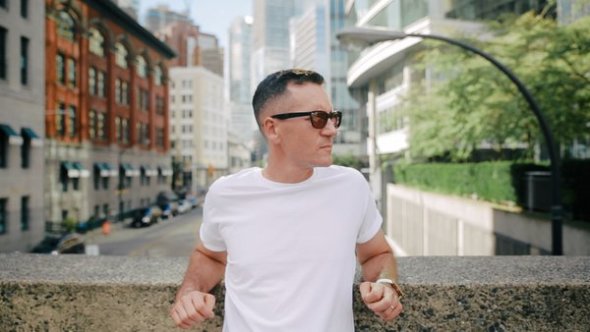 KJ-52 chatted with BreatheCast about his upcoming album Mental and along the way shared a little bit about his relationship Christian hip-hop pioneer TobyMac.
Perhaps one of the most important songs in Christian music history is DC Talk's groundbreaking anthem "Jesus Freak." DC Talk featured TobyMac, Newsboys frontman Michael Tait, and Audio Adrenaline ex-frontman Kevin Max. With that being said, Tait decided to rerecord the song with his current band, and instead of asking Toby to reprise his verse, KJ-52 was asked instead and it was released on 2010's Born Again.
"It's funny it sort of happened really quickly. I got called on Tuesday and I was up in the studio on Thursday," KJ shared.
KJ stepping in for Toby is a pretty big deal for such a well known and respected song. He knew he had to nail it, and at the same time pay the original emcee respect. The only problem was that the first time he went to perform it with the Newsboys was when Toby was backstage.
"It was really awkward but hilarious," he explained, "Toby and Newsboys were back to back playing and I think the whole crowd was anticipating Toby would come out on stage during the set. Long story short, I end up coming out and doing it in front of Toby."
He said at first the crowd was really confused and a bit disappointed because they were expecting Toby. At the end he was pleased and received love and cheers from the crowd. However, it was his interaction with TobyMac behind the scenes that let him know he had his blessing.
Watch the Newsboys and KJ-52 the song below (Not the incident he mentioned):

"I kind of walked up to him and broke the ice. I was like, 'Hey man, how does this song go again?' I had written the lyrics on my hand like I didn't know it," he said laughing, "He got a big laugh out of it. He was super cool about it and said, 'If there was anybody I want to do it, it's you...I'm going to watch, I'm looking forward to seeing it.'"
"His hype man said, 'Yeah but don't suck!'"
KJ actually had the opportunity to perform "Jesus Freak" with TobyMac at camp Electric. He thought he would serve as Toby's hype man, but was instead invited to rap the verses along with him. Calling him from the crowd, "he points at me and says, 'Go!'."
"It was an honor man, I looked at it as an honor and a blessing to be part of history."
Stay tuned for more of KJ's interview in the next couple of days.
KJ-52's Mental will be out on October 21 and it can be pre-ordered on iTunes here.
The album features KB, Soul Glo Activatur, Lecrae, Tedashii, and others.
"Gameface [1st Half Edition]" can be heard below: